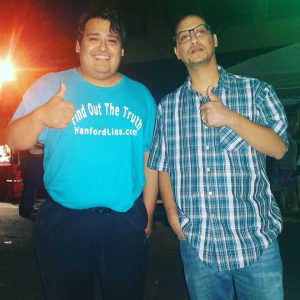 In a surprising political upset, recalled councilman Francisco Ramirez defeated Diane Sharp for the Area D council seat which encompasses central and south Hanford.
In a recent election update, Ramirez is ahead by just 65 votes in the November 6 contest according to the Kings County Registrar of Voters on November 19. Although the department is still counting ballots it is unlikely the final outcome will be different. A total of 1,329 votes were cast.
"This is a vindication of all the allegations," said Ramirez in a post-election interview. "If the citizens believed (me to be) corrupt, (they) wouldn't have voted me in."
Ramirez was referring to his recall in a special election this January. The recall was precipitated by the Kings County Grand Jury and others saying he violated state election law requirements on campaign spending and misled the voters about his academic credentials in campaign literature.
Ramirez said he was recalled because the voters didn't understand what the recall was about.
Proponents of the recall listed on the official Petition for Recall were: Louis Martinez, Lorna Martinez, William Macedo, Jeff Chin, Danny Baiz, Helen Castillo, Brenda Bowen, Deo Mata, Ray Martinez, Carol R. Williams, Frederick Williams Jr., Isabel Hernandez,  Ida M. Hale, Acension Martinez, Linda K. Hicks, Anna Hernandez and John Hale.
The recall was coordinated by ex-councilman and local power broker Dan Chin and local  activists Bob Ramos and Skip Athey.  Local activist Mike Quinn and former council candidate Glenda Dwyer also contributed time to the recall effort.
The recall petition stated: "…Ramirez has a long history of supporting his interest over the interest of the community. His corruption and disregard for the law has helped create a culture of mistrust within the community of Hanford culminating in numerous investigations."
In the special election voters were asked whether they wanted to recall Ramirez. Second, they were asked to pick a new council person from a large field of replacement candidates. The yes votes numbered 239 while the no votes were 151 according to the registrar's office.
Sharp won her seat on the Hanford City Council with 139 votes out of a total out of 345 votes cast.
A clear choice
Initially Ramirez entered the race to regain his old council seat. On September 1 he withdrew after a letter from his daughter made him question why he was putting his family through another campaign. A month later, in time for the candidates' forum, he threw his hat back in the ring again.
At first, he said, his family asked him why he wanted all the headaches of being in political office. When he withdrew from the race, Ramirez said, people were still attacking him on social media. At that point, he recalled, his family told him to fight.
So Ramirez reentered the race and started his grassroots campaign.
Incumbent Diane Sharp and Ramirez offered a clear choice for District D.
A downtown property owner, the daughter of a prominent deceased local attorney, a Stanford graduate, the conservatively dressed Sharp came across as more of an executive than a politician. In her short tenure, she garnered a reputation for doing her homework, understanding figures and city finances and taking a cool, logical approach to city government.
Ramirez has a somewhat disheveled appearance, a conservative, sometimes analytical common sense approach to city government laced with strong emotion. He is affable and has and a jumpy, booming voice.
Homeless was a campaign issue for the November election. Sharp's position was that putting a homeless resource center near downtown was putting the cart before the horse. Ramirez said a facility was needed to deal with the homeless but it should not be near downtown. He also said he wanted to reduce regulations on businesses. Sharp defended her votes on downtown issues and said she favored renting smaller spaces downtown since they are easier to rent than larger spaces for furniture stores. She also pushed transparency and accountability in government.
Regarding the disposition of the 18 acres west of Hidden Valley Park, Sharp would not state how she would have voted on selling the property, but she did say she did not support the land being declared surplus by a previous city council. At issue is whether the 18 acres should be developed into an expanded Hidden Valley Park or most or all of the property be sold to a developer for housing. The city would get in excess of $1 million for the property, according to appraisals.
Ramirez backed Councilman Justin Mendes, the key proponent for selling the 18 acres. He said he has since changed his position since the marijuana production taxing Measure C passed.  Ramirez said there would be enough money from the tax and Prop 68 to develop an expanded park.
Council member Ramirez returns
Sharp has conceded the race to Ramirez. She said in an email to Valley Voice that she was proud of her nine months of service and was "…trying to steer Hanford toward greater accountability, transparency and a taxpayer-focused organizational strategy."
Ramos questioned the legitimacy of the election that returned Ramirez to office."There is something wrong, smelly, fishy, not sure where coming from, (a) strong smell," he said.
He said Sharp shouldn't have conceded the election and should fight Ramirez' return to the council. Ramos also questioned whether Ramirez has the ability to do the reading that is required of a councilman. Ramirez is a business analyst.
Figures for how much Sharp spent on her campaign could not be obtained at the time of publication. Ramirez figured Sharp spend around $3000 because she sent out two mailers and put up about 100 signs mostly on the north side of her district.
Ramirez said he spent $380 on the campaign. He said he used four old signs and made fliers on his computer. He and his supporters each walked 43 miles in five days knocking on doors and talking to voters, Ramirez said.
While he and five supporters campaigned in the district, he said, people would get out of their cars and say, "We support you."
"I didn't spend a lot of money because if I was going to be re-elected I wanted it to be because of me and not because of money."
Ramirez and the other newly elected council members, John Draxler of Area A and Art Brieno of Area E, will be sworn in to their new council seats at the regular city council meeting on December 4.