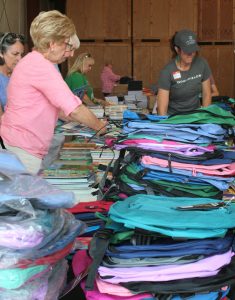 With triple-digit heat promised by Saturday afternoon, July 28, the Assistance League Visalia members got an early start and were working fast.
Two dozen or so of them–most of them women with a few eager children all gathered around long tables inside a cramped and dusty warehouse near Goshen–completed the largest part of the morning's task by 9 o'clock. Their deadline is only days away.
It's not easy work for those not used to an assembly line pace. It isn't work done for money or recognition. But, it is satisfying. The goal Saturday was helping the poorest of Tulare County students start the school year with the basic tools they need to learn.
Common-Sense Solution
The labor done Saturday was uncomplicated.
So, too, is the League's plan for making education more accessible for children living in one of the state's most impoverished areas.
The volunteers hope to outfit the kids with practical items they cannot otherwise afford.
"We are stuffing backpacks with books, composition books, pencils, rulers," said Sandy Forbes, the League's newly elected president, as she made a sweeping gesture at the buzzing activity swirling around her. "And then we're going to distribute them to schools."
What the volunteers from the Assistance League also did on Saturday, besides filling backpacks, was meet their goal of providing students with adequate footing to complete their education. By the time their work was done, 1,600 supply-laden backpacks were ready to be put in the hands of children who need them most.
To meet their mission, Assistance League Visalia–which is one of the smallest chapters in the nationwide network of clubs–must go beyond the city limits to the county's more rural towns.
"Mostly, these schools are probably going to be in the outlying areas, not just in the city of Visalia, because there's quite a few people in town who do that kind of program," Forbes explained.
Acting Locally
The various local chapters of the National Assistance League are independent from the top leadership, raising their own funding and deciding how it can best be spent in their communities, with one exception.
"They require one philanthropy specifically, which is called Operation School Bell," said Forbes. "This (the backpacks) is a part of Operation School Bell."
It's the smaller part of the scheme. The main goal is to provide as many as 900 students in the Visalia Unified School District with new clothing.
"We're working toward that goal," Forbes said. "We were at about 650 last year."
In partnership with local donors, mainly service clubs, Assistance League Visalia gives each child between $100 and $125 to spend during a trio of closed-store shopping sprees held at the start of each school year. The first is scheduled for September 23.
No Shortage of Poverty
The barrier to reaching that goal isn't lack of students and families in need. New ones are brought to the League's attention continually. The city's schools are staffed with personnel, known as techs, whose job is spotting students in their care who appear to be struggling.
"Their techs are the ones who interact with the students, with the teachers," Forbes said. "If a teacher sees a kid coming to school in the same clothes or if in the wintertime they don't have adequate jackets or anything, then they will tell the techs and they will send us a referral."
What keeps the League from clothing more children is lack of funds and their small size.
"We would love to have people join the League," Forbes said. "We're looking to grow."
Some new members find their way to the League by coming to a League fundraiser, like the annual rummage sale or the Evening at the Derby, an evening of entertainment held each year during the first week of May and timed to coincide with the Kentucky Derby. Others read about the League's work in the news or at their website–assistanceleague.org/visalia/–but mostly its members bringing their friends into the fold.
"It's usually word of mouth," said Forbes. "They know somebody."
Cash donations are also always welcome, she added.
Easy, Satisfying to Serve
Because Assistance League of Visalia is part of a national network, it makes it simple for those who give of themselves to continue doing so when they move to a new area. At least that was the case for Rochelle Kadine, a former resident of Southern California, when she and her family moved to Visalia.
"I just love what this organization does," she said. "I was involved down there with organizations that help kids that are in the foster care system. So when I moved up to Visalia, I wanted to get back to being involved."
Kadine, who has four of her own children, was considering becoming a foster parent as well, but the practicalities made it impossible. The League offered her an alternative way to give of herself.
"It's really difficult when you have teenagers, because everything has to be so locked up," Kadine said of her efforts to foster a child. "Our system is really not set up well to help foster kids, so it (joining the Assistance League of Visalia) was just another way I could help."