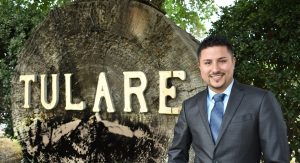 Alex Gutierrez is running for the Tulare City Council's District 2 seat, he has announced. The seat is currently occupied by Maritsa Castellanoz.
His main priorities are ensuring public safety, promoting Tulare's economic development, and working to ensure that Tulare residents have safe drinking water.
"In District 2 we still do have a lot of alleyways that are susceptible to a lot of trash dumping, a lot of vandalism, a lot of graffiti — that costs the city a lot of money," Gutierrez said. "Very close behind [the safety priority] is economic development — it's no secret that downtown Tulare needs a whole revitalization process."
He's hopeful that voters will see him as a clear choice for change on the city council.
"I truly believe that I can be the best representative of District 2 on the council," the 27-year-old Gutierrez said. "I also think that voters have a choice for new, youthful leadership this election cycle, and it all starts at our local level."
He says that he's eager to work with all members of the council — and that he's able to put aside any issues to work for the good of the people.
"We're all in this together," he said.
City Positions
Tulare's city manager and police chief positions are both held by interim after former Tulare Police Chief Wes Hensley was put on a lengthy administrative leave; Hensley was later fired — and the former City Manager Joe Carlini, who fired Hensley, was himself dismissed by council the same day.
"The entire process was very colluded.. I remember hearing many people making comments about it," Gutierrez said.
He gave his thoughts on what he'd like to see in a new police chief and city manager, if he were able to participate in the process.
"With a new police chief, I'd go from step #1 — interview everybody; but I'd really, first and foremost, like to hear from Chief Hensley, if he's able to talk," Gutierrez said. "I'd like to make sure we have an ethical, very proper police force — which we do."
He said that he'd like to see a city manager with "a big vision" — someone who is willing to make a fresh start with new ideas.
"I want someone that has new ideas, fresh ideas, invigorating. Preferably someone young; nothing against older folks — they have all the knowledge — but someone who has in building things out of very little.
"I would just really like to see a city manager who has a really big vision — and a bold one," he said.
He added that he supported the decision to terminate the Interim City Attorney.
"You've got to make sure you do your homework and research them — the situation of the termination of the former attorney, the homework wasn't done," Gutierrez said. "The fact that they didn't have that much experience in the public city council sector.. with a new attorney, they'd have to be well experienced in dealing with cities, and ethical."
Experience & Personal Life
Gutierrez said that he'd always wanted to run for office — even as early as the sixth grade, he said he'd told his school counselor he wanted to be a politician — and that the time is right for him now, personally, to run.
"My family moved here when I was five," Gutierrez said. "My mom, when we were growing up, she was a homemaker. She went straight into educating herself — learning English, getting her high school diploma, her AA, her bachelor's, then she got her master's — and she is very proud at her new job, United Health Centers, helping people who don't speak English get into the healthcare services they need.
"My dad has worked on dairies his whole entire life that we lived here — starting off as a milker, and then feeder, and now he does primarily calfing, and feeder still, too," he said.
His mother is Senovia Gutierrez, a Tulare Local Healthcare District board member; he managed her campaign while running as a candidate to recall Dr. Parmod Kumar.
He is currently a member of the Tulare-Kings Hispanic Chamber of Commerce's board of directors, an ambassador to the Tulare Chamber of Commerce, a parliamentarian for the Tulare County Latino PAC, and has previously volunteered around the community, including the Tulare Hospital Foundation's Tulare Strong campaign and United Way of Tulare County.
He has one son, 11-year old Ethan Michael Gutierrez.
"He is what keeps me going to improve my life, our community, and world," he said. "He wants to be a veterinarian and he is the love of my life and means the world to me."
He currently works as a server at La Piazza in Tulare and is also self-employed as an Arbonne consultant; he plans to re-enroll in college as a political science major this fall.
"That's what gives me a lot of the opportunity to do all of this community work — working short hour shifts and having the whole day to work as well," he said. "A lot of people in this district are service employees as well […] that's who the voters of the district are, and I would be a representative of that sector of the labor."
Interestingly, Gutierrez' candidacy means that two children of Tulare Local Healthcare District board members — Gutierrez and Chris Harrell — are running for Tulare City Council spots.
That's purely a coincidence, he said.
Gutierrez has opened a campaign Facebook page, available at https://www.facebook.com/ALEX4TCCD2/, and can be contacted via email at [email protected].