This story has been updated with a comment from Interim City Manager Willard Epps.
Comments by Tulare Mayor Carlton Jones have spread like wildfire after he claimed that agriculture "strips the natural resources and contaminates our ground water and air" and "causes asthma and valley fever, cancer and kills bees." His comment's got agricultural leaders talking.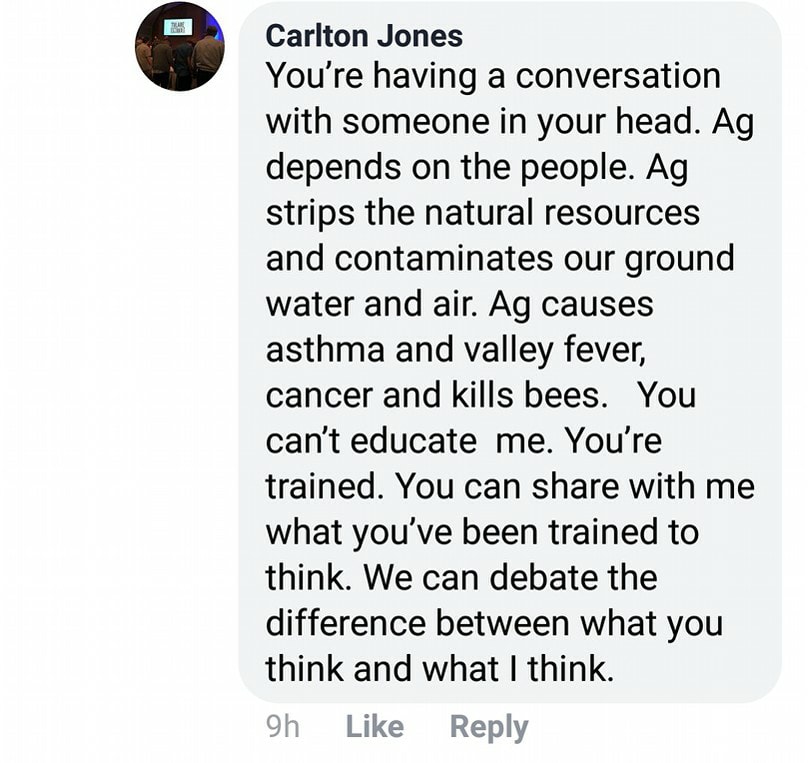 A heated discussion broke out Friday on the "My Job Depends on Ag" Facebook page when Jones' comment was shared by one of its administrators.
The comment was screenshotted in by Erik Wilson of Dos Palos, from a conversation taking place on his sister's Facebook page. Subsequently, it has also started Tulare talking.
"Here's your mayor Tulare. Tulare, Ca home to the World Ag Expo. The most productive agricultural county in the entire USA. Tulare Ag generates more dollars alone than some states do. And this is your mayor? What a complete moron," Wilson said with the post.
The mayor had written:
"You're having a conversation in your head. Ag depends on the people. Ag strips the natural resources and contaminates our ground water and air. Ag causes asthma and valley fever, cancer and kills bees. You can't educate me. You're trained. You can share with me what you've been trained to think. We can debate the difference between what you think and what I think."
To put this in context, a conversation had evolved on Wilson's sister's personal Facebook page regarding thoughts as to whether Governor Jerry Brown and the state government are restricting agriculture and limiting water supplies to Valley farmers. The posts just prior to Jones' read.
"I just don't understand how you can be the mayor of Tulare and hate agriculture. You're literally biting the hands that feed you."
"I don't hate anything," Jones wrote. "Ag depends on the people. I know you agree with that but. Thats the way it is. Our Military protects your right to Farm. Our Government, "The People" Subsidizes your industry. I love Ag. I don't like people who claim to hate California, while taking so much from California. If you don't like it leave."
"Like all the people that make the statements have been fed an agenda, environmentally, socially and financially, they write articles, create restrictions, enforce sanctions and yet make absolutely zero effort to go visit family farms to gain a better understanding. So all that tells me is we have a bunch of "educated" fools that would rather stay ignorant and complacent in their agendas to get votes than to be educated in their understanding of Agriculture. I'm in education and my job without a doubt depends on Agriculture. Every rural community I serve, the children I teach, the entire infrastructure if [of] those towns depend on Ag," Kayla Wilson responded.
Then came Jones' controversial post, shared by Erik Wilson to My Job Depends on Ag. The exchange became quite heated on private page between a few different people. Erik Wilson told Jones, as an administrator of the My Job Depends on Ag Facebook group he was going to share the post on the group.
"I'm blasting you on my Facebook page called My Job Depends on Ag. 81,000 people are reading your dumbass comments. Many of them are from Tulare. Have a nice day Mayor"
Wilson is a co-founder of the My Job Depends on Ag movement. He said he has never met Jones, nor had any conversation with him, until now. He grew up in a big city, he said, but now his job does depend on Ag – he owns a custom Ag spraying business. It gives him a special insight into both sides of various Ag-related issues, he said.
"I read posts like these from people all the time," he said. "I thought that's one of the dumbest," he said of the mayor's post. "And, I didn't even yet know he was mayor. I'm aghast the mayor of the largest Ag city in the country would say those things. I couldn't let a public official get away with it – I'm thoroughly disgusted."
Another administrator of My Job Depends on Ag is third-generation Lindsay-Strathmore citrus farmer, Eric Beam. He commented on the Facebook post a few hours later.
"Surely he's [Jones] not talking about the thousands of generational family farms that built his community and continue to support it. Surely he's not talking about the many thousands of jobs that Ag provides to those who live in his community. Surely he's not talking about the tax revenue generated by his city when farmers and dairymen buy vehicles, tractors, parts and services at local businesses. Surely he's not talking about the folks who sit on school boards after long days of work on farms. Surely he's not talking people who live and work on their farms in THEIR community. I'll be the first to admit that Ag isn't perfect and that we have some work to do in certain areas, but for a sitting city leader to have such a disconnect with his community takes ignorance to a whole new level. Mr. Jones, you have a standing invitation to come and spend some time at my family's farm that has been operating in Tulare County for over 70 years. Hopefully I can educate you on what it means to be a part of the community. You need it….. "
"It bothers me a lot that farmers continue to be vilified and separated out from the rest of the community," Beam said in an interview. "We live here. Tulare is really the center of agriculture – when stuff [equipment] breaks down, you go to Tulare. It's where the Farm Show is held. About one-third of the people there are employed through the dairy business alone"
One commenter, Vicki Fien Dykstra, shared a graph from Wikipedia indicating the four largest employers from Tulare are involved with Ag.
"What really bothers me," Beam said, "Is that he [Jones] said, 'You can't educate me.' You don't deserve to be a community leader if you can't listen and lead the community."
Executive Director of the Tulare County Farm Bureau Tricia Stever-Blattler put out the following statement:
"The Tulare County Farm Bureau has been alerted to the comments on the My Job Depends on Ag Facebook page and are deeply disturbed by the perspective voiced by Carlton Jones.  As the mayor of a city located in the epicenter of Agriculture his comments reflect a perspective that we would disagree with strongly. While we have work to do in educating this individual we believe his comments should not be allowed to speak for the heart and will of Tulare's citizens, many of which are deeply rooted in agriculture and recognize the positive impact and economic vitality that agriculture provides to our county, state and nation."
While he did not wish to speak for the Farm Bureau itself, current president Joe Russell, a citrus farmer in Visalia, did have some personal comments to share.
"I think it's ridiculous," he said. "California grows the safest food in the world. Most people don't know what it takes to be a California farmer. We have the most stringent regulations in the country and the world.
"If there is a problem, bring it forward to us. Find a solution."
Tulare's Interim City Manager Willard Epps said the comments didn't reflect on the council or city as a whole.
"The mayor has his own opinions," Epps said. "Don't judge the city, or the other council members by the mayor's comments. Everyone is able to express their own opinion."
Mayor Jones was unavailable for comment. As per usual when this reporter reached out to him, he hung up on her. As of about 2pm on Friday, Tulare City Hall had received approximately a dozen calls from concerned people regarding the mayor's comments.
The main city line had also received a handful more calls. The My Job Depends on Ag group's Facebook page has 335 shares on the original post with 455 emoji responses, and an abundance of comments upon comments made.
Included are remarks from various Tulare citizens inviting anyone and everyone to attend the city's next council meeting, June 5, to voice their opinion.