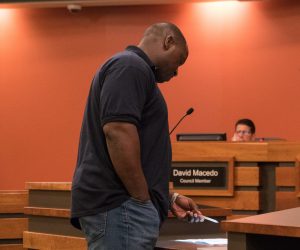 In an attempt to justify his argument for contracting Tulare's city attorney last June, Mayor Carlton Jones shared a schedule of legal fees for the city from 2007 through 2016 during the May 1 City Council meeting.
He argued that in during that period, the city had paid out millions to more than 20 firms; what he failed to mention was those dollars were not always spent to represent the city.
His presentation came in support of extending the contract with the city's legal firm, Goyette & Associates, Inc., for another year. The current contract expires on June 6 and came up for discussion on the Tulare City Council's agenda. However, his arguments weren't particularly accurate.
"When I first saw this sheet that everyone is looking at – this was before we hired Goyette & Associates – if you look between 2007 and 2008, there was one, two, three, four, five, six different firms that were paid legal fees of $567,409.58," Jones said.
"And, in 2008-2009, there were one, two, three, four, five, six, seven different firms paid $1,064,561.45; the next year all most $700,000; 2010-2011 was $1.14m. And, also in that year we paid Mike Lampe $275,000," he added. "The next year was the lowest between six, $293,000; the next year $400,000; the next year $400,000; the next year $378,000; the next year, between 2015 and 2016, total legal fees between 10 separate firms – $8,072,000. We're averaging over $1 mil in legal fees between 22 different attorneys and firms.
"We now have one firm that we pay $30,000. As long as I have been on council since 2010-11, I've never heard of itemizing this. We pay a flat amount – it doesn't matter if a department goes over, or if it goes under, we still pay their attorneys' fees. At the end of this year, we know, that we'll pay $360,000.
"Looking at this was part of my extreme vetting. Paying $360,000 a year makes a lot more sense than paying $1 million dollars a year.
"So, whenever anybody asks me why we're paying $30,000 a month, because I don't want to pay a million dollars a year. We have a great firm and it would be silly for us to have unnecessary work. We have enough people like Lampe, that's going to do that for us. So, to do it for ourselves is kind of pointless."
It's not all actual city attorney fees
Tulare's finance director, Darlene Thompson, corrected the mayor after his presentation.
"Can I make a clarification on the report that the mayor just brought out. We did spend a lot of money on attorney fees in prior years, but that is when we had a redevelopment agency, who at that point had their own attorneys and I just picked up all attorneys at that point in there. . . Redevelopment had their own funds to pay for those fees," she said.
She further stated that she was asked to provide for payments for all attorneys — not just city attorneys — when preparing the document.
From 2007 – 2011, the city's former redevelopment agency had its own legal contract with a separate firm. Those fees totaled $894,400 for those four years, according to the analysis Jones presented.
Another example, and a far more expensive one, is that of lawsuit settlements paid by the city, as well as the fees between 2008 and 2016 spent on a potential race track that never materialized.
Jones further cited the payment of $275,000 in "fees" to Michael Lampe, an attorney who has become a thorn in the mayor's side as of late. Lampe represents former Tulare Police Chief Wes Hensley in a suit against the city for his termination; he also represents former resident, Ben Brubaker, in a California Public Records Act lawsuit against the city.
Lampe later told the Voice that the payment, marked as being made in 2010-11, was not for legal fees but rather a payment "in settlement of three separate lawsuits relating to a failed motor sports complex."
The Voice reached out to the finance director for further clarification.
She had prepared the document as a request for any payment to any attorney, regardless of the purpose of the payment, she said. Payments made to Bingham, McCutcheon, and Best, Best & Kreiger were also for redevelopment work, which she admittedly forgot to indicate as such. She added that Best, Best & Kreiger did serve as the city attorneys for a month or two, following the dissolution of the redevelopment agency.
There were also a few firms that provided specialty work, such as The Zappia Law Firm, which did private investigative work in an employee-related issue; Jones & Mayer, where some Tulare PD officers went for training; and Highsmith & Colantuono, who represented a co-op of California cities in a lawsuit with the state's Department of Finance Redevelopment Agency. Thompson said she was unsure of the exact function of Smith, Lozano, but it was not basic legal work as well. It would take time to research that exact work, she said. All of the above needs to be deducted for a comprehensive cost of legal fees paid for routine city attorney work, leaving the following:
$232,336 in the 2007-2008 time period; $255,608 for 2008-09; $262,505 for 2009-10; $311,777 for 2010-11; $284,634 for 2011-12; $287,801 for 2012-13; $320,768 for 2013-14; $221,712 for 2014-15; $331,383 for 2015-16.
An average of $278,725 per year over a nine-year period.
(Best, Best & Kreiger for 2011-12 and 2012-13 was left in the Voice accounting as city attorney fees, as was Smith, Lozano, for the benefit of the doubt. July, 2016- Dec.16, 2016 was not included, as only part of the year was represented.)
Non-litigation vs. litigation attorney fees
Vice Mayor Maritsa Castellanoz tried to break down the average of dollars per hour for the current attorney versus previous city attorneys, estimating from 297 work hours by Goyette & Associates to be $100.74/hour. She listed former attorneys' costs as being: David Hale's non-litigation fees – $160/hour; Martin Koczanowicz – $160/hour; Cassedy and Whitmore – $285/hour; and so forth.
"So, currently, were paying under what we paid these other attorneys for non-litigation if I'm reading this correctly," she said.
City Attorney Heather Phillips responded, "That's total hours – litigation and non-litigation."
Councilman Greg Nunley interjected, "If we have a couple of big issues that we could spend half a million or a million dollars on – you're going to handle those right?"
"Those fall within our contract, we have not ever invoked the other services portion of the contract," Phillips replied.
"No matter what, our complete exposure is $360,000/year," Nunley expressed.
"Correct," Philips said.
Nunley added, "And looking at this sheet, out of nine years on this sheet, we've only spent less than $300,000 – one year we spent $293,000, the rest of it is $400,000-plus. So, if we have a big item – I mean if we go five years and don't have any big issues, then we're still going to save money, but if we have one big issue, it's going to save a bunch of money."
In the Goyette & Associates current contract with the city, it does allow for legal work outside the realm of the specified general law, labor and litigation. The contract reads as follows –
City shall pay to G&A a fixed monthly fee of Thirty Thousand dollars ($30,000), payable on a monthly basis, for all services listed in Section 1 (General, Labor & Litigation) of this Agreement. Despite the Hourly Services Fee Section detailed below, it is the intent of the parties for G&A to provide as much of the overall legal services needed by the City under the terms of the Fixed Monthly Fee section of this agreement.
Hourly Fee Services to be Rendered by Attorneys of G&A
In addition to the items described in Subsection 3.a. above G&A Attorneys will render additional legal services on behalf of the City, if requested and authorized to do so by the City, and if agreed to by G&A, at a rate of $190/hr. for senior attorneys, $170/hr. for junior attorneys and $125/hr. for the work of paralegals and law clerks and subject to the conditions herein. Any hourly fees incurred will be due only if approved by the City in advance.
Just what those items could be and whether additional fees may be imposed, are up for speculation. Similarly, former attorneys did charge more per hour for litigation work, former city attorneys Koczanowicz and Hale charged $30/hour more for litigation work vs. non-litigation work.
Councilman Nunley did ask that council address, in a future closed session, the concerns that departments "are being held up," referring to work not being done in a timely fashion, as part of the city attorney evaluation process. That issue came up in a recent deposition taken for the Brubaker lawsuit against the city.
Request for Proposal; Billing itemizations
The fact that a Request for Proposal (RFP) was prepared, but never released prior to the hiring of Goyette & Associates was also discussed. This, too, was brought up in the aforementioned deposition, as reported by the Voice.
Castellanoz asked if there was a RFP done prior to Hale, the city's attorney before Goyette & Associates, being hired.
Deputy City Clerk Roxanne Yoder explained that Hale was already serving as assistant city attorney. Former city attorneys, Koczanowicz and Hale, while not in the same legal firm, had been under contract with the city as a legal team. Koczanowicz retired, and the city replaced him with Hale, as a "continuity between the two," she said.
Castellanoz reiterated that no RFP was distributed at that time, and so the council had set a precedent that it was not necessary to do so.
In recent history, Tulare has mostly contracted its attorneys by the hour. Koczanowicz worked for a flat fee of $10,100/month during part of 2015, according to Thompson.
Koczanowicz also provided itemized statements at the time, conflicting with Jones's statement that he had never heard of itemizing work done on a flat rate contract. Other cities with attorneys on a flat fee basis, such as Visalia, also receive itemized billings.
Such invoices are very much needed, Thompson said, to differentiate which departments the costs need to be attributed to – this aids in budgeting. Departments such as water, sewer and solid waste, which is not a part of the general fund, receives an income as it bills the city's constituents.
Councilman Jose Sigala motioned the Interim City Manager to write a proposal extension. In his motion, Sigala added there to be explicit office hours in Tulare for the city attorneys, and for written regular reports as to updates of legal work performed be provided to the city manager and council — reports are required in the current contract, but were provided via regular meetings with the prior city manager, rather than in written form.
What he did not add to his motion was Jones' attempt to omit the city attorneys having to itemize their monthly billing.
The council voted 4-1, with Councilman David Macedo against.
Sigala's motion was simply to write the proposed extension, and not a motion to retain the firm beyond its current contract.
"It's the beginning of a process," Sigala said in follow-up.
Following the meeting, Macedo expressed his concerns regarding the current legal arrangement to the Voice.
"I have always felt the city should have an attorney that is well versed in municipal law, and I don't feel at this point, that's what we have," he said. "And, I'll leave it at that."
Download a scan of the table presented by Jones here, and an Excel sheet based on the data here.
Schedule of Legal Fees July 1, 2007 to December 16, 2016
| | 2007-2008 | 2008-2009 | 2009-2010 | 2010-2011 | 2011-2012 | 2012-2013 | 2013-2014 | 2014-2015 | 2015-2016 | Jul 1, 2016-Dec 16, 2016 | Total |
| --- | --- | --- | --- | --- | --- | --- | --- | --- | --- | --- | --- |
| LIEBERT CASSIDY WHITMORE | 35837.38 | 51802.5 | 20610.25 | 93208.89 | 81472.81 | 87459.24 | 148890.06 | 28024.02 | 14450 | 7011 | 568766.15 |
| MC CORMICK, KABOT, JENNER, | 186942.5 | 203735.83 | 176792.07 | 17647.5 | | | | | | | 585117.9 |
| MC DONOUGH HOLLAND & ALLEN PC * | 193039.87 | 381428.89 | 227328.88 | 92602.34 | | | | | | | 894399.98 |
| HORSWILL, MEDEROS, SOARES & | | | | | 4058.13 | 6251.76 | 12986.52 | 13486.97 | 11544.37 | 5636.37 | 53964.12 |
| BEST BEST & KRIEGER LPLP | | | | 240356.72 | 30092.74 | 353.6 | | | | | 270803.06 |
| JONES & MAYER | 58.5 | 19.5 | 1568.9 | 2891.25 | | | | | | | 4538.15 |
| CARLSON LAW CORPORATION | 9556.03 | 70 | 57373.36 | | | | | | | | 66999.39 |
| BINGHAM MC CUTCHEN LLP | 141975.3 | 157140.17 | 354.5 | | | | | | | | 299469.97 |
| LEWIS BRISBOIS BISGAARD & ** | | 270364.58 | 195789.82 | 212455.34 | 1177.25 | 5197.5 | 18681.23 | 47932.5 | 11247.5 | | 762845.72 |
| LAMPE, MICHAEL J*** | | | | 275000 | | | | | | | 275000 |
| DOOLEY, HERR, PELTZER & | | | 1127.85 | 5910 | | | | | | | 7037.85 |
| SMITH, LOZANO | | | 6601.75 | 42532.52 | | | | | | | 49134.27 |
| COTA - COLE LLP | | | | 118549.97 | | | | | | | 118549.97 |
| BROADMAN, HOWARD R **** | | | | 6720 | | | | | 1500 | | 8220 |
| LAW OFFICE OF MARTIN D KOCZANOWIC | | | | 33928 | 169010.93 | 193735.93 | 158454.59 | 164327.1 | 225228.35 | 25538.84 | 970223.74 |
| COLANTUONO, HIGHSMITH & | | | | | 8013.5 | 124974.68 | 73122.05 | 96663.55 | 44001.13 | 1945.4 | 348720.31 |
| DAUGHERTY, WALTER F**** | | | | | | | 1400 | | | 2800 | 4200 |
| HALE, DAVID P | | | | | | | 437 | 15874 | 80161 | 37812 | 134284 |
| THE ZAPPIA LAW FIRM | | | | | | | | 11837.95 | 7522.43 | | 19360.38 |
| O'HARA (RET), JUDGE PATRICK j **** | | | | | | | | | 2047.5 | | 2047.5 |
| FIKE, DAVID A | | | | | | | | | | 3947 | 3947 |
| ROBINS BORGHEI LLP *** | | | | | | | | | 7675045.43 | | 7675045.43 |
| Total | 567409.58 | 1064561.47 | 687547.38 | 1141802.53 | 293825.36 | 417972.71 | 413971.45 | 378146.09 | 8072747.71 | 84690.61 | 13122674.89 |
* Redevelopment Attorney
** Attorney for the race track issue for fiscal years 2007-2008 to 2010-2011
*** Confidential Lawsuit - Payment to the attorney was paid out of Settlement (31% of settlement fee)
****Mediators/Arbitrators