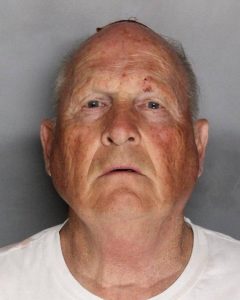 Exeter is known locally for its small town charm, but it's now nationally known as the launching point for the man suspected to be the Golden State Killer. Joseph James DeAngelo, a former Exeter police officer, was arrested Wednesday after law enforcement matched his DNA to samples left behind at crime scenes.
Retired Exeter Police Sergeant Farrel Ward worked with DeAngelo in the 1970's, when the crime spree is thought to have begun.
Ward said he worked with DeAngelo for about three years – there were about eight or nine sworn officers in Exeter at that time.
"I think I'm the only [one] left," he said, "they've either passed away or moved."
He was stunned Wednesday morning when he heard of DeAngelo's arrest.
"Joseph James DeAngelo has been called a lot of things by law enforcement: he's been called the East Side Rapist, the Visalia Ransacker, the Original Night Stalker, and the Golden State Killer," Orange County District Attorney Tony Rackauckas said at a press conference Wednesday. "Today, it's our pleasure to call him defendant."
Work to solve the case has never stopped since cases began to stack up, law enforcement officials said at the Wednesday press conference. Investigators created a special task force in June, 2016 dedicated to finding the elusive rapist and murderer.
"We created what I have called Team Justice, an incredible collaboration of individuals with one mission," said Anne Marie Schubert, Sacramento County district attorney.
Those efforts bore fruit Tuesday night when DeAngelo was arrested.
"Yesterday, an arrest warrant was issued, a complaint was filed, charging that individual with two counts of murder with special circumstances, for the murder of Brian and Katie Maggiore, here in Sacramento in February, 1978," she said. "We found the needle in the haystack — and it was right here in Sacramento."
Visalia Police Detective James Cummings worked closely with the task force, Visalia Police Chief Jason Salazar said in a Visalia press conference. Salazar said he is confident that DeAngelo is, in fact, the Ransacker, though no DNA evidence exists that could link the Ransacker to the East Area Rapist/Original Night Stalker/Golden State Killer cases.

DeAngelo was an Exeter police officer, according to an article in a August 22, 1973 issue of the Exeter Sun. He was 27 when he joined the force, and a Vietnam veteran, according to the article.
The Sun article stated DeAngelo was a Bath, New York native, receiving a bachelor's degree in criminal justice from Sacramento State.
He was employed by Exeter from 1973-1976, when he subsequently left to join the Auburn Police Department, where he was fired in 1979 for shoplifting a hammer and a can of dog repellent, according to a report from the Auburn Journal at the time.
From April 1974 to December 1975, the Ransacker did indeed ransack and burglarize homes across Visalia before he escalated to an attempted kidnapping that ended in murder, and later shooting a Visalia police officer in December.
The Ransacker broke into the home of Claude Snelling on September 10, 1975. Snelling, a journalism professor at College of the Sequoias, was shot dead after he caught the ransacker attempting to kidnap his teenage daughter.
"Victim Snelling confronted an unknown suspect near his carport area, and discovered the suspect was attempting to kidnap his juvenile daughter, who was 16 at the time," Salazar said.
Ward, the only Exeter K-9 handling officer, was called in to search for the shooter, along with Visalia PD and other local agencies.
"I wouldn't be surprised if after killing the guy, he'd changed his clothes and came in to join the search," Ward said in hindsight.
Ward described DeAngelo as super smart and serious.
"Joe was kind of the black sheep of the family, standoffish, and he didn't like to joke around," he said.
Ward added that he thought DeAngelo had a master's degree and wondered what he was doing working for a small town agency.
"He was a nice enough guy and friendly [with the other officers]. He was good at his job," Ward said.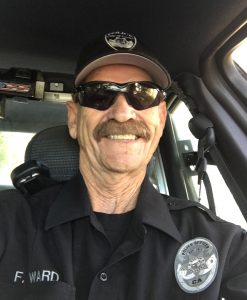 DeAngelo lived in Visalia, Ward said.
Ward thought he was married at the time, but didn't know about any children. According to ABC Nightly News, DeAngelo does have adult children.
"There was no indication, whatsoever, that he was mentally disturbed," Ward said.
"I'm just devastated," he continued. "I can't believe I worked alongside a guy who would do something like that . . .He had been in my house around, my wife and my daughter."
In December, the Ransacker shot at a Visalia Police officer who had chased him during a stakeout, hitting the officer's flashlight.
"We were taught to hold a flashlight far away from our bodies, so that if someone was going to shoot, they would shoot at the light," Ward said.
Apparently that worked for William McGowen, the officer, who only suffered light injuries.
Around the same time, Exeter had experienced a couple of women being hurt or killed, Ward said. "We caught one guy and we were positive he was the guy [in the one incident].
"At that time, we never had a thought about another officer [committing such crimes]," he added.
DeAngelo has not confessed to any crimes as the Golden State Killer, nor has he confessed to being the Visalia Ransacker, but some law enforcement professionals and armchair sleuths have long suspected links between the two. Authorities noted a link as far back as 1978, according to a UPI wire report in the Los Angeles Times.
"The Ransacker committed more than 125 ransacking burglaries in Visalia during the early 1970's, and is believed to have shot and killed a journalism instructor who tried to stop The Ransacker from abducting his teenage daughter," the report read.
The Snelling family was pleased to hear news of the arrest, Salazar said.
After the Visalia Ransacker crimes in December, 1975, the East Area Rapist/Original Night Stalker crime spree began in June, 1976, which coincides with DeAngelo's move to the Auburn Police Department.
Those crimes consisted of at least 45 rapes and 12 murders through 1986.
"Newspaper articles from the 1970's have indicated that DeAngelo was for a short period of time a police officer with the Exeter Police Department," according to an Exeter PD press release.
"In response to this news city staff conducted a search of our records to confirm DeAngelo's period of employment as well as to look for any information that may have been assistance to investigators. Unfortunately, our search revealed no employment records dating back to the 1970's so we are unable to verify through any official City documentation that DeAngelo was an Exeter Police Officer. With that being said, we have no reason to doubt the validity and accuracy of the information in the news articles from the 1970's which indicate DeAngelo was a police officer with the Exeter Police Department. Furthermore, we have been in contact with a former employee who confirms that DeAngelo was in fact an Exeter Police Officer. What little information we have been able to develop has been passed on to investigators and we will continue to provide whatever assistance possible.
"News of this nature is always shocking, disheartening, and disappointing. Anytime there is a person who commits such an atrocious crime it is shocking. Anytime a person betrays the trust placed in them by their Department and their Community, it is disheartening and disappointing. We are glad that the perseverance and dedication displayed by the men and women assigned to this investigation has paid off and wish to commend them."