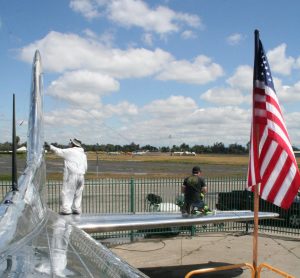 Preston's Pride will never fly again.
The World War II-era bomber's quad propellers will never turn again. Gun turrets that never spat fire at Nazi fighters in the skies over Germany never will. Neither will its bomb bays unleash exploding hell of red-hot shrapnel on unseen hostiles below, nor will this Boeing B-17 Flying Fortress probe miles beyond enemy battle lines on daring recon missions.
Likely, the 63-year-old bomber will never move again from beside the Golden State Highway in southern Tulare, where it languishes–seemingly ready for takeoff–and has since 1958.
Forgotten Fortress
She's been mistreated over the decades by generations of miscreants who found an easy target in the neglected World War II memorial.
"Unfortunately, it was raped and pillaged for years," said Greg Stathatos of B-17 Archaeology. "It's been vandalized, just decaying away."
Not anymore. The decrepit and nearly forgotten relic of WWII will soon shine again.
B-17 Archaeology
Already, Preston's Pride is glowing again in the Valley sun, thanks to a group of volunteers–B-17 Archaeology–who travel the States restoring the less than 50 remaining B-17 models left in the world.
"It's an all-volunteer group, which is what's really great about it," said Chris Harrell, the executive director and curator of Tulare Historical Museum. "They basically go around to the surviving B-17s that are left–there's not a lot. They try to help restore and give them some good TLC over time."
They aren't just restoring Preston's Pride's original factory finish. They're also gathering the history of the plane–which was built one month before Germany surrendered to Allied forces in 1945–including its role as a roadside attraction on Highway 99 between LA and San Francisco.
"We're telling its story from where it went, how it got to where to where it's sitting, and what it's future is," said Stathatos.
Local Flavor
When that history is complete it will be included in an ongoing series of DVDs produced by B-17 Archaeology called Surviving B-17s. The group is negotiating to have the series aired on network television. It is currently available for purchase at b17archaeology.com.
B-17 Archaeology would like to include the memories of those who've lived so long with this faded piece of American history.
"It's the B-17 that has sat in one place for the longest time," Stathatos said. "There are more childhood memories, if you can help us, if you have a photo of the old girl back in the day, please contact Chris here at the (Tulare Historical Museum). We want to include a montage of people's stories."
Contact the museum at tularehistoricalmuseum.org or (559) 686-2074.
Ship With No Name
Unlike her sister ships that flew in WWII, Preston's Pride had no name when it arrived in Tulare.
"That moniker didn't really come about until the '90s, or it could have been the early 2000s," said Harrell. "It basically went by its tail number. This one never had a specific name."
It did have a specific job.
During the development of thermonuclear weaponry during the Cold War, Preston's Pride flew an important mission for Operation Crossroads, the nuclear bomb test that completely destroyed Bikini Atoll in the Marshall Islands in 1946.
"This B-17 was the mother ship," Stathatos said. "It flew drone B-17s in and out of the mushroom cloud."
Preston's Pride is the last surviving B-17 from Operation Crossroads.
Native Pilot Flies Home
A B-17 Flying Fortress wasn't Tulare's first choice to attract the attention of motorists passing the then tiny farm town. Before it moved operations to Bakersfield, Tulare had been the central hub of the Southern Pacific Railroad.
"The city wanted a train, an actual steam engine," said Stathatos. "They couldn't get one."
Instead, they turned to native son Gen. Maurice Arthur "Mo" Preston, the one-time commander of United States Air Forces in Europe during WWII, who was born in Weed and attended high school in Tulare. The four-star general later commanded the Fifth and 19th Air Forces.
Preston–with his son as copilot–flew the B-17 from March Field Air Museum in Riverside to Tulare, but there was a slight technical snag. The crew was forbidden from landing the airplane at Mefford Field, where Preston's Pride now stands. The USAF deemed the runway at Mefford too short to land the bomber there.
"A local farmer plowed his field and made a dirt runway," Stathatos said. "It's not Mefford Field, so he did not break an order. He just followed the gray area."
The Restoration
The work on Preston's Pride only includes the plane's bright aluminum exterior. One dozen volunteers have gathered from as far as North Carolina to perform the work, which includes repairing minor damage to the plane caused when it was struck by a runaway semi tractor-trailer in 1982. The hull of Preston's Pride is an empty shell.
"The original interior is absolutely gutted," said Stathatos. "There's nothing left on the inside."
There is footage of the airplane's interior. It, along with footage of the plane in flight, will be included on the historic DVD. That footage will aid B-17 Archaeology as it moves the restoration inside Preston's Pride.
"The ultimate goal is, once the outside is done, I have people who want to donate piece of the inside so we can restore it to the correct 1946 (configuration)," Stathatos said.
Restoration of the B-17's exterior will include restoring the markings received at the factory in 1946.
Re-Opening Ceremony
Those working on the project are volunteers, and materials to complete the work have been donated. Groups pitching in include the Church of Jesus Christ of Latter-Day Saints and Home Depot, which is providing the paint.
"This is a project totally done all by donation," said Stathatos.
Work on the B-17 will be complete in time for a ribbon-cutting ceremony at 10am on May 12. The public is invited to attend.