Several Tulare high school athletes were recognized by Tulare City Council on March 6 for their achievements on and off the field last fall and winter.
Tulare Union High football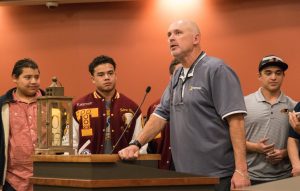 A presentation was made to the Tulare Union High School Football team and coaches in recognition of their CIF Central Section Division II Valley Championship. The team went 13-1 during the 2017 season and 5-0 in their league.
Special recognition was given to Kazmeir Allen for securing the National Record for the Most Touchdowns in a single season. The wide receiver/running back "had one of the best single-seasons in California history," according to MaxPreps. "He broke the national single-season record scoring 72 total touchdowns in 2017 and he rushed for nearly 3,500 yards and had over 800 yards receiving during his senior season."
"This season was probably one of the best seasons in Tulare Union history," Allen said. "We grinded every day, worked hard, especially our captains."
In January, Allen signed to the UCLA Bruins Football team.
"My name is Andrew Ruelas. I'm a middle linebacker and a four-year varsity player. Out of all the four years I had, this last one was the very special one," Ruelas said. "Last year, my junior year, it didn't feel like we were a team, it felt like we were individuals. But, we did still have a good team. This year was totally different, we were just like a unit. We were bonded with each other, hanging out with each other. It was a great run and I had fun."
That evening. Allen was also awarded the first annual Kyan Wimbley Award. Wimbley, 13, was killed in a traffic accident in March of last year. The Corcoran High student was returning from his basketball practice in Fresno along with his parents when they were hit by an alleged drunk driver. His parents also died from the incident.
Kyan Wimbley's siblings, Marvin and Marina LeFridge, have started the Kyan Wimbley Award in honor of their little brother.
"This award is going to be presented annually to a kid within the City of Tulare who demonstrates excellence on the field, basketball court, softball field, soccer field, academically – whoever we feel is just demonstrating that excellence that my family instilled in my brother," Marvin LeFridge said. "This year, it's Kazmeir Allen."
Tulare Union Cheer team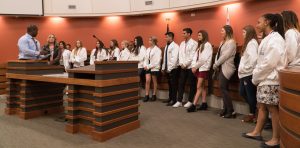 A second presentation was made to the Tulare Union High School Cheer team and coaches in recognition of their 2018 ICU World Cheerleading Championship.
"The kids went to Florida and competed in the ICU World Cheerleading Championship, which is essentially the Super Bowl of cheerleading. They beat Belle Chasse High School [from Louisiana] which is essentially the team that has never been beaten before – which is pretty cool," said Coach Britney Audino. "They are the world champions – they competed against teams from all over the world, beating out Canada, Jamaica – I mean literally all over the world.
"They also competed against teams across the nation – placed third, which is confusing, it's a different championship. They did really well and we're really, really proud of them. They did qualify to go back next year, so we're excited about that.
"They worked tirelessly," she said. "They are not only amazing athletes, but amazing kids."