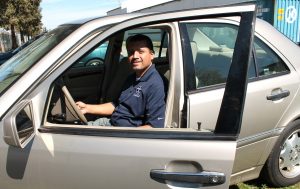 Through the years, the Visalia Rescue Mission (VRM) has received a lot of thrift items for recycling, from clothes to kitchen items, furniture to toys, and even some cars. Wait – cars? Last year VRM received and sold some 20 automotive vehicles. This, with discussion through conferences with similar non-profits providing a thrift service to the community, got Henry Leon, and others thinking.
Why not promote vehicles on a regular basis? Mission Motors was born.
Its mission – Driving the ministry of Visalia Rescue Mission, while providing the community with reliable transportation at a great price.
"Several places that we're acquainted with are selling vehicles," Leon said. "The more we started to think about that, the more we started to realize that was a really good idea."
After seeing a similar automotive operation at Union Gospel Mission in Spokane, WA, Al Oliver, VRM executive director, was ready to make Mission Motors happen. "Mission Motors will fulfill a longtime goal of ours," Oliver said, "to provide our residents and graduates with a whole new skillset that will allow them to provide for themselves and their families."
"Spokane's auto operation showed us a whole new side of a thrift enterprise and our Mission is ready for a new opportunity like this," said Sherri White, VRM's thrift director.
From office staff to Mission Motors manager
Leon has worked for the Rescue Mission for 6 1/2 years. Having gone through the VRM recovery program, he was offered a position within two weeks of graduation. He has worked in the office of the men's shelter, once certified, he worked as a counselor, and most recently Leon was
warehouse manager for thrift services. He is now manager of Mission Motors.
It's not that he has a particular passion for cars.
While he has an interest in them, he doesn't spend his evenings or weekends tinkering with them in the garage. It is more he has a passion for the Mission.
"I do love cars, but I am by no means a car guru," he said.
"My motivation being part of this is, since I've been with the Rescue Mission, I've continually just had the opportunity to go into different positions and to be able to learn and grow and have an impact, to the best of my ability, to help those in need. So, for me this is just another opportunity – it looks a little different than in the past – but it's another opportunity for me to go in there and to be able to help something grow and develop for the Rescue Mission, so that ultimately we can turn around and help those in need."
"As of now, we are in the process of streamlining vehicles to get them prepared to sell them," he said.
Determining vehicle condition
The Auto Shop will serve as an advisor, said Ryan Stillwater, VRM director of development. "Depending upon the condition of the vehicle, we may have them take a look and make recommendations.
"Jim Barlogio, owner of The Auto Shop, has been a supporter in multiple ways [of the Mission] for years," Stillwater said. "So, he was an obvious choice to approach and let him know what we were doing."
"From there, we'll decide what we're going to do with the vehicle," Leon continued.
Whether that vehicle is in condition to sell as a working automobile, or not, VRM welcomes all vehicles, running or not as they can also sell, or salvage, those not in operational condition. At this time, Rescue Mission staff is not able to make fixes to the vehicles that come in. However, if they are in operable and safe condition, cars will go through a smog check and the staff will detail them inside and out.
Potential donors should either call, or visit Mission Motors online, and indicate they have a vehicle to donate. Leon will get in touch with the donor and ask a few basic questions –
"Do you have the title? Is the car running? Is registration up to date?
"Then we determine what we're going to do with the vehicle."
All vehicle donations are tax deductible and donors will receive a donation slip along with a release of liability, which needs to be filed with DMV.
In the short term, this will also help offset the minimum wage increase expenses, Stillwater said. "The minimum wage increase adds $300,000 to our operating expenses, as we employ nearly 100 individuals."
This is just the beginning for Mission Motors.
Helping the local community and the Rescue Mission
"One thing that is so exciting, like other missions who sell vehicles – it's like a $2,000-$5,000 range, which is such a great niche for the community. For those, who need an A to B car – it doesn't have to look perfect. I just need a car – I want to pay cash," Stillwater said.
Vehicles are sold "as is." Like a lot of other thrift items, Stillwater explained.
The long-term goal is for VRM grads, who are interested, to eventually learn vocational trades around cars, so that they can evaluate vehicles internally and be able to make repairs.
Currently, the Rescue Mission has four vehicles available – a 2001 Hyundai, a 1999 Buick Century with low mileage, a 1999 Mercedes and a 1996 Chrysler Town & Country van.
These are all operational and have, or will, receive smog certification and detailing.
Vehicles may be viewed during warehouse hours of 8:30am – 4:30pm. Potential buyers may stop in or check out the inventory online.
For more information or to donate a car, visit: missionmotors.org or call (559) 740-4178 x502.