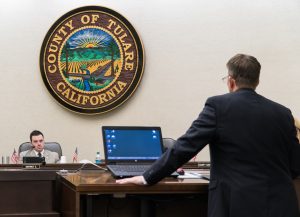 An investigation into Healthcare Conglomerate Associates' (HCCA) conduct while managing Tulare Regional Medical Center (TRMC) continues, Tulare County District Attorney Tim Ward told the public on March 6.
At a presentation before the Tulare County Board of Supervisors, Ward stated that his office's involvement began in the summer of 2017, when the office attempted to force the Tulare Local Healthcare District board and the hospital's former management company to recognize Senovia Gutierrez as a newly elected district board member.
It then served a search warrant on the Southern Inyo Hospital, also managed by HCCA, and has since expanded its work to include 15 search warrants served, with one served as far away as Michigan.
"[This] will be the largest investigation ever undertaken by the district attorney's office," Ward told the board.
Ward made clear that his office's investigation was not prompted by the Tower of Shame report released by the Tulare County Grand Jury in March, 2016. The grand jurors in that case did not refer the case to his office, he said.
Four warrants were served at hospital locations — two at the Southern Inyo hospital, and two at TRMC. Nine have been served on financial institutions, including an accounting firm in Farmington Hills, Michigan.
"Travel so far — we've had three trips to Inyo County alone, Los Angeles, Fresno, and San Diego; working with our investigative partners from an outside agency, two trips to Orange County, for service of search warrants there," Ward said.
The costs associated with travel and additional data storage needed during travel totaled, so far, nearly $15,000, he added.
"It's a shame that the taxpayers are footing the bill here on charges in and out of court which lack foundation," Marshall Grossman, an attorney for HCCA, told the Voice.
Outside Assistance
Two full-time forensic accountants from the California Department of Justice have contributed to the effort, and the FBI has assisted in "search warrant activities and investigation dealing with financial institutions," Ward told the Voice.
California Attorney General Xavier Becerra has worked with the office from the outset of the investigation, Ward said, including in his office's initial efforts to seat Gutierrez on the board.
"Mr. Becerra assigned us two full-time accountants, and any investigative assistance that we've needed from his office, he's been there," Ward said. "I cannot enfathom any situation where we've needed more from Mr. Becerra that he hasn't provided us."
Additionally, Ward stated that the United States Department of Justice is "monitoring" the process.
"Everything we've discovered appears to be a type of a crime that we would investigate, not the US Attorneys," Ward added. "They're really not involved."
Investigative Resources
Nearly 2,400 hours of staff time have been dedicated to the case, and will likely end up 75-100% over the office's budget in overtime costs.
"One attorney has already spent the equivalent of 400 staff hours," on the case, Ward said.
The evidence gathered, so far includes, roughly 8 gigabytes of data from the Southern Inyo Healthcare District; thumbdrives, computers, cell phones, hard drives, and "several boxes of documents" in Tulare. Four boxes of documents were seized from the Michigan accountant.
One search conducted in November took "well over 33 hours straight," a prior statement from the DA's office claimed.
Additionally, 57 bags of shredded documents were also recovered — each estimated to have 5,000 pages — totalling an estimated 285,000 pages of documents.
Many of the seized documents likely contain doctor-patient and attorney-client privileged information, Ward said, requiring a special procedure to ensure that those documents are not used in the investigation.
Documents from the Tulare warrants were recently released to the DA's office, and an agreed-upon solution will be followed by the office: a separate team of investigators — one supervising, and three additional — will begin working independently from the criminal investigation team to separate any attorney-client or doctor-patient privileged information from information seized at the hospitals.
"At the hospital search warrant down in Tulare, which are the documents only recently released to us — that team spent, in one weekend, over 13 hours of time reviewing well over 200,000 documents," Ward said. "From a budget aspect, this is going to be very costly for us."
That process is only the tip of the iceberg — nearly 400 gigabytes of data was seized from computers and electronic devices in Tulare.
"Experts estimate that it could be approximately 20 million pages of information," Ward said. "If we put a person behind a desk and he or she reads two pages or two emails a minute, that's roughly 1,000 pages in an eight hour day — that's 20,000 eight-hour days that would be needed to complete, or one person working eight hours a day for 76 years."
"Now, remember that two teams have to review the data to satisfy the privacy requirements," Ward said.
Ward said that a significant amount of data could be whittled down electronically by using an independent forensic analyst to search for, and automatically filter out, data from the district and HCCA's different law firms.
Even with the data narrowed, Ward said several investigative interviews would need to be conducted after data was analyzed.
"Our office has every available resource committed to see this to a conclusion," Ward said.
Public Reaction
Cindy Summers, the District Manager for the Visalia Public Cemetery District, asked the supervisors to increase the District Attorney's office budget to ensure that any work relating to embezzlement from the cemetery continues unhampered by Tulare.
"I assure this board and I assure Ms. Summers, that in no way will that case suffer from this," Ward responded. "We have a full-time attorney assigned to that case, and a full-time investigator as well."
Many Tulare citizens spoke to the supervisors, and Ward, as well.
Dr. Patty Drilling-Phelps, a Tulare dentist, spoke regarding some of the challenges surrounding reopening the hospital.
Drilling-Phelps is a member of Citizens for Hospital Accountability, the group which challenged HCCA's management of the hospital.
"The hospital board cannot speak to this, but as a concerned citizen and healthcare provider, I can. Dr. Benzeevi could release the lien on Evolutions any day, but the district needs capital to reopen through potential loans, and collateral is not available at this time," she said.
"Benzeevi filed a lien on Evolutions gym right before the closure of the hospital. That's going to take time in court to resolve."
Dr. Benny Benzeevi is the CEO of HCCA.
Deanne Martin-Soares, a former Tulare Local Healthcare District board member and member of Citizens for Hospital Accountability, also spoke in support of Ward's investigation.
"I can only imagine the cost of this investigation, because it's long overdue, and I'm assuming that it's extremely complicated," she said. "There has been corruption in this public entity for at least 10 years."
"The importance of completing this process is essential. What will be discovered is going to be in the caliber of what shows like 'American Greed' are all about," she added.