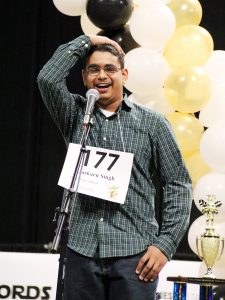 The 19th Annual Tulare County Spelling Championship was held February 21 with 232 spellers from grades four through eight competing for the title of 2018 Tulare County Spelling Champion and to advance to the Scripps National Spelling Bee in National Harbor, Maryland the end of May.
The winner was Jaskarn Singh, an eighth-grade student from Alpine Vista School in Tulare. Second place was awarded to Hannah Cooper, a seventh grader from Classical Conversations, and third place to Saksham Narwal, a seventh grader from Live Oak Middle School in Tulare.
Singh won in the 19th round. Students represented 116 public and private schools throughout the county. The competition lasted six-plus hours.
Singh's words were: periscope, triumvirate, quisling, erudite, tertiary, dachshund, novillero, lokshen, Meiji, springerle, escargot, uitlander, scherzo, pfeffernuss, tanha, barukhzy, weissnightwo, preposterous and vamplate.