On Feb. 26, members of the Tulare County CattleWomen (TCCW) held an educational beef and dairy workshop at The Catholic School of Visalia's George McCann Memorial Campus (GMC) in downtown Visalia.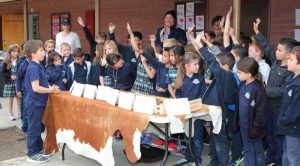 A total of 57 students in first, second and third grade participated in the one-hour event, which featured an in-depth look at beef by-products and how cattle are a good caretakers of the land – serving as firefighters, gardeners and recyclers. Students learned how each ingredient in their cheeseburger – everything from the beef patty to the cheese, bun and vegetables – was produced. They also found out how beef is a good source of zinc, iron and protein (ZIP).
In the dairy rotation, students were treated to video of life on a dairy, as well as the process of how milk starts at the source and then ends up in the grocery store.
Presenters included TCCW Past President Claudia Guthrie, TCCW Secretary Beth Baxley, and current or former TCCW board members Shari Tarbell and Kelli Toledo, as well as Tessa Hall of Curtimade Dairy Inc.
Following the three 15-minute stations, students were treated to cheese, donated by the Land 'O Lakes Tulare plant, ice cream bars, gummy cheeseburgers, Angus scene placemats, dairy cow headbands and pencils with cheeseburger erasers. A coloring contest was held for each grade level with beef and dairy coloring pages completed ahead of the workshop. Winners were recognized judged by members of the TCCW.
Each teacher was given a kit of resource materials with brochures about beef and dairy, as well as donations of notepads, pencils, bumper stickers, coloring books and more for each student. Materials were donated by the American Angus Association, the California Beef Council and the California Milk Advisory Board.