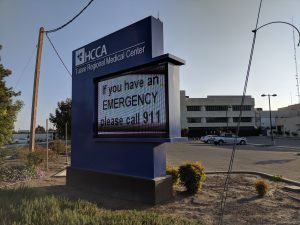 With the shutdown of Tulare Regional Medical Center (TRMC) on October 29, other area hospitals are prepared to take on an additional patient load.
The remaining TRMC patients were transferred to neighboring hospitals late last week, including to Kaweah Delta Health Care District (KDHCD), Sierra View Medical Center (SVMC) and Adventist Health in Reedley.
At KDHCD in Visalia, "We are near or at capacity daily in the acute medical center;" said Laura Florez-McCusker, senior public relations specialist. The hospital has 403 beds.
"We are here to serve the community and provide care for those who need it," she added. "Like many hospitals, we have experienced times of high patient demand, and we expect that to continue as we move into cold and flu season, a peak time of year for hospitals.
"In recent months, Tulare physicians have asked for, and been granted, staff privileges to care for patients at Kaweah Delta.
"Last month, at the request of their doctors, we began receiving patients from Tulare [TRMC]. We always try to accommodate immediate needs for patient transfers from any hospital."
SVMC is a 167-bed, full-service acute care facility in Porterville. "With our proximity to Tulare Regional, we are preparing to support our neighbors and community to the best of our ability," Kiley Arce, public relations assistance for the hospital stated on October 27. "We currently have available beds on all nursing units with the exception of our Cardiac Telemetry Unit, which is at capacity. We also have four patients being held in our Emergency Department at this time awaiting that level of care."
"Life Star Ambulance services, which serves Tulare, has been transporting patients from Tulare and surrounding areas for the past few weeks, but we have seen a larger increase this [past] week," she said.
Emergency Services
Normal fall ER increases are added to by additional increases from the Tulare community.
SVMC has an 18-bed emergency room.
"SVMC is seeing a typical increase in emergency department volume with the onset of fall," said Jeffrey Hudson-Covolo, SVMC vice president of Patient Care Services and chief nurse executive. "Our daily census in the emergency department averages 128 patients per day for September and October.
"We have confirmed flu in the outpatient clinic setting in our community and one patient has been admitted to the hospital for the complication of having the influenza. Daily ambulances volume was up in September and October by 23%."
KDHCD has 41 beds in its emergency room and sees approximately 300 patients per day.
Seeing patients from the Tulare area is not new.
"Existing policy [dictated by the state and county] outlines where we take people," said Jackie Paull, vice president of Life Star Ambulance, which serves Tulare and the surrounding areas of Tipton, Pixley and Earlimart. "Any patients with trauma or cardiac in nature, they had been going to Kaweah Delta anyway."
Patients who are stable have always had the choice of where they would like to go, be it TRMC, KDHCD, Sierra View or further, Paull said. Now, they are just a bit more limited, without TRMC. The majority has not only chosen KDHCD recently, but in the past as well, she explained.
Life Star was once a part of the TRMC district and was managed by the board. In 1995, the ambulance service was privately purchased, but remains dedicated to the community. It has a good relationship with TRMC, its nursing staff and doctors, Paull said, as well as the community.
Urgent Care vs. Emergency Care
The SVMC urgent care department, "helps to decrease wait times in our ER by evaluating and treating non-life-threatening injuries and illnesses," Hudson-Convolo said.
The importance of the use of urgent care versus an emergency room need should always be considered.
According to the KDHCD website, "If you are sick or need non-emergency care and your doctor is unavailable, our urgent cares and health clinics are ready to care for you. We would like to help you choose the right place to receive the best and most timely care."
SVMC echoes with similar information. "The main difference for treatment at the ER versus Urgent Care is if the patient is experience life-threatening conditions," Arce said. "Urgent care can best be utilized for flu symptoms, minor cuts or burns, broken bones and other symptoms for non-life-threatening injuries, illnesses and conditions."
SVMC's urgent care hours of operation are 4pm-11pm Monday-Friday, and 11am-9pm weekends and holidays. It is located at 263 Pearson Drive in Porterville.
KDHCD's urgent care is open from 8am – 10pm, daily. It is located at 1633 S Court St. in Visalia.
"We understand the severity in the loss of a hospital so close to home for the Tulare community," Hudson-Convolo said. "Sierra View Medical Center is prepared to support Tulare and its surrounding communities for emergency and urgent care services, as well as provide comprehensive outpatient and hospitalization services as needed."
Medical Staffing
With fall leading into winter seeing a demand for additional needs of medical services, and the foresight of the potential closure of TRMC, SVMC is seeking additional staffing.
"Winter tends to be our busy season so we have already anticipated additional staffing needs and are currently recruiting for 48 open positions," said Tracy Canales, SVMC vice president of human resources. The hospital held a career fair on November 1.
"We have also taken measures to increase staffing at our medical center and at our urgent care center," Flora-McCusker said. "We are prepared to handle the region's trauma needs as the only trauma center between Fresno and Bakersfield."
For job openings at KDHCD, visit its website at www.kaweahdelta.org/Careers/Career-Search-Log-In.aspx