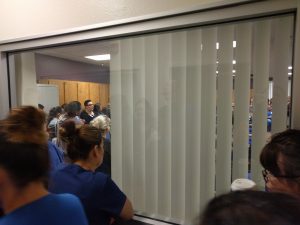 This story has been updated to correct a quote — an anonymous employee said the revenue had declined over the last three years, not months.
Employees of Tulare Regional Medical Center met at 8:30am with the hospital's CEO, Dr. Benny Benzeevi, and CFO, Alan Germany, to discuss issues surrounding the beleaguered hospital.
Shortly after that meeting ended, members of the Tulare Local Healthcare District's Board of Directors announced they will meet tonight to discuss the situation at hand after many of the hospital's workers — employed by Benzeevi's management company, Healthcare Conglomerate Associates — weren't paid Thursday, their regularly scheduled payday.
Multiple employees have since reported that they have since been paid today.
Torrez Resigns
Richard Torrez has resigned from the Tulare Local Healthcare District's Board of Directors, Board Chair Kevin Northcraft confirmed.
"We were very appreciative of his support when he clarified and ratified the actions of the last three meetings of the new board, and we are happy he did come to the meeting for those things," Northcraft told the Voice.
In a statement, Northcraft said that Torrez' resignation "means that the entire Board that brought and blindly supported HCCA, which almost cost us our hospital, is now gone."
He stated that Torrez had resigned during the special session of the September 23 board meeting, and that the resignation was effective as of 12:00am Thursday, September 28.
Northcraft also stated that recruitment to replace Torrez would begin soon.
Bankruptcy, Closure, Loans On The Agenda
Members of the hospital's board called an emergency meeting to be held tonight at the First Congregational United Church of Christ at 220 W. Tulare Ave, Tulare. Emergency meetings are able to be called under the Brown Act with less than 24 hours' notice under specific circumstances, such as "work stoppage, crippling activity, or other activity that severely impairs public health, safety, or both."
After the resignation of Richard Torrez, only Kevin Northcraft, Senovia Gutierrez, and Mike Jamaica remain on the board.
The meeting, starting at 6:30PM, will include consideration of a complete closure of the hospital, pursuing loans for operational costs, or Chapter 9 bankruptcy.
HCCA's other managed hospital, the Southern Inyo Hospital, is currently in Chapter 9 bankruptcy proceedings.
Northcraft stated the board would listen to the advice of their attorneys at McCormick Barstow to make the best-informed decision possible.
"I think these are necessary steps — we need to come together to seek a change in the management of our public hospital. There's a lot of contention going on," Northcraft said. "Despite the rough spots, hopefully in the long run this will be a positive step for our community, patients and employees."
"The Board's Fault"
A Voice reporter attempted to attend the morning meeting, but was escorted off the premises by hospital security and told it was a private, employee-only meeting; however, multiple employees have reached out to the Voice, describing the meeting and what they feel has caused the hospital's downward spiral.
All have reached out under the condition of anonymity out of concerns for potential retaliation from the hospital management company.
One characterized the meeting as largely shifting blame to the healthcare district's Board of Directors. At one point, the board members' personal phone numbers were written on a chalkboard in the conference room the meeting was held at.
The employee claims that Benzeevi stated that the health care management company had been reaching out to the board for "months and months" without response.
If taken at face value, that could include the period when Dr. Parmod Kumar, Linda Wilbourn, and Richard Torrez were still on the board — constituting a majority of board members which signed and supported HCCA's management of the Tulare hospital.
"I attended the board meeting and saw the financial report. The revenue declined 50% over the last three years," the employee told the Voice. "This didn't happen in 3 months. Don't insult our intelligence."
Those opposing HCCA's management have had a majority of the board since July, when Kumar was recalled and Senovia Gutierrez voted in.
"Set Up To Fail"
Another employee claims that the hospital may have been set up for failure by overcharging through a system of false productivity — having employees around even when they're not needed, claiming that shift happened around a year ago.
The employee claims when the company first took over operations, management would respond to patient levels with staffing reductions — sending employees home when they're not needed, and ensuring that employees "charged out" equipment.
Over the past year, the employee says, that's changed.
"We don't even charge out equipment and we were never sent home when we were low or anything," the employee stated.
"When we had counts of 20, 23, we were all there. There were times that people had only 3 or 4 patients — it was obvious. And then, not charging out equipment — we'd get in trouble if we weren't charging out equipment before, and now it doesn't matter?"
The employee claims that HCCA may have been setting up the hospital to fail — or, at least, become indebted to the hospital management company.
Another employee contacted by the Voice agrees.
"Normally, on any given day we would have three to four nurses on at one time," the employee stated. "And then because the bell system is down in our unit, where patients can't call, we have a rounder."
"So we have approximately five to six people on at one time. And there would be times where we will have people just sitting around doing a whole lot of nothing," the employee said, "and then, as far as equipment's concerned, there would be times where we would have equipment on patients that didn't need to be there."
"They would move a patient up to ICU just to keep it open," the employee described. "They were shifting people in order to keep departments open so that they could keep the staff on."
Other days, the employee claims, would see some focus on keeping staffing at sustainable levels.
"Then there would be days where they would say — no, we need to send people home," they said. "You have this discrepancy every day of — am I coming in or not, am I working, those kind of things. And then you would have — I'm working, but there's nobody here. This doesn't make any sense."
Some employees have reached out to the Voice and stated they are attempting to pursue "other options," though those have not been specified.
The Voice has reached out to Dr. Benny Benzeevi, CEO of HCCA, but has not yet received a response. When one is provided, this article will be updated.