The public is invited to attend the 26th Annual Tulare County Job Fair on Wednesday, September 27 at the Visalia Convention Center from 9:00 a.m. – 12:00 p.m. The job fair, the largest in our region, is known as the premier event for job seekers and businesses to interact and promote their skills and employment opportunities. 
Over 75 employers from all workforce sectors and industries are scheduled to attend, offering roughly 1,800 job opportunities to local residents. The event is free to all attendees and Priority of Service will be observed allowing Veterans to enter the job fair at 9:00 am; the general public will enter at 9:30 am.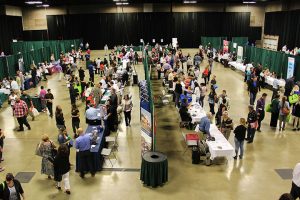 "Each year, we are impressed with the success of the job fair and look forward to another landmark year," said Sherri Glenn, co-chair of the Tulare County Job Fair planning committee. "Thanks to the participation of our loyal business partners, we are able to connect qualified job seekers with exciting new employment opportunities that expand the local workforce and improve our economy."
The job fair provides individuals with the opportunity to discuss their qualifications and experience with local employers. In addition to interacting with businesses and organizations, the job fair offers attendees the opportunity to participate in speed interviews and resume review sessions courtesy of the Society of Human Resource Managers (SHRM). Job seekers also have the opportunity to network with job placement organizations, educational institutions, and military representatives.
Event sponsors include California Dairies, Horizon Nut LLC, Kaweah Delta Healthcare District, Momentum Broadcasting, Pacific Southwest Container, Proteus, Inc., and Ruiz Foods. More information about the 26th Annual Tulare County Job Fair is available by calling the Tulare County Employment Connection at (559) 713-5000, or by visiting @TCCareerFair on Facebook.