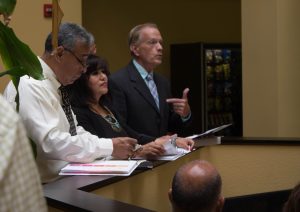 An issue of competing agendas for Tulare's hospital meeting cleared itself up Wednesday, when officials with Healthcare Conglomerate Associates (HCCA) abruptly cancelled Wednesday's scheduled regular meeting. But one was still held anyway — by Kevin Northcraft, Mike Jamaica, and Senovia Gutierrez.
Linda Wilbourn and Richard Torrez were absent again — because Wilbourn had resigned and Torrez was unable to attend. A notice posted at the Evolutions gym stated that because of Wilbourn's resignation and Torrez's inability to attend, the meeting would be cancelled for lack of a quorum.
In a letter posted outside Evolutions, Wilbourn stated she was resigning her post effective Wednesday at noon. The letter was addressed to Dr. Benny Benzeevi, CEO of Healthcare Conglomerate Associates, and Bruce Greene, attorney for HCCA.
Northcraft stated that didn't matter — the meeting would be held in Evolutions' parking lot, if it came down to it, because a majority of the board was there.
He stated he didn't receive notice of the resignation and cancellation until 3:15pm, while Jamaica said he received no notice at all. Outside legal counsel didn't appear to receive any notice either: Carlo Coppo, a Carlsbad-based attorney representing the district in multiple lawsuits, was present as well.
A notice of the meeting's cancellation was posted on HCCA's website at 3:27pm.
"I'm still trying to absorb everything," Jamaica said. "We had some of our insurance attorneys that came down from down south to attend this meeting and be in the closed session, and no one informed them about it until they got here, like the rest of us."
"[I got] no notification at all, other than coming here and reading about it," he said.
One thing was clear — the meeting would not be held in the conference room of Evolutions. As more citizens filed into the Evolutions lobby, multiple officers from the Tulare Police Department appeared in the gym and could be seen inside talking to security officers and board members before the meeting began, though no arrests were made.
Ultimately, Northcraft, Gutierrez and Jamaica stood in front of a half-wall at Evolutions, limited to five minutes' total to hold their public meeting session.
No action was taken on the public session items. Instead, Northcraft addressed the public and stated that the true meat of the meeting would be in closed session — where the board would address multiple lawsuits the district is facing.
"We have about five minutes to conduct a brief meeting," Northcraft said. "The most important part of the night's meeting is in closed session, so we're working with every attorney who represents the hospital."
Northcraft stated a security guard gave him the five minute deadline.
Northcraft announced Wilbourn's resignation to cheers from the crowd, stating that the board will start the application process for a replacement to take the rest of her term.
He stated that the group had been "locked out" of the hospital's facilities, and that the closed session could not take place at the hospital's administration building as planned. Instead, the closed session was held at the Tulare Masonic Lodge.
No officials from Healthcare Conglomerate Associates were available at the meeting, which was slated to include discussion of the hospital's finances and upcoming budget.
New Lawsuit Filed
Absent from both agendas was a lawsuit recently filed by Maxim Healthcare Services against the hospital.
The suit, filed against "Healthcare Conglomerate Associates, LLC d/b/a Tulare Regional Medical Center," claims that the company is owed $160,645.35 for services rendered to the hospital, joining Graham Prewitt and Specialty Laboratories, Inc. in those seeking payment.
The three suits total $299,305.21 in alleged debts.
The suit was the same previously mentioned by Visalia attorney Michael Lampe at the board's August 9 meeting.
Wilbourn's Resignation
In her resignation, Wilbourn defended her voting record from criticism.
"When I was elected as Zone 5 Director, my only goal and agenda was to further the completion of the new tower project to bring our hospital into California state earthquake compliance before the 2030 state deadline," Wilbourn wrote. "To my mind the every penny spent on or in the hospital hinges on the district finishing that tower. The very existence of the hospital is tied to the tower completion."
"Every day since I was elected to this board, I have worked towards that goal. Since November 2016, the board makeup has significantly changed their direction and agenda. My goals do not seem to mesh with theirs any longer. The completion of the Tower has now taken a back seat to personal agendas and egos," Wilbourn wrote.
Wilbourn stated she would be moving out of her zone by year's end, and that "it would be best if I leave the Board at this time."
"Let it be known to all that EVERY and I repeat EVERY vote I have cast in both open and closed session have what I feel has been best for Tulare Regional Medical Center, the employees of that hospital and for all the people of Tulare Local Healthcare District," Wilbourn wrote. "My votes have never been influenced by others, but what I felt were the best for TRMC."
She stated that the unique partnership between HCCA and the District could serve as a model for district hospitals throughout the nation, "if everyone opens their minds and starts thinking out of the box."
Wilbourn stated that she would continue to support the hospital and the Tulare Hospital Foundation, and also gave her best to Greene as well.