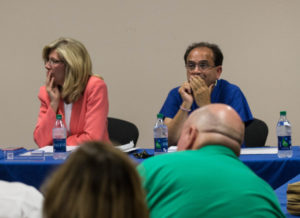 The recount of Tulare's July 11 recall election has finished, Tulare County Registrar of Voters Michelle Baldwin has confirmed.
The result? Not a single vote's changed, Baldwin said.
Those that came out to vote in Dr. Parmod Kumar's district on July 11 voted overwhelmingly to recall him and elect Senovia Gutierrez as his replacement. Those results still stand, and a recertification of the vote isn't necessary, Baldwin confirmed.
A recertification would not have occurred even if the recount that vote numbers had shifted. Baldwin stated that a recertification would only occur if the recount caused the election's result to be changed.
Officials with the office previously estimated the cost of the recount to be $2,630, an amount that Kumar's supporters failed to pay Monday.
The recount effort — started by Kumar last week — had no bearing on Senovia Gutierrez' certification as Kumar's replacement, Baldwin told the Voice earlier in the week.
"Once we certify the election, that stands true," Michelle Baldwin, the Tulare County Registrar of Voters said, "unless we do the recount and it proves we were in error."
"The results of the recount confirmed our Certified Statement of Vote with 836 yes votes and 195 no votes. Senovia Gutierrez received 680 votes and Jesse Salcido received 190 votes," the registrar's office stated in a press release.
Officials from the office also thanked the Lions Pride organization for serving on the tally board.