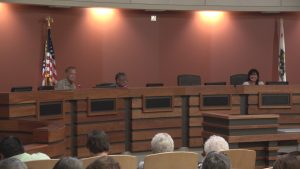 The new majority on the Tulare Local Healthcare District's Board of Directors crossed off the first part of their to-do list tonight.
But hospital administrators state that the meeting wasn't a meeting — just a gathering of two board members, and a "newly elected, not yet certified" board member.
Kevin Northcraft, Mike Jamaica, and Senovia Gutierrez called for and held a special board meeting on July 27.
"The road to accountability has begun," the Citizens for Hospital Accountability page stated.
Those three were the only hospital officials present at the meeting, however. Dr. Benny Benzeevi, CEO of Healthcare Conglomerate Associates (HCCA), was absent; additionally, Bruce Greene, the hospital district's lawyer at the beginning of the meeting, was also absent.
The trio's fellow board members were absent, too. Northcraft stated that he had invited board members Linda Wilbourn and Richard Torrez, but received no response.
That's likely because the hospital administration's viewpoint is that Gutierrez isn't officially a board member yet.
Checklist – Checked
All of the night's motions were proposed by Northcraft, seconded by Gutierrez, and voted upon unanimously by the three board members.
The trio voted to rescind two recent resolutions that allowed HCCA to seek and execute loans on behalf of the district — one for approximately $79m, and another for $22m.
Northcraft stated after the meeting that the rescission didn't mean the board wasn't focused on funding the completion of the tower — just that it wanted to approve any funding methods before the papers are signed.
Northcraft also successfully moved to sever the hospital's relationship with Bruce Greene and the BakerHostetler law firm, which currently represents both the hospital district and HCCA. The vote to do so received applause from the crowd.
"It delegates all authority for selecting and terminating legal counsel to HCCA, and I would recommend and so move that this new board rescind that resolution," Northcraft stated.
Michael Lampe, a Visalia lawyer representing some members of Citizens for Hospital Accountability in two suits against the district, spoke in support of the board's agenda item to discuss removing BakerHostetler, calling the firm a "cancer" on the hospital.
"I think that the most important thing that this board can do is get competent, independent legal counsel ASAP," Lampe said, "and I applaud you for having that on your agenda."
Northcraft stated that he had researched a replacement firm, McCormick Barstow LLP of Fresno, as at least an interim firm.
"Nothing against the three who spoke tonight, but I do believe that we need to employ an interim counsel immediately," Northcraft said, "and I would recommend McCormick Barstow for that, and that is my motion."
Additionally, the trio voted to:
Terminate HCCA's authorization to spend district money on private lawsuits, including a suit filed against Dr. Abraham Betre,
Require HCCA to provide orientation to Gutierrez, to bring her up to speed on current projects, introducing them to staff, and touring facilities.
Change the timing of all board meetings to 6:30pm at the Tulare City Council chambers, when available,
Rescind the approval of revised minutes of the board's January 27 meeting,
Set a special board meeting for August 9 at the Tulare City Council chambers for 6:30pm.
But Benzeevi states that the meeting wasn't legitimate.
"Theatrics and Meaningless Antics"
"People are free to meet at any time. However, the meeting that was attended tonight is not a legal Tulare Local Healthcare District board meeting and has no legal authority," Benzeevi said in a statement to the Voice.
Benzeevi also stated that Gutierrez' position was not yet certified, though the Tulare County Registrar of Voters has certified her election.
"All members of the board were advised of that by the District's legal counsel. Unfortunately, we are continuing to see a calculated and deliberate effort to destroy our hospital. Those individuals, including the newly elected but not yet certified board member, would be much better served by spending their time educating themselves about actual hospital business instead of spending it on theatrics and meaningless antics," Benzeevi's statement continued.
Benzeevi also spoke to ABC30, a local broadcast station, regarding the recent uproar over the July 26 meeting.
"We're serious people doing serious work; we need partners that are serious as well. So yes, this drama and trauma may be entertaining to some, but this is not a game, this is serious business," Benzeevi told the station.
Reinforcing Legitimacy?
Dennis Mederos, attorney for Senovia Gutierrez, spoke first during the public comment section of the meeting, rebutting claims that the meeting was illegal or that Gutierrez was not a board member, even after being sworn in.
Mederos stated that the agenda was distributed to the full board, the media, and that a request was made to the hospital's administration to post the agenda on the hospital's website.
The Voice received a copy of the agenda at the aborted July 26 meeting and published it. It is unclear whether the Times-Delta's reporter received one as well.
"I was at that meeting and there was a quorum, because Mr. Torrez was there, Linda Wilbourn was there, and the new board member, Senovia Gutierrez was there," Mederos said. "And that makes three of the five."
He stated that the board did not need to certify Gutierrez' election, as was stated at the July 26 meeting, citing Election Code statutes.
"If the candidate who received the highest number of votes fails to qualify within 10 days after receiving his or her certificate of election, the office to which he or she was elected shall be vacant, and shall be filled according to law," Mederos stated, reading CA Elections Code Sec. 11386.
He stated that the objections were likely to cause Gutierrez to effectively vacate her seat.
"Despite the fact that Mrs. Gutierrez had been certified as elected by elected by the elections department, they were going to wait because it wasn't convenient for them on the agenda until the August meeting. The result of that is that she wouldn't have qualified by taking her oath, until after the 10 days," Mederos said. "I imagine at that time, they would then have declared that she didn't timely qualify, and the seat was vacant."
"It's not the district's choice when she has qualified for the position — it's her taking the oath," Mederos said. "It is abundantly clear, no matter what Mr. Greene says, that Mrs. Senovia Gutierrez is a member of this board."
Kumar's Letter
A letter addressed to members of the board was provided to the Voice Thursday afternoon, in which Dr. Parmod Kumar, through his lawyers, stated that Gutierrez' swearing in ceremony was in violation of the Brown Act.
"On 25 July 2017, with a majority of the board's members in attendance, including you, Director Michael Jamaica, and Director Kevin Northcraft, action by the Board appeared to be taken to allow Senovia Gutierrez to assume a position as a Board Member of Tulare Local Health Care District 3, inter alia by having Honorable Walter Gorelick, Judge Superior Court Tulare County administer the official oath of office to Ms. Gutierrez," the letter reads.
"The action taken appears to demonstrate by consensus of the Board that Senovia Gutierrez has assumed office as representative for District 3, despite there having been no publication of a Notice of any planned declaration by the Board, and despite the earlier filing of a timely request for recount with the Registrar of Voters of Tulare County," it continues.
A process server briefly interrupted Joseph Soares to serve Northcraft and Jamaica with individually-addressed copies of the letter.
The full letter is available below.
"If I could have just one second, I'm sorry," a process server stated. "You're served, you're served."
Mederos responded to the letter in his speech.
"I want you to take note at the very top — not at the program, but on the cover, where it indicates the 'Swearing In Ceremony of Senovia Gutierrez,'" Mederos said.
He stated that he felt Kumar's arguments fell flat.
"There [are] exceptions to the Brown Act, and I want to read this to you: one of the exceptions is that 'the attendance of a majority of the members of a legislative body at a purely social or ceremonial occasion, provided that a majority of the members do not discuss among themselves business of a specific nature,'" Mederos stated.
"The fact that you complimented her and congratulated her — there was no specific business, and also the fact that you're now getting threatening letters, gives every appearance of being nothing more than trying to bully you into not proceeding in the fashion that you should," he told the board members.
Questions, Recounts, Oh My!
Joining Benzeevi in questioning that there's a majority is at least one board member — and Dr. Parmod Kumar.
Wilbourn stated during the hospital's failed July 26 meeting that it was unclear whether the board needed to certify the election in addition to the county registrar's certification.
"Because this was a special recall election, not a regular election, there is a question as to whether we have to certify this as a regular board agenda item — where it is on your agenda today is #2, as a chair announcement, it's not in the body of the agenda," Wilbourn said at the July 26 meeting.
Additionally, Kumar is seeking a recount of the election, scheduled for July 31 at 8am.
Benzeevi told ABC30 that the meeting wasn't official — and that the official meeting will be held next month.
"It is not an official board meeting. It's not my opinion," Benzeevi told the Voice. "It's the law."