In the San Joaquin Valley, kids grow up showing livestock. Some adults continue on exhibiting cattle, dairy cows and horses. But, showing cats? Is that a thing?
Yes, and The International Cat Association (TICA) Southwest Regional Awards Show will take place August 5-6 at the Wyndham Hotel in Visalia. The show will be open to the public from 10am – 4pm, Saturday and Sunday.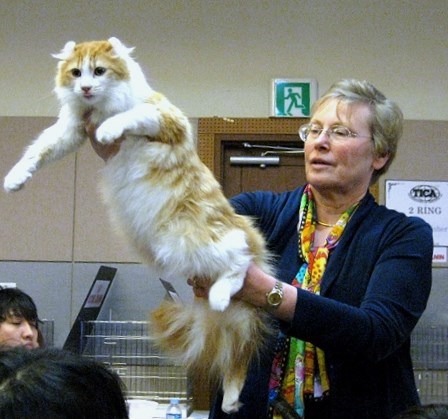 Five judges each day will judge all 100-200 cats entered in the show – each in their own ring. Exhibitors are mostly from the Southwest Region, celebrating their exhibiting year of the 2016-17, but also will come from the Northwest and further. There will be an education booth featuring Feline FAQs, each day, said Jean Wagner, Kat Knapper Cat Club member, and one of the organizers of the show. And, on Saturday, sometime around noon there will be a Jr. Showmanship competition.
Jr. Showmanship
The Jr. Showmanship program is very important to the cat fancy and is the only class where the cats are not judged, but rather the exhibitor and his/her care of the cat. Cats need to be in good health and good weight, and properly groomed. Exhibitors are asked questions regarding cats in general and care of their feline friends. Like all entries, Jr. Showmanship entries, are pre-entered – their cats may be entered in a regular class of the show, but do not have to be.
Jr. Showmanship in TICA involves any child under the age of 18. According to the TICA website:
"The program consists of six levels through which the youth may progress, with each level having different activities and testing questions. At the three junior levels, the emphasis is on learning about TICA, the etiquette and procedures of showing, and basic cat health and welfare. At the three senior levels, the emphasis is on advanced knowledge of cat showing, cat breeds, working at a show, and TICA."
This is a good class for local 4-H students and other kids to watch and get a taste of the cat fancy and what exhibitors go through.
Household Pets
While the TICA registry consists of 63 breeds of cats, household pets are an important part of its existence and programs. Household pets are non-purebreds, large or small, shorthaired or longhaired in all most any color. Household pets must be spayed or neutered to be shown, and are registered, just like purebreds, with the association. Household pets are what snag many individuals into the cat fancy and showing.
Bob Roseberry has been showing his household pet, Tarjae, for more than a year with continued success. Tarjae is a brown classic tabby neuter who was rescued at a feed store in Fresno, with his litter mates. Roseberry, has long been involved in cat shows, but until Tarjae, never showed a cat of his own.
Roseberry first got involved in the mid-1980's, when someone suggested that with his handyman skills, he should start to build custom cat trees. He did and took them to swap meets, where he was successful. Then another suggestion was made that he start attending cat shows with his wares, he said.
He knew nothing about cat shows – but picked up a magazine on cats and found some shows and also found out about how to vend at them. His cat trees were a hit, and he named his new venture Katrees. He became a regular vendor, and a general vendor carrying cat-related items while traveling around the state to various weekend shows. He had no time to show or think about it for himself. But, his ex-wife became interested and obtained a Birman kitten to show. His daughter wanted to show her household pet. And, so it began.
Roseberry still is involved in cat shows, as he now manages a show cage service, setting up and taking down shows. He no longer vends at shows, and so became interested in showing himself, as he needed something to do with his time during the show, he said.
Tarjae is the 10th best household pet in the region this year, Roseberry said, and 13th internationally. He also shows at Cat Fanciers Association shows, where Tarjae is the third best household pet in the region.
The draw to showing, Roseberry said, "For me, I think it's the comradery. You make a lot of good acquaintances.
"But, it's also fun to make a final, and even better to get best cat. I also like to cheer my friends on."
Purebred Cats
Megan Antijunti started showing in 1999.
"I started with a household pet – a kitten kept from fostering a mother and three kittens found in a cardboard box on the doorstep of the local shelter in Saint Helens, Oregon," she said.
She had formerly shown horses.
"I have always been an animal lover. I was on a horse by 3 months of age – colicky baby – and my mom raised AKC black Standard Poodles, when I was very young, but she wasn't the handler. I wanted to be a veterinarian all through my school-aged years, but it wasn't meant to be," Antijunti said.
As an adult, " I gave lessons, trained horses, ran summer camps, worked with 4-H, Special Olympics, was a Portland Community College Horsemanship Instructor, and was an Oregon Horseman Association horse show judge for a year," she said.
But, due to bad back and neck, she had to give it up.
"I wanted a 'light' hobby.  Cats seemed easy," she said.
She, too, started with a household pet, while exploring the world of purebreds, where she settled on Japanese Bobtails.
"They are the best breed ever," she exclaimed. "Every time I walked in front of a benching cage of a Japanese Bobtail, they were right up to the front of the cage and making eye contact yelling 'Pick me! Pick me!'
"I couldn't get over the way they played and enjoyed attention and affection in the benching area with their owners, and they were total clowns in the judging rings They would 'talk ' to the judge as the judge would walk by their cage while in the ring, and then play like little Tasmanian devils on the judges stand. If there was a scratching post available on the judges light post, they would climb it. No toy was safe. They always seemed so happy, so engaging."
"They are the only breed for me," she said, although she also show household pets.
Antijunti will be at the show with some of her Japanese Bobtails and invites the public to ask where she is located, if they have any questions.
There will be lots of other purebreds there as well including a lot of top cats from the Southwest Region. Look for shorthairs including Abyssinians, Bengals, Toygers, American Shorthairs, Oriental Shorthairs and more. For those interested in longhairs, there will be Persians, Birmans, Maine Coons, and Oriental Longhairs, and others. Some breeds have both shorthair and longhair varieties including Japanese Bobtails, Kurilian Bobtails and Scottish Folds.
Purebred classes are broken down into three divisions for each breed – kittens, 4-8 months of age; championship, intact adult cats; and premiership, cats that have been spayed or neutered. All cats are housed in the benching section during the show and taken to a ring, when their exhibition number is called. Cats do not remain in the show hall overnight, but are kept with their exhibitors in their hotel rooms.
Also at the show, look for vendors with cat products. Cat House on the Kings will be exhibiting some cats in the household pet division, available for adoption.
Some proceeds from the show will help Cat House on the Kings. A $2 discount for admission will be given to visitors who bring a can of cat food, which will be donated to the non-profit shelter. Look for coupons in the Valley Voice, or online at http://www.katknappers.com/coupon.html.
Admission to the show is $7/adult and $5/students, seniors and veterans. Children under 12 are free with an adult and admission for a family of three or more is $12. For more information, visit www.katknappers.com or call (714) 321-8621, or (951) 213-6427.