Warning: Source documents in this article contain graphic language
With his future on the Tulare Local Health Care District's (TLHCD) Board of Directors in jeopardy, supporters of Dr. Parmod Kumar appear to be playing loose with the truth as a recall election to remove him approaches.
Recall Election July 11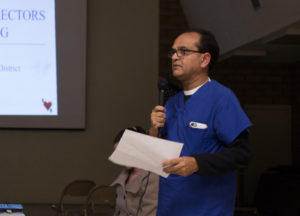 On July 11, voters in Tulare Local Healthcare District's Area 3 will decide whether or not Kumar may continue to serve as a director, a position that includes overseeing operations of Tulare Regional Medical Center, as well as its various clinics and support operations.
Also to be decided, should Kumar lose his job on the Board, is who will replace him.
Two challengers have thrown their hats into the TLHCD ring. Tulare residents Jesse Salcido and Senovia Gutierrez both want Kumar's spot should voters decide they've had enough of the frustration that opponents say is a hallmark of Kumar's time on the Board.
Among those engaging in the social media debate surrounding the controversial election, Gutierrez seems to be the front-runner, and that has led to the appearance of a suspicious website aimed at the recently naturalized citizen turned would-be politician. With a name echoing the Trump presidential campaign, draintulareswamp.com has called Gutierrez's affiliation with one of the two major parties most Americans belong to into question.
Propaganda and Falsehoods
The website, which contains only articles against those who have opposed Kumar in the past and accusations of wrongdoing by those who don't support him now, refers to Guiterrez as "Martha Senovia."
While Martha is Gutierrez' given name, for the purposes of the recall campaign she has gone by Senovia Gutierrez. The website appears intended to generate drama where none exists, and claims Dr. Prem Kamboj, a former member of the TLHCD Board who came into conflict with Kumar, is behind a conspiracy to discredit and depopulate the hospital.
An attempt to contact the person responsible for the site led nowhere, as the email listed was nonfunctional. The website also published a photograph of Gutierrez' home, claiming a vehicle parked outside it belonged to a mysterious outside politician or other influence peddler. The site provides nothing to substantiate its claims.
On her Facebook page, Gutierrez rebutted the group's claims after the website posted the photos of the cars outside her house.
"I arrived home at 5:50 pm. My grandson ran up to me to give me a hug and kiss and to mention the strange occurrences that had happened moments before. He told me that people he did not know had came and were photographing the house," Gutierrez wrote. "He had come over to knock but was spooked when the men started photographing him at the door. He ran away next door to tell his mom and his grandfather."
Appearing at nearly the same time was a flier in support of Kumar, and it contains several questionable or inaccurate claims. Among them, the flier states Kumar "served the United States Army" as a physician and surgeon; however, Kumar merely served a fellowship at a facility where military personal sought treatment. It also claims that Kumar "established" Tulare's Veteran Administration clinic. That facility was largely the work of deceased former TLHCD CEO Bob Montion and AmVets representative Manuel Toledo.
The flier further claims Kumar personally raised $15 million for the Tulare Hospital Foundation. That amount represents funds solicited by the entire Foundation membership, not a number raised by Kumar.
Questionable Past
As the recall fighting heats up, old misdeeds on Kumar's part are being rehashed, and new irregularities are coming to light.
In 2013, an investigation by the Department of Justice resulted in action by Department of Health and Human Services' Office of the Inspector General against Kumar. The investigation found that Kumar and his wife had worked at TLHCD's Federally Qualified Health Care Center under illegal contracts that resulted in a personal profit for Kumar of $800,000.
The OIG found Kumar had seen as many as 64 patients during four-hour shifts, four times the rate allowed by law. He also charged TRMC for time on-call when he was out of the area. Kumar was forced to repay the illegally gained funds.
Infighting
Cracks appear to be forming among those who support Kumar and the company that manages TLHCD, Health Care Conglomerate Associates (HCCA) which is operated by CEO Dr. Yorai "Benny" Benzeevi.
Tulare Mayor Carlton Jones, who was deposed as a witness in the lawsuit between the former TRMC Medical Executive Committee and the Board of TLHCD over the possibly illegal dismissal of the independent staff, has claimed on Facebook that Kumar has been tainted by his relationship with Benzeevi and HCCA.
"Kumar needs to cut the relationship with Benzevi (sic) and get back to work," Jones wrote.
The comment was liked by several people, including Kathleen Johnson, HCCA's vice president for marketing.
Misuse of Funds
Kumar and Benzeevi, along with the two sitting and two former TLHCD directors, have come under fire from various sides, including the Tulare County Grand Jury, for failure to disclose how $85 million in bond funding intended for construction of an expansion at TRMC was spent.
The same directors came under fire again when it appeared they were spending District funds to cover the cost of a private lawsuit against TRMC's former chief of surgery. The Board also approved an $800,000 loan that appears to have been solely for repaying overdue debt, and now the board has granted Benzeevi the leeway to seek a $22 million loan to cover operational costs and refinance existing debt.
The latest loan comes in the failure of another bond measure floated by the District, which was rejected by voters, and the move has drawn further ire from the community.
Vulgar Prescriptions
In perhaps the most bizarre twist of all, the Valley Voice has obtained a number of notes signed by Kumar written on prescription pads used at the Tulare Community Health Clinic, where Kumar practiced. The notes use vulgar terms to describe sexual intercourse and female genitals.
In one, a patient "needs good p***y every mornin' (sic)." Another prescribes "p***y on demand on his face no contraindications for sex and love." A third reads, "Do not f**k with my patient." A fourth says simply, "My patient needs good p***y."
This oddly unprofessional behavior, which seems to date from 2008 and 2009, coincides with Kumar's review by the Medical Executive Commitee he is accused of helping to illegally dismiss. Kumar had been given a referral to anger management counseling by the MEC. That counseling was to have been completed the day after the MEC was removed.
The election to recall Kumar is set for July 11.