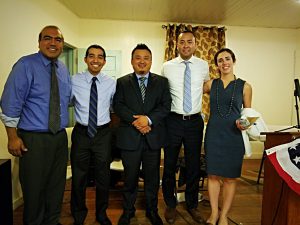 On  June 16,  Tulare County-based Progressives United for Social Justice and Human Rights (PUSH) hosted a Candidate Forum featuring several local Democratic candidates who are vying for Congressman Devin Nunes' seat in the House of Representatives. The event was held from 7-9pm at the Grange Meetinghouse in Visalia. Candidates speaking at the forum included Tulare City Councilman Jose Sigala, Fresno obstetrician-gynecologist Mallory Kremer,  Fresno County deputy D.A. Andrew Janz, Bobby Bliatout, and Ricardo Franco. Paul Vargas was scheduled to but did not appear.
The candidates answered questions developed by local activist groups as well as questions from the audience.  Approximately 80-100 people were present.
The wave of progressive grassroots activism sweeping the nation in the wake of President Trump's election is promising a turbulent mid-term election, with progressives across the country threatening to take long-held Republican districts. Congressman Nunes' recent controversies have made his previously secure seat seem–at least to these candidates–vulnerable. 
The candidate forum is a collaboration between PUSH, Together We Will Fresno, Fresno Indivisible, South Valley Civics, Fresno County Democratic Central Committee, and Tulare County Democratic Central Committee. 
After graduating from UC Berkeley, Jose Sigala worked for 16 years for the California Senate. He then worked for six years as a legislative director for Los Angeles City Council, forming public policy, and was part of the team that put together Los Angeles' $9 billion budget.
Andrew Janz  is a Visalia native and first-generation American. His father worked in the Kraft factory in Tulare; Janz grew up in a working-class household, and attended public school. He returned home after law school and became a prosecutor for Fresno County.  Janz' experience as a successful public prosecutor and deep ties to Fresno and Tulare Counties make him an ideal candidate to take on Devin Nunes for California's 22nd Congressional seat, he said. Frustrated with Nunes, Janz posed, "What better candidate to challenge a congressman who is under an ethical investigation than a prosecutor?"
Dr. Mallory Kremer is an obstetrics & gynecology physician who practices in Fresno. She is 31 years old and has been practicing for six years. Dr. Kremer is affiliated with Community Regional Medical Center. After being diagnosed with arthritis at age 11, Kremer has been very passionate about healthcare and making sure everyone gets the proper health coverage they desire.
Bobby Bliatout is the son of two Laotian refugees who was devastated about the efforts of (Repeal & Replace) passing congress stating "I have never been so heartbroken about (AHCA) passing the House."
The first question asked of the candidates was what was their vision for CA22. Andrew Janz was the first to respond, stating that he wants to "improve the quality of life in CA22." He also discussed the California High-Speed Rail that will be coming in a number of years and how that will help push CA22 to the 21st Century. He further expressed his willingness to work with both Democrats and Republicans on all issues.
Each candidate seemed to have a similar goal in mind, to make the Central Valley a place where people want to live.
The second question asked was the strategy each candidate had to unseat Nunes. Franco explained that we cannot have someone who is only going to care about Washington D.C. and only meet with constituents in D.C. Dr. Kremer said Nunes has a "meal-ticket." Janz also commented on the popularity of Devin Nunes by stating, "After Jon Ossoff is done on Tuesday, we will be the next big thing."
Each candidate had the opportunity to respond to President Trump's withdrawal from the Paris climate agreement. Franco, frustrated with climate deniers such as President Trump and EPA head Scott Pruit, stated, "I don't know what goes on in their heads." Sigala and Janz, agreed that "we should have a congressman who believes in climate change." Sigala also suggested that he has done more to fight climate change than Nunes has, saying that climate change is a threat to our national security.
"One of the ramifications," Janz joked, "is Mar-a-lago is going to be under water."
When it came to healthcare's being discussed as a basic human right or a privilege, each candidate stated that it was a basic human right and should be treated as such. Bliatout said that taking away healthcare is more costly than providing it, and "it just doesn't make any sense." Janz reminded everyone that Nunes voted in favor of AHCA, which would potentially cut 23 million Americans off of health insurance. 
On the topic of the LGBTQ community, each candidate overwhelmingly agreed that you are born that way and that LGBTQ rights are basic human rights.
The final question was extremely brief. "Should you be elected to Congress, would you support proceedings of impeachment against President Trump?" Each candidate said they would with the exception of Janz, who stated that, as a prosecutor, he does not want to jump to conclusions before hearing what both sides have to say.