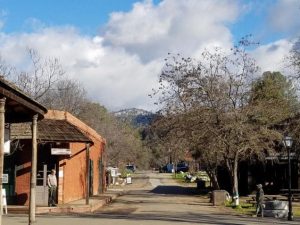 There's a lot of history to be found along Highway 49 from the Central Valley to Northern California, and Columbia is one point of interest well worth spending a couple of days.
Located in Tuolumne County, just a few miles from Sonora, and about 150 miles north of Visalia, Columbia was founded during the Gold Rush in the 1850's and designated as a California State Park in 1945. Once called the "Gem of the Southern Mines," Columbia escaped the vandalism and fires that plagued many former Gold Rush sites, and the town has always remained inhabited.
California legislature voted it into State Park status to "preserve a typical Gold Rush town, an example of one of the most colorful eras in American history." The town is also a National Historic Landmark and on the National Register of Historic Places
Located at an elevation of 2,100 feet, it generally remains a bit cooler than temperatures here in the Valley, averaging 89-90F. The town boasts a population of 2,300 people.
Where to Stay
The historic district is closed to auto traffic, but open to pedestrians, bicycles, horses and horse-drawn carriages. If you are driving the RV or pulling a trailer, there are plenty of RV parks, with or without hookups, in the area.
There are also quaint, historic cottages for rent, such as the Hanson House, built around 1870 in the historic French and Chinese part of Columbia. A one-bedroom cottage which accommodates two, it is located across the street from the Claverie-Old Chinese Store Ruins on north Main St., next door to the Ghiorso Bungalow. The Ghiorso Bungalow was built in the 1920's by an Italian-American grocery-store on the site of an 1850's French Drug Store. This all-the-amenities bungalow is just up the street from the Bixel Brewery. These cottages generally have a small kitchen area, and some have screened porches.
There are two downtown hotels – the City Hotel and Fallon Hotel, each with nine-10 rooms – some rooms may have shared bathrooms and/or shower facilities. Their rustic, to be sure – no phones, or television, but clean and decorated in the period of time from which the town was booming.
What to Do
Besides strolling down Main St., visiting with residents in yesteryear garb and dining in some of the fine eateries, you can take stagecoach rides, pan for gold and explore a variety of shops. The museum is open daily from 10am – 4pm. There are free town tours offered daily from mid-June – Labor Day, based on docent availability, and on Saturdays and Sundays year-round. Check with the museum for availability. Tours last approximately one hour.
Many events take place with the help of the Friends of Columbia, a non-profit group. They hold Gold Rush days on the second Saturday of the month, and Ghost Tours on Saturdays, June 10, July 8, September 9 and October 21 led by author Carol Biederman,"to expose tales of the paranormal on our state park grounds. You'll wander among the buildings and homes of our restored 1850s mining town and hear stories that have been shared over the years about unexplainable sightings, unusual sounds and supernatural happenings." Pre-registration for these tours is highly recommended.
Histories Mysteries are scheduled for July 22, August 5, 19, September 2, for those who enjoy a good who-dun-it. "The setting is the 1850s and you are called upon to solve an actual crime that occurred in our mining town. Not only will you witness the results of the crime, you'll also have an opportunity to personally interview key members to the crime. Then, you'll help select one person from your group to question people on the stand. At the end, you will determine the outcome of the crime."
For other interesting tours and events, visit the Friends of Columbia website, www.friendsofcolumbiashp.com/
Nature, Hiking and a View From Above
A variety of picnicking areas are available in and around town. There is a one-mile nature trail, and also an abundance of hiking in the area. One trail, the Columbia College Par Trail, is a 3.6-mile loop around the local community college. It is rated good for all skill levels, easy and kid friendly. Views include the local reservoir. There is a modest 560-foot elevation gain during the hike.
For a unique perspective, you can tour the Mother Lode area via a Cessna 172 or 1943 biplane through Springfield Flying Service. For information visit, http://www.letsgofly.com/ or call 209 532-4103.
Most businesses in the area are open from 10am – 5pm. Since no motor vehicle are allowed in town, free parking available in lower lot, Columbia and Jackson Streets, Fulton off Broadway, three lots along Broadway Street, at the schoolhouse, and across from the ranger district office.
For more information regarding the Columbia State Historical Park, visit https://www.parks.ca.gov/?page_id=552.