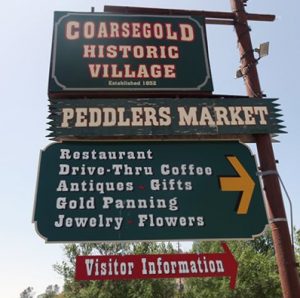 The South Valley is well-known for an abundance of antique stores. But, for a change of pace, and an enjoyable out-of-the-area trip, the Oakhurst-Coarsegold area has a whole different array of shops.
Located along Highway 41, Coarsegold Historic Village is home to a unique community of shops and vendors including antiques and collectibles. The Village originated as a resort, said Robyn Hill, owner of Jewelry by Robyn and spokeswoman for the village.
"There was a hotel, swimming pool and people stayed in the little cabins," Hill said. "Years ago there was a fire – the hotel and restaurant burnt down. The pool was taken out and the village you see today was born."
Antique and collectible stores here include Cranberries & Lace, Mountain Delights, Gold Connection, Delightful Treasure's and Rocks, Gems & Junk. But, there are also a lot of other shops to browse with one-of-a-kind artisan-created treasures. There are a couple of restaurants, but you will also want to save for some dessert from Auntie Jenn's Country Creations or The Fudge Shop.
Most shops are open from 10am-4pm Thursday – Sunday. Although restaurants and service-oriented shops are open more days per week.
Memorial Day and Labor Day weekends, bring a four-day Peddler Fair to the Village. In June, a Hummingbird Festival is held in honor of the busy little birds that frequent the area, with music and added vendors. And, in October they host their Tarantula Festival with pumpkin recipe contests, tarantula races and a hairy-leg contest.
For more information on the Coarsegold Historic Village, call (559) 978-4910.
Just down the road in Oakhurst, also along Highway 41, is Southgate Station, named for being along the Southern route into Yosemite. Here there are some 12 shops with more than 20 vendors, most specializing in antiques and collectibles. Gold Ol Things is one of the largest with a large assortment of, well, almost anything, said owner Ed Moore.
The shop has been in the family for a dozen years, but most recently has been owned and managed by Moore and his wife, Bora, for close to five years. Moore said his business comes from about 50% local regulars, and 50% out-of-the area visitors. They draw a lot of international travelers, because of the location on the way to Yosemite National Park, he said.
"But, we have locals who come in once a week," he added.
With an inventory that is always changing, including furniture pieces and an abundance of smaller collectibles, the Moores occasionally take a road-trip to do some shopping. However, most of the items come from local individuals and estates, Moore said. They have anything from bed warmers to glassware and rusty old stuff from the farm.
Other vendors in Southgate with antiques and collectibles include Aunt Osa's, Grandpa's Barn, Butterfly Kisszz, Oh Dear Buddha!, Elaine's Eclectic Closet, The Back of the Closet, Stuff and Nonsense, T&T, Vintage Treasures, and Bit O' Britain, which specializes in British antiques. Here, too, there is a restaurant. Most shops are open seven days per week.
There are just two antique-oriented shopping areas – there are many other independent antique, collectible and thrift shops, as well as artist studios and craft stores in and around Oakhurst and Coarsegold. It's worth taking a weekend away to visit them all, along with a trip into the park, to visit Yosemite.