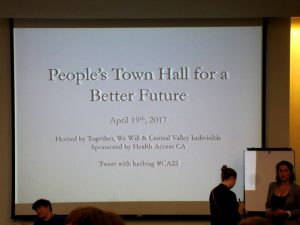 Constituents of Rep. Devin Nunes' California Congressional District 22 filled College of the Sequoia's Ponderosa Auditorium on April 19 for a town hall meeting.
Rep. Nunes did not organize the meeting and did not attend.
Hosts Together, We Will and Central Valley Indivisible and sponsor Health Access CA said that Rep. Nunes last called for a town hall meeting in 2010.
The Congressman was invited, they said.
Rep. Nunes declined, saying he did not wish to surrender what he called a political "gotcha" moment.
"I am ready to help get rid of Congressman Devin Nunes," said Ruben Macareno, Rep. Mathis' Democratic opponent in last years' State Assembly race. "It was a room full of concerned citizens, not the 'leftist radicals' that Nunes says would be waiting for him at this town hall. If he can't at the very least meet with constituents then it's time for him to go."
Some Republican constituents were, in fact, in attendance.
"I'm an anyone-but-Trump Republican," one told emcee Julia Shatz after the meeting.  "What can I do to help?"
Focusing on healthcare, immigration and government transparency, attendees posed questions directly to Rep. Nunes in absentia.
Marsha  said, "I know you will not be able to ask and answer this question, but this is my question to Rep. Nunes. People in your district will die without healthcare. Do you not care?"
Sal, a retired teacher, spoke at some length before suggesting some audience participation. "Let's do a little call and response — this side, you're going to be 'knock-knock,' this side over there, you're going to do 'who's there?' and we're all going to say 'not Nunes!' And three's a lucky number, so let's do it three times."
"If you side with your party over your country," said one constituent, "you are a traitor."
"Yes!" came immediately and overwhelmingly from the room.
The next scheduled town hall meeting is set for May 31 at Fresno State.