While Sandy Blankenship wasn't born and raised in Exeter, she may just be the town's biggest cheerleader. A Hanford native, Blankenship, whose maiden name is Massey, has worked for the Exeter Chamber of Commerce for 25 years, having served as its executive director for the past 12.
Blankenship moved to Exeter following her marriage to Tim Blankenship in 1979. She has a brother and sister who have retired to Florence, Oregon, along with their mother. The Blankenships have a son, Brian, and a daughter, Stefani. Brian lives on his late paternal grandparents' farm, and Stefani, who was married last year, lives in Visalia.
Before the couple had children, Sandy Blankenship worked for Security Bank. When she had young children, she elected to stay home. But, as they got older, she worked as a part-time bookkeeper for her church, and some other part-time jobs, which kept her busy while the kids where in school.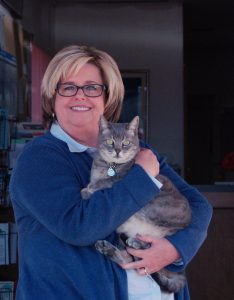 A Job at the Chamber
"Then, Molly East [an Exeter Chamber employee] called me one day and said that they needed someone at the chamber to help with bookkeeping a couple of days a week," Blankenship said. "Gina [Butler-then chamber director] had gotten things to a point where she thought she could hire someone to help with the bookkeeping. So, I came down here and talked with Gina, and she hired me. I was supposed to work two days a week, just to do the bookkeeping – but, I never worked only two days a week.
"I had no idea, really, what a chamber of commerce was, or did, and Gina was eager to teach me all about it. Once we got to know each other, she said, 'I'm going to teach you to do my job.'
"She saw something in me, I guess, that I didn't recognize. I credit what I am doing now, to her. She was really the only one who encouraged me to learn more. 'You're going to take over my job one day,' she said, 'I'm going to teach you what you need to know.'"
That was in January of 1991.
"I still follow a lot of her philosophy," Blankenship said. "She knew a lot of things and a lot of it is not necessarily book-learning, or things you can learn at a conference – she knew people. She knew a lot about how to deal with business and people, and what was important for the community. She really did love the community and she showed that to me. I think that is what I have in my heart, even though I am not native to Exeter – Exeter is real important to me. It is my home."
Following Butler, other chamber directors came and went. Blankenship, at that time, was not interested in changing her own position.
"I never really applied at that time – I had young children. This job is not really conducive to a young family – too many nights, weekends. It's hard to do when you have an active young family. It wasn't until Delora [Buckman] left, that the board approached me and asked if I was interested in taking on the position. At that time, the children were pretty much grown. And, I thought, OK, yeah, maybe now was a good time. It was scary. I had to think long and hard, because it's a lot of responsibility.
"I was pretty happy doing what I was doing, and not having the ultimate responsibility. I was pretty comfortable, and I wasn't sure I wanted to step out of my comfort zone. I had seen a lot of the pitfalls that the others had encountered, and everybody encounters them – it is impossible not to. Everyone has issues, there's always controversy, there's always something – because you deal with the public. It's how you handle it and I had seen it all."
While managed by Blankenship, the chamber is managed by a 12-person board of directors.
"You have 12 personalities to deal with – you don't have to make one person happy, you have to make 12 people happy, or at least the majority. It sometimes can be kind of stressful. You have to all work for the betterment of the community and you all have the same goals in mind – the businesses and the community are your focus, and that's what you've got to work for – there can be no personal agendas.
Hiring on as Director
Blankenship said she consulted her husband, friends and an interim church pastor about accepting the position.
"I was flattered that they came to me and thought that I was worthy of the position – so I accepted," she said. "I took over as director 12 years ago – in October, 2005. I was surprised when I realized that it has been 25 years that I've been here. It went by pretty fast."
"We used to have a lot of down time around here – but not anymore. The activity level has increased – there's the demand for social media – we've gotten so much busier. We are definitely 411 in the community. When people don't know where to call – they call us. We're happy to share information.
"People don't realize for businesses and organizations, that if they have something going on – it's really important that we know about it. Organizations sometimes don't feel that is it necessary to be a member of the chamber, but when they have an event, and we don't know about it – people call us and we can't help them, if we don't know about it. And, people kind of get mad at us – what do you mean you don't know? If we knew, even if they aren't a member, we'd still share.
"Required reading is the newspaper. If you catch my staff reading the newspaper, it's because they have to – even if they only have time to read the headlines – they have to look at it and skim the paper, so they are aware. And sometimes people get things mixed up, and we're able to tell them, 'no, no that's in Lindsay – you need to call the Lindsay Chamber,' [for example]. We always try to give them an answer. We don't say, 'I'm sorry, we don't know,' unless we honestly just can't help them.
Service clubs and organizations receive a discounted membership.
"And, we sell tickets for most everything happening in the community," she said. "We're happy to sell their tickets for them, we promote it on our website, in our e-blasts, on Facebook – anywhere that we possibly can. Really, for their membership, they get quite a bit. Most clubs don't have a location, so we can be their location. We're a pretty good bargain for them."
Managing Personalities
Blankenship said she has no regrets in having taken on the position.
"Most of the time, I enjoy it a lot," she said. "I love the community. I love the volunteers that I get to work with. Over the years, I have enjoyed all the people."
She shared a story about one difficult volunteer recently at a Toastmasters meeting, she said. The object was to tell a story about turning a negative into a positive.
"We used to have [someone] come in and say, 'you should have done it this way, you should have done it that way,' all the time. She was a good worker – I didn't want to turn her away. So, one time after she came in and said, 'you should have done it this way, you should have done it that way, blah, blah, blah,' I said, 'That is a great idea, you know what, I'm putting you on the committee and the next time you can help us plan it.'
"She looked at me and said, 'ah, well, I don't want to be ON the committee.' And, I said, 'well, you've got great ideas, you're going to help us plan it next year.' And, she never complained again – well, she did a little bit, but not nearly as bad.
"And, since I've used that several times on people, when they think they know everything, 'next year you can help us.'"
Blankenship said her favorite aspect of the job is the social part of it, and the people she gets to be around. She likes meeting with the new businesses and business owners. She enjoys the activities in town, from planning through fruition.
"It's all part of it," she said, and it's always fun to give a little shine to an old activity. After 25 years, things get to looking a little dull sometimes and so it's always nice to put a new spin on it and make it shine a little more. You've got to change with the times – it's kind of nice when you have young people come in and are interested in what you are doing, and they have a little different way of thinking and I welcome that. It makes it exciting and maybe a little more attractive to the younger generation.
"We're pretty lucky – we do have young people who attend our events, and they're in town and they're in business. And that's exciting!"
The most difficult part of the job, she said, is worrying about the budget, and making sure that the chamber is meeting the needs of its members.
"That goes hand in hand," she said. "If we're not meeting the needs then that makes the budget suffer – we have to have money to survive, and everything goes up, every year. So, money is always an issue. And being able to keep up with technology is an increase in cost."
Blankenship also commented on the age of the chamber facility, which is more than 100 years. There are continual repairs that need to be made, adding that that costs money as well.
Walter – the Chamber Cat
For several years now, the chamber has had a mascot. It wasn't just a whim.
"We never really had a pest problem, but one fall, we had mice in here like crazy, and we don't know why. We had to set traps all of the time, and I just hate those things. We thought, maybe we need to get a cat. But, one of the part-time staff, she liked cats, but she was allergic – so that was out of the question. It wasn't too long later, that she and her husband moved out of the area, and the problem had cleared up with the mice.
"We forgot about it a little bit, but we still thought it would be fun to have a cat in the office. And, Sarah [Blankenship's assistant] came in one day and showed me the face of this cat that Pacific Crest Equine had put out on Facebook. They were looking for a home for this cat, they had rescued from the emergency vet. The cat had come in and the owner surrendered the cat, because he had a cut on his leg, and they took him in and doctored him back to health, and he was ready for adoption.
"Those big eyes, and round face, 'oh my gosh, he's adorable,' I said. He was probably all most a year old at that time."
The staff, which at the time included another part-time employee, mulled it over.
"We called and asked what they thought about having him here in the office, rather than a home," she said. "They were thrilled. They had already named him Walter. We weren't sure we liked the name, but after a while, it just suited him.
"He loves it here – he loves people – he greets everyone. We have had more fun with that animal. There was a couple here during the storms this winter – they couldn't get up to the park [Sequoia National Park] – they were from North Carolina, they had one of our magazines and they saw Walter in the magazine. They came down, they were missing their cats from home – so they took pictures with him. Everyone who comes in, and if they happen to like animals, they fall all over him. He has been a very good attraction for us. We couldn't have gotten a more personable animal."
City Growth, Chamber Growth
Over the years, the chamber membership has grown.
"I think things have grown for the better. I remember [what it was like] before the murals and I think everything has been such an improvement – I can't imagine where we'd be if the murals [which started with a mural committee in 1996] hadn't happened. Just the pride – everyone improved their buildings – things just changed. The whole attitude changed – business came in – everyone started sprucing things up after that. It was gradual – it wasn't just one person, it was the community – the businesses, the building owners.
"The things that people say, that your town is so clean, everyone is so friendly – they just can't get over the atmosphere. People talk to you – anywhere you go in town – people just can't get over it – they didn't know any place like it existed, and we live it.
"When my sister moved up to Florence, having lived in San Jose all those years, she said, 'Sandy you wouldn't believe it, you have to come up here, everyone is just so nice. They talk to you, they do this, and they do that.'
"And, I just kind of looked at Tim and said, 'well, we already have that.' I have that all the time, but I realized that they hadn't, and so I understand her amazement at it. I thought good for you – I'm glad – that's what I've got it."
Accomplishments
The best things that have happened during Blankenship's tenure as chamber director include the creation of an Exeter chamber magazine, she said.
"I created the magazine – it was my idea – we started that when we started the summer concerts. It was a way to promote Exeter to the crowd and it's evolved to what it is today. It started out very simply, we did it very quickly. This will be the 10th year. It's designed for anyone visiting Exeter – given out on all the mural tours, to visitors and locals."
The chamber also started a Women in Business group, which meets about five times a year.
And recently, a huge accomplishment, Blankenship said, was fundraising for new holiday decorations.
"Joanne Dodson [a volunteer] is to credit for this and in a little over a month, we raised $18,000 for new Christmas decorations for downtown," she said. "I think this is a huge accomplishment. The last time, they were purchased by the city with redevelopment funds, which we no longer have available, and the city didn't have funds to purchase them, and the chamber didn't have funds to purchase them. She wanted to do it and volunteered – she is very exuberant and positive. She met with the different clubs and organizations. I wrote letters. We were only going for part of it this [past] year – because we didn't have a lot of time, but we raised it all. I am really proud of that."
Blankenship has no immediate plans for change or retirement. She enjoys her work.
"I like what I do and my husband is still working," she said. "I think I would probably get bored if I was at home all the time."