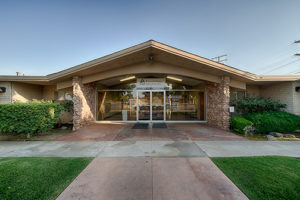 After nearly 20 years, Kaweah Delta's Exeter Health Clinic is getting a makeover.
Formerly the campus of Memorial Hospital at Exeter, which closed its doors in 1998, the Exeter clinic will get a $4.2 million overhaul that includes construction of a dedicated women's health center.
"We're going to build two buildings on the site, one that will be dedicated to women's health and one that will be an administration building," said Kaweah Delta Health Care District (KDHCD) senior vice president and CFO Gary Herbst. "It is an aging facility, and there are a lot of infrastructure improvements that need to be made to the site itself, like draining, power, asphalt, power. …"
More Room for Treatment
The reconstruction will include removing one of the four existing buildings on the San Juan Avenue campus before adding two new ones. The move, Herbst said, is being made so providers can can treat more patients in the expanded facility.
"That will free up space for us to accommodate more patients in family services," he said. "So, while we're building a dedicated women's health facility, those providers will move out of the space where we provide family health."
Specialists in women's health are already seeing some 8,000 patients a year at the Exeter clinic, most of whom live in rural Tulare County and might not otherwise have easy access to the services they receive in Exeter.
"Last year, we saw over 79,000 visits to that clinic alone," Herbst said. "They come from all the surrounding areas. Some of them even come from Visalia because it's one of the few facilities where the specialists are available."
Treating Rural Poor
KDHCD also operates three other federally-designated health centers in Dinuba, Woodlake and Lindsay, and all four were constructed with the intent of providing care for a population that relies mainly on MediCal. All of them are heavily used, but the Exeter clinic has reached a critical point in its growth.
"It's a great thing for patients who can't get that work otherwise," Herbst said. "We were essentially at full capacity. We really have no more room for physicians. We really have no more room for more patients."
The clinics are also a means to reduce treatment times at KDHCD's emergency room in Visalia. Their locations, Herbst said, were chosen to keep non-emergency patients from using the ER as a clinic.
"We didn't just throw a dart at a map," he said. "We look at the zip code origin in our center (for patients) who are really coming for primary care. Many of them should be seen in a doctor's office. We saw a high number of patients coming to our emergency department from those areas."
Not Draining District
In the recent defeat of Measure H, a request to issue bonds funding construction at Kaweah Delta Medical Center in Visalia that voters declined in August, some detractors were critical of the District operating facilities outside its physical boundaries.
The Exeter clinic holds its own financially and then some, Herbst said. So do the other three.
"All of our clinics are profitable. Last year, (the Exeter Health Clinic) generated $4 million. … It's done that for 18 years. This is the first expansion," he said. "All that profit has come back to Visalia. Not only does it provide care in the communities where these patients live, it helps fund the Visalia-based medical center."
The Exeter clinic in particular, because of its relative closeness to Visalia, also provides direct benefits to patients within KDHCD's area. Specialists in rheumatology, renal medicine, infectious disease and other areas do much of their work there.
"There are about a dozen different specialist physicians who live and work in Visalia who go out to the Exeter clinic to provide care to patients who would otherwise not receive it," Herbst said.
The District also receives higher government payment rates at the clinics because of their federal designation.
February Start
The Exeter construction project will actually involve very little construction on site. The first thing residents will notice is an upheaval of the infrastructure.
"In early November, we sent out bid packages and notified the public we were going out to bid," Herbst said. "The bid is to do all the site work, all of the grading. The city of Exeter is requiring us to put in underground storm draining."
That portion of the project should begin in mid-February, following a bid award in January. While that's going on, construction of the clinic's two new buildings will be underway about 75 miles to the south.
"In the meantime, we're actually having the two buildings manufactured in Bakersfield," Herbst said.
The work should be wrapped up in late summer or early fall.
No New Taxes
Funding for the Exeter clinic rebuild will not come out of taxpayers pockets. Instead, the upgrade is one of eight projects paid for from the sale of $100 million in revenue bonds. The bonds, issued last year in December, will be repaid from the District's future earnings.
Much of the other work funding by the bonds is centered closer to the District's home base in Visalia.
"The Emergency Department expansion, almost doubling the size of the Emergency Department, is well underway," Herbst said. "We're also working on infilling the fifth and sixth floors of the Acequia Tower."
The tower's fifth floor will be devoted to general medical and surgical use, while the sixth floor is being used to expand the District's neonatal intensive care unit. The bulk of the bond funds, some $30 million, will go to a single project, a new medical records system covering all the District's facilities. Integrating all of a patient's records from across the District will eliminate repeated work, thus saving money, as well as making a better care experience.
"Right now our electronic records talk to each other—they communicate but they don't integrate," Herbst said. "This literally will create a district-wide, fully integrated record system. When a patient comes into the ER and is discharged into the home health department, it's one record. We don't have that today."