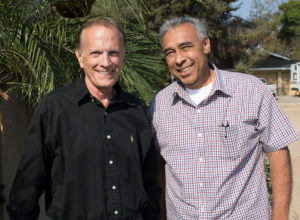 Two of Tulare's contentious races finally came to a close on election night: Kevin Northcraft and Mike Jamaica came out ahead of their incumbent opponents, Sherrie Bell and Laura Gadke, in the Tulare Local Healthcare District election.
Northcraft and Jamaica came in with 65.94% and 63.15% of the vote, respectively, according to final Tulare County tallies from election night. County elections officials have said that they still need to sort through tens of thousands of ballots countywide before they can produce certified, final results.
They were supported by Citizens for Hospital Accountability, a Tulare-based group that organized opposition to the district's failed Measure I bond proposition, and is also currently seeking to unseat another board member, Dr. Parmod Kumar, through a recall process.
The directors-elect believe that the momentum from Measure I may have helped their bids for hospital board.
"I do believe that the Measure I [voters] did carryover to this, seeing how they voiced their opinion very strongly in the first measure, and they voiced their opinion now, through this election," Jamaica said.
The First Thing We Do…
The two won't be taking their oaths until the first Friday in December, pending final results, but they've already got key points they're going to focus on once they get in: both would like to obtain independent legal counsel for the district, ensure improvements in quality, get doctors to return, and restore the hospital's image.
"I walked the districts, and that was a concern of the voters out there," Jamaica said, speaking about the quality of care. "They'd like to see our hospital come back to what it used to be."
"I think for years, when you have a good running hospital, people kind of ignore the administrative elected part of it," Northcraft said. "Obviously the controversy and this horrendous contract that was signed has raised everybody's interest level, and hopefully it will continue.
"We're a big enough city — we need a quality hospital for our use, for our children, our grandchildren, for guests that come visit us, for travelers passing through. That's a very big thing to the quality of life in Tulare, to have that hospital operating well, openly, fiscally prudent, and providing the quality we all should expect of our own hospital."
And though Jamaica and Northcraft would only be a two-person bloc on the board, they don't believe their goals would go unachieved, or ignored, by the rest of the board.
"To me, I think it'll just depend on what's on the table — what's being discussed," Jamaica said, "and how we would approach it. Maybe somewhere down the line one of them, or maybe both of them might switch over, seeing as how the citizens spoke loud and clear: they'd like some transparency and some accountability."
"I think both Linda [Wilbourn] and Richard [Torrez] are people with integrity, and we now have two elections that two-thirds of the people say 'we're going in the wrong direction'," Northcraft said. "If they care about our community, they should be open to looking at some new direction for it, and we certainly want to work with them to the extent possible.
"We certainly haven't closed off the option that some of the existing board members will agree with at least some of the points that we're going to be raising."
No Plans to Change – Except the Contract
One of the concerns raised by supporters of Northcraft, Jamaica, and Citizens for Hospital Accountability, centers around a non-disparagement clause in the Management Services Agreement, one of the contracts between Healthcare Conglomerate Associates (HCCA) — the company that runs Tulare Regional Medical Center — and the Tulare Local Healthcare District.
"Neither the District nor its Governing Body shall (nor cause or encourage others to) disclose confidential or negative information regarding, or take any action or omit to take any action that is materially detrimental to the reputation of [… HCCA] or any of the other Manager Parties, or make any statements, verbally, in writing, or otherwise that defame, disparage or in any way criticize the personal or business reputation, practices, or conduct of [HCCA], or of the other Manager Parties, to anyone other than Manager's Chief Executive Officer."
The clause goes on to state that negative information may be discussed within board meetings, legal and governmental proceedings, but that the prohibition extends to conversations with press, bondholders, industry analysts, competitors, strategic partners, vendors, past/present employees and clients.
Northcraft, Jamaica and the Citizens for Hospital Accountability group, have all been critical of HCCA in ways that would likely be considered "materially detrimental" to the company's reputation. They say that won't change, no matter what the contract says.
"I think we have a responsibility to the electorate, and a constitutional right to free speech, so I'm not planning on observing that condition that was made by a prior board," Northcraft said. "And it's going to be up to be up to HCCA […] to determine whether or not they want to cancel the contract based on that."
"I think we should be entitled to voice our opinions, and also see if that contract can be somehow amended or go back and revise it to see if we can't get a better salary amount for HCCA, instead of paying this excessive amount," Jamaica said. "I'm sure a lot of cities the size of this population aren't paying their CEOs $3 million a year to run their hospital."
"Especially when it's never had any experience in doing it," Northcraft added.
Both said that one of the goals of hiring independent legal counsel is to ensure that the district is getting the most benefit out of its arrangement with HCCA — including a provision that would bar those currently employed by HCCA from returning to work at the district should it choose to manage TRMC on its own again.
"We want our employees to not feel intimidated, not feel they have to be politically involved to keep their jobs — only competency in the healthcare field should be the determining factor for them to keep their jobs," Northcraft said.
What's Your Plan For The Tower?
The Citizens for Hospital Accountability group, which Jamaica and Northcraft support, was originally started to oppose the Measure I bond — their opposition, the group said, was due to the board's leadership and HCCA's involvement, but not to a bond overall.
"We've got a lot of different options. We should look at all our assets, all our revenue sources, all the grants and loans that are available," Northcraft said. "I think even staging it — I don't know if that makes sense, but we haven't looked at it. We shouldn't close out any options until we thoroughly look at it, and then we'll work with citizens to make sure we're doing the thing they feel is appropriate.
"Nobody's in disagreement: we need that tower finished, open, and operating as soon as possible."
"The citizens of our community — that's their [the community's] big concern," Jamaica said.
"I think a new bond would be a last option. They [Northcraft's opponents] did a trick that wasn't very honest, but it was strategic — we only got one-third support for a bond, so let's make our opponents look like the bond people, and us being anti-bond," Northcraft said.
Northcraft was referring to mailers sent out that emphasized a statement he made at the Tulare Candidates' Forum, in which he said that while a bond may not be needed, the community would support one as a final resort, if done in a manner that included community input. Promotional graphics from the Bell campaign were produced and promoted that stated "No Bond No New Taxes" and also quoted Northcraft's remarks.
HCCA's Ready to Welcome – They're Ready to Go
For its part, hospital officials are ready to welcome the two with open arms, and thanked the incumbents for their service in a statement provided to the Voice, by its public relations department.
"We thank President Sherrie Bell and Laura Gadke for their tireless contributions to the TLHCD board and are appreciative of their courage and dedication to steadfastly act in the best interests of our District. Kevin Northcraft and Mike Jamaica join a hard working board which will continue to serve the healthcare needs of our community," a statement from the hospital read.
"And just like during the campaign, we have an open invitation to our newly elected board members to come and visit us at the hospital and see firsthand the amazing accomplishments that have taken place over the past three years and the roadmap to accomplishing our goal of creating a truly healthier Tulare," the statement continues.
Jamaica and Northcraft stated that they want to work with the entire community — those who voted for them and those who voted against them — because all parties involved want the same thing: high-quality care and a quality hospital.
"We are honored, but we have a huge responsibility to fix this," Northcraft said. "That's what [the voters] have told us to do, and that's what they've given us support to do, and it's on our shoulders to get us done."
Laura Gadke declined a request for an interview. A request for comment from the Sherrie Bell campaign was not returned by press time, and this article will be updated if any officials from her campaign respond.