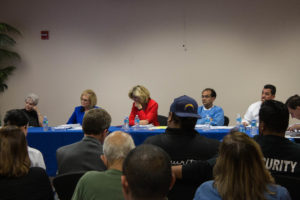 The recent $800,000 loan to the Tulare Local Healthcare District (TLHCD) was used to settle a past due balance with Cardinal Health, a pharmaceutical supplier, public documents reveal.
And while officials with the district — which owns the Tulare Regional Medical Center (TRMC) — were negotiating that loan, they were also attempting to settle their past due balance with another supplier, Novia Solutions.
Additionally, the district's controller knew that funds from the $800,000 loan would be sent, at least in part, to Cardinal Health as early as mid-August, even as members of the district's Board of Directors claimed the loan had no specific purpose when it was approved on September 1.
Some of these revelations bubbled to the surface at the most recent district board meeting, held on October 26, as Visalia attorney Michael Lampe exhibited internal emails and spoke about the timeline that they reveal.
At the same meeting, Dr. Benny Benzeevi, CEO of Healthcare Conglomerate Associates (HCCA) and TLHCD Board Chairman Sherrie Bell made full-throated defenses of their stewardship over the hospital's operations as election day draws closer.
Hospital officials state that some members of the community are trying to viciously, falsely discredit HCCA's success at TRMC, adding that two audits have proven the hospital's profits and success — with a third on the way.
The information came on the heels of what should normally have been a good news week for TRMC and Healthcare Conglomerate Associates, the company to whom the district has contracted out operations of the hospital: Benzeevi announced that the hospital's stalled construction project could now be funded without a bond measure or tax hikes.
Alongside that news, it was also announced that the district's bond rating received an upgraded outlook from Moody's, a major credit ratings agency, and the hospital received awards for its work in radiology imaging and having zero hospital-acquired MRSA infections.
The Cardinal Emails
An email conversation provided to the Voice shows Alan Germany, CFO for Healthcare Conglomerate Associates/TRMC, and Delbert Bryant, Controller for TRMC, knew that the $800,000 would go to Cardinal as early as August 15.
In the conversation, a Cardinal representative asks for an "estimated funding date," sending the email to both Germany and Bryant.
Bryant then forwarded the email to John Thomas, a loan officer with Bank of the Sierra.
"Assuming you get the board resolution on the 25th," Bryant writes, with the Cardinal email below the main text, "what do you expect the timing of the funding will be?"
Another conversation shows that officials with the hospital district were negotiating the loan as early as May.
At the October 26 meeting, Michael Lampe — currently an attorney in two lawsuits against the District — discussed other emails that showed the inner workings of the $800,000 loan.
One, from Bryant, is dated July 18. He asks Thomas for any "good news" on the loan application, stating that the district has been "on this journey" since May 12. The last invoice from Cardinal was due on May 8, 2016.
The other, dated September 7, also from Bryant to Thomas, asks Thomas to immediately wire the funds to Cardinal Pharmaceuticals, and includes details for Cardinal's bank account at Wells Fargo in San Francisco..
"Please make the wire today. THANKS," Bryant requests.
Lampe used the emails to fortify his argument that the board either was in the dark, or deceived the public, in stating that the $800,000 loan was simply a line of credit with no preconceived purpose.
"The question I have for the board is, was the board aware that Delbert Bryant was attempting to negotiate an $800,000 loan for the district as early as May 12 of 2016? There's another email from him dated September 7, which again is addressed to John Thomas, the subject matter is 'Cardinal wire instructions' — that's the wire to Cardinal Pharmaceuticals that we've talked about and has been the subject of some press," Lampe said.
Lampe continued by asking whether the purpose of the loan was known to the board.
"[…] was the board aware of the falsity of those statements when Dr. Kumar falsely represented at the September 1 Board Meeting that, 'if that check is cut it will be approved by the board, it will come here' — was the falsity of that statement known to the board at the time," Lampe asked, "or the alternative, did the board actually meet at a later point in time in a non-agendized meeting to approve that loan to Cardinal Pharmaceuticals? These are questions that I would invite the board either collectively or individually to answer to the public."
Board Members in the Dark?
No board member or district official attempted to specifically rebut or address Lampe's statements.
And, though certain officials already had plans for the loan in August, the loan's purpose appeared to evade members of the board at the September 1 special board meeting in which the board, with Laura Gadke absent, approved the loan.
Dr. Parmod Kumar, a TLHCD board member, stated at the meeting that the board would approve any use of the loan, and that it did not have an intended use.
"If we do spend this money, we will bring that item to the board to be voted by the board to be spent on a particular item," Kumar said. "This particular resolution, it is just a line of credit, we have done it numerous times, so on those documents, there are no details, we are not cutting a check tomorrow to somebody for this amount."
Board member Linda Wilbourn concurred.
"This isn't saying that we're going to pull out $800,000; we may only need a certain small amount of that to pay a vendor," she said.
Dr. Benny Benzeevi, CEO of Healthcare Conglomerate Associates, stated earlier in the meeting that the money could be used to get a discount with a vendor.
"Sometimes being able to to pay a larger amount at one time allows us to get a better overall return, in this case a larger discount, and so this specifically would affect our ability to get a larger discount with the vendor by making a payment in one lump sum," Benzeevi said. "So this would be a loan from the bank to be able to do that so we can get that discount from the vendor."
The Raw Numbers
A spreadsheet, mentioned by Lampe and later provided to the Voice through a Public Records Act request, details the invoices that were repaid by the $800,000 loan.
In total, those invoices add up to $827,922.34, and have due dates spanning from November 2015 to May 2016.
The Novia Emails
Other documents recently received by the Voice detail a settlement between Novia Strategies — a healthcare consulting firm — and the district regarding past due payments.
"As you know, on or about June 10, 2015, Mr. Germany executed the Agreement on behalf and Novia fully performed the contracted services from June 2015 through February 2016. TRMC, however, failed to timely and fully pay Novia for services rendered, nor did TRMC reimburse Novia for expenses advanced to TRMC per the terms of the Agreement," the letter reads in part.
"Despite assertions in Mr. Bryant's email concerning inability to pay Novia, TRMC's website currently touts the hospital's financial turn-around, including returning TRMC to profitability, significantly increasing days of cash on hand, and providing significant raises to TRMC workers. In light of the foregoing, Novia believes that TRMC has no legally cognizable defense to continue to withhold or otherwise delay the significantly overdue amounts payable to Novia."
The email from Novia's Corporate Counsel, Dan Stein, stated it rejected an offer proposed by the district to settle the debt for 50% — approximately $22,250.45 — and instead counter-offered to settle for $35,000.00.
Bryant accepted the settlement, stating in a reply:
"We will accept the offer of $35,000, conditioned upon execution of a settlement agreement which includes a full release of claims."
Hospital's Response
"The real question that should be asked is why are some members of the community trying to viciously and falsely discredit the greatest success Tulare Regional Medical Center has had in its history," a statement from the hospital to the Voice read.
"Anybody who's anybody knows that cash flow and profit are two different things.  Any smart business will do what it can to maximize cash flow. The profits of the hospital for the last three years are indisputable. Two audits have already confirmed this and a third one is on the way.  Four total credit rating agency upgrades (FITCH Ratings and Moody's) specifically mention HCCA as being the cause of the dramatic turnaround and further confirmed it."
"As for Michael Lampe and his political stunt, all that did was cost taxpayers more money for lawsuits without merit, as evidenced by individuals being named and then removed from the lawsuits. This is exactly the kind of baloney that these people have done before and have obviously not learned their lesson. They are repeating the old ways, which in the past have brought the hospital nothing but failure, disgrace and shame."
Surprising Fliers
The October 26 meeting also produced another surprise: fliers that were placed on seats at the meeting charging TLHCD Board Chairman/President Sherrie Bell's opponent, Kevin Northcraft, with falsely representing himself as a "neurophysiologist" and "neurologist."
In red handwriting at the top, the flier states "This is not transparency!"
Northcraft's supporters claimed that the fliers were placed on every seat before the meeting began.
"When we got here early today, these were on every seat, Sherrie. To conduct a campaign like this — it's not right. This was on every seat, regarding Kevin Northcraft, of a locked room. How did they get in here? It had to have been someone with access — not the public," Jennifer Burcham, a Tulare resident, said of the fliers during the public comment section of the meeting.
"And this is unacceptable tactics on behalf of whoever did this; and, since it's your opposition, I'm assuming someone that knows you. I'm not necessarily blaming you, but this is disrespectful, and this is Moreno Valley tactics, and we don't want that here in Tulare."
Research by the Voice reveals that the flier was based on Northcraft's Trustoria.com webpage.
Trustoria bills itself as "the largest open collection of professional US profiles in the world," but unlike LinkedIn, a similar service, Trustoria's profiles are not created by their subjects, but instead, they appear to be created by automated processes. Trustoria then charges users to view these computer-generated profiles.
Reviews of Trustoria's parent company, Radaris, reveal that information gathered by the company can be inaccurate. A January review on SiteJabber.com reads:
"You would do well to choose a different company to perform background checks. Mostly inaccurate info belonging to different people, mixed with some accurate info, but that makes it completely untrustable."
Northcraft charges the information is inaccurate.
"The info apparently comes from an old listing when I was a part time massage practitioner in San Diego, part of several fun jobs I've tried in retirement. It lists a category, not that I was all those occupations; a huge misrepresentation of the truth," Northcraft said in a statement to the Voice. "It has nothing to do with my candidacy and smacks of desperation by the other side, that is stooping to Moreno Valley, dirty politics style. They are trying to bring machine politics, underhanded approaches to Tulare. Our citizens are too smart to be tricked by those approaches."
In Defense of The Status Quo
At the end of the Wednesday meeting, Bell took part of the meeting to defend her time and work on the board.
"The ten years from 2003 to HCCA coming on board, we lost over $5m in operations. It was never going to happen. Not only that, they hired an architect that was unqualified, it went through the bid process, but we didn't narrow our bid properly, and so the construction company had never built a public hospital, so we had a tower that was destined to failure," Bell said.
"So when I walked in, it was delaminated cement and pretty much construction had stalled. And over $69m had been spent of the bond. So let's also talk about the past. In 2008 we had the OIG, which is the Office of the Inspector General, and the FBI show up at our hospital in early 2008. We had signed the board had signed illegal contracts with physicians, the estimated fine was going to be over $24m. Because it would close the hospital, they agreed to fine us $2.4m instead," Bell continued.
"We had no money, and so we were not investing into our hospital. That is the past. Personally — let's not go back to that."
Sharing a common theme, Benzeevi also used his speaking time to defend HCCA's work at TRMC.
"What's astounding to me in all of this commotion is that with elections going on, I've yet to meet with any of the candidates. I would think that it would be a great interest to try and sit down and talk and see what's actually going on in the hospital, especially somebody who's running for office to sit on this board," Benzeevi said, extending an invitation for the candidates to meet with him. "This is not a game. This is serious business."
Benzeevi walked the audience through TRMC's past as an independently managed organization, stating that the HCCA stepped up to the plate when few would — through the previously-mentioned OIG investigation, the tower construction failure, profit losses, and staff turnover. He also announced that the stalled tower project could now be restarted — without a bond measure or tax increases.
"How many of you would have walked into a situation like this?" Benzeevi asked the crowd.
"It's easy to call people corrupt, it's easy to call people names, it's easy to undermine any progress that's being made," Benzeevi said. "It's much harder to come from this and get to a place where we can even be in a position where we have enough position to be calling people names and to throw insults at people."
Bell and Gadke, both incumbent board members, are up for election on November 8, facing challenger candidates.
| National Account | Account Number | Invoice Date | Invoice Number | Invoice Amount | PO Number | Invoice Due Date |
| --- | --- | --- | --- | --- | --- | --- |
| 40171 | 13741 | 11/4/15 | 3361777 | 646.60 | 110315MS340B01 | 11/13/15 |
| 40171 | 13741 | 11/5/15 | 3367562 | 42.10 | 103015MS340B01 | 11/13/15 |
| 40171 | 15665 | 11/6/15 | 3374580 | 826.89 | 38998 | 11/12/15 |
| 40171 | 13741 | 11/6/15 | 3375601 | 206.55 | 110515MS340B01 | 11/13/15 |
| 40171 | 13741 | 11/6/15 | 3375935 | 147.44 | 110515MS340B02 | 11/13/15 |
| 40171 | 18414 | 11/7/15 | 3381704 | 1,883.87 | 110615MSWAC01 | 11/13/15 |
| 40171 | 13741 | 11/7/15 | 3380894 | 90.92 | 080415MW340B | 11/13/15 |
| 40171 | 13741 | 11/7/15 | 3381703 | 544.21 | 110615MS340B01 | 11/13/15 |
| 40171 | 15665 | 11/8/15 | 58310SC | 9.57 | | 11/8/15 |
| 40171 | 18414 | 11/9/15 | 3387830 | 2,876.60 | SEN-2453645 | 11/13/15 |
| 40171 | 13741 | 11/9/15 | 3387828 | 769.60 | SEN-2453644 | 11/13/15 |
| 40171 | 13741 | 11/9/15 | 3387829 | 146.56 | SEN-2453644 | 11/13/15 |
| 40171 | 18414 | 11/10/15 | 3391112 | 2,902.37 | 110915MSWAC01 | 11/20/15 |
| 40171 | 13741 | 11/10/15 | 3391109 | 1,125.24 | 110915MS340B01 | 11/20/15 |
| 40171 | 18414 | 11/11/15 | 3397146 | 705.70 | | 11/20/15 |
| 40171 | 18414 | 11/11/15 | 3398342 | 2,275.89 | 111015MSWAC01 | 11/20/15 |
| 40171 | 13741 | 11/11/15 | 3396476 | 61.94 | SEN-2391818 | 11/20/15 |
| 40171 | 13741 | 11/11/15 | 3397117 | 1,428.09 | | 11/20/15 |
| 40171 | 13741 | 11/11/15 | 3398345 | 2,015.82 | 111015MS340B01 | 11/20/15 |
| 40171 | 15665 | 11/12/15 | 3405217 | 182.28 | 39107 | 11/19/15 |
| 40171 | 18414 | 11/12/15 | 3404148 | 862.98 | | 11/20/15 |
| 40171 | 18414 | 11/12/15 | 3407974 | 1,002.70 | SEN-2460585 | 11/20/15 |
| 40171 | 18414 | 11/12/15 | 3407975 | 114.67 | SEN-2460585 | 11/20/15 |
| 40171 | 13741 | 11/12/15 | 3403888 | 46.98 | 110915MS340B01 | 11/20/15 |
| 40171 | 13741 | 11/12/15 | 3407976 | 596.91 | SEN-2460584 | 11/20/15 |
| 40171 | 18414 | 11/13/15 | 3410578 | 76.61 | | 11/20/15 |
| 40171 | 18414 | 11/13/15 | 3411126 | 3,451.92 | | 11/20/15 |
| 40171 | 18414 | 11/13/15 | 3411714 | 572.07 | 111215MSWAC01 | 11/20/15 |
| 40171 | 18414 | 11/13/15 | 3412116 | 547.54 | | 11/20/15 |
| 40171 | 13741 | 11/13/15 | 3411715 | 1,015.62 | 111215MS340B01 | 11/20/15 |
| 40171 | 18414 | 11/14/15 | 3417495 | 49.51 | SEN-2464592 | 11/20/15 |
| 40171 | 13741 | 11/14/15 | 3417493 | 180.12 | SEN-2464591 | 11/20/15 |
| 40171 | 13741 | 11/14/15 | 3417494 | 222.64 | SEN-2464591 | 11/20/15 |
| 40171 | 13741 | 11/14/15 | 3418255 | 1,779.72 | SEN-2464692 | 11/20/15 |
| 40171 | 15665 | 11/15/15 | 58335SC | 15.68 | | 11/15/15 |
| 40171 | 18414 | 11/16/15 | 3421163 | 19.61 | SEN-2347088 | 11/20/15 |
| 40171 | 18414 | 11/16/15 | 3421526 | 1,788.16 | 111515MSWAC01 | 11/20/15 |
| 40171 | 13741 | 11/16/15 | 3421522 | 894.65 | 111515MS340B01 | 11/20/15 |
| 40171 | 15665 | 11/17/15 | 3425537 | 169.74 | 38998 | 11/26/15 |
| 40171 | 15665 | 11/17/15 | 3427247 | 161.99 | 39177 | 11/26/15 |
| 40171 | 18414 | 11/17/15 | 3427053 | 384.58 | 111615MSWAC01 | 11/27/15 |
| 40171 | 13741 | 11/17/15 | 3426034 | 165.57 | 111515MS340B01 | 11/27/15 |
| 40171 | 13741 | 11/17/15 | 3426171 | 156.60 | 111215MS340B01 | 11/27/15 |
| 40171 | 13741 | 11/17/15 | 3427052 | 961.03 | 111615MS340B01 | 11/27/15 |
| 40171 | 18414 | 11/18/15 | 3433899 | 2,990.08 | 111715MSWAC01 | 11/27/15 |
| 40171 | 13741 | 11/18/15 | 3433896 | 2,384.13 | 111715MS340B01 | 11/27/15 |
| 40171 | 140436 | 11/19/15 | 3444313 | 770.44 | SEN-2472847 | 11/26/15 |
| 40171 | 18414 | 11/19/15 | 3440500 | 19.60 | | 11/27/15 |
| 40171 | 13741 | 11/19/15 | 3440210 | 55.19 | 111515MS340B01 | 11/27/15 |
| 40171 | 13741 | 11/19/15 | 3444311 | 222.33 | SEN-2472845 | 11/27/15 |
| 40171 | 13741 | 11/19/15 | 3444312 | 128.24 | SEN-2472845 | 11/27/15 |
| 40171 | 140436 | 11/20/15 | 3449170 | 36.22 | 111915MSGPO01 | 11/26/15 |
| 40171 | 140436 | 11/20/15 | 3449171 | 852.13 | 111915MSGPO01 | 11/26/15 |
| 40171 | 18414 | 11/20/15 | 3449161 | 219.56 | 111915MSWAC01 | 11/27/15 |
| 40171 | 13741 | 11/20/15 | 3449162 | 987.36 | 111915MS340B01 | 11/27/15 |
| 40171 | 15665 | 11/21/15 | 3454321 | 161.99 | 39265 | 11/26/15 |
| 40171 | 18414 | 11/21/15 | 3455000 | 1,678.52 | SEN-2476892 | 11/27/15 |
| 40171 | 18414 | 11/21/15 | 3455014 | 511.03 | | 11/27/15 |
| 40171 | 15665 | 11/22/15 | 58490SC | 18.53 | | 11/22/15 |
| 40171 | 18414 | 11/23/15 | 3462085 | 1,566.98 | | 11/27/15 |
| 40171 | 18414 | 11/24/15 | 3464886 | 9,589.03 | | 12/4/15 |
| 40171 | 18414 | 11/24/15 | 3464887 | 127.76 | | 12/4/15 |
| 40171 | 18414 | 11/24/15 | 3465156 | 263.79 | | 12/4/15 |
| 40171 | 15665 | 11/25/15 | 3470415 | 2,032.97 | 39314 | 12/3/15 |
| 40171 | 18414 | 11/25/15 | 3469970 | 107.49 | | 12/4/15 |
| 40171 | 18414 | 11/25/15 | 3471587 | 3,805.31 | | 12/4/15 |
| 40171 | 18414 | 11/25/15 | 3472052 | 11,619.29 | | 12/4/15 |
| 40171 | 18414 | 11/25/15 | 3472053 | 630.02 | | 12/4/15 |
| 40171 | 18414 | 11/25/15 | 3475255 | 1,770.60 | 04229 | 12/4/15 |
| 40171 | 140436 | 11/27/15 | 3477292 | 1,613.00 | 39332 | 12/3/15 |
| 40171 | 18414 | 11/27/15 | 3479463 | 65.65 | | 12/4/15 |
| 40171 | 18414 | 11/27/15 | 3480634 | 1,434.02 | | 12/4/15 |
| 40171 | 18414 | 11/27/15 | 3480635 | 142.32 | | 12/4/15 |
| 40171 | 18414 | 11/28/15 | 3485585 | 1,764.37 | | 12/4/15 |
| 40171 | 15665 | 11/29/15 | 58511SC | 19.16 | | 11/29/15 |
| 40171 | 18414 | 11/30/15 | 3488681 | 10,069.00 | | 12/4/15 |
| 40171 | 15665 | 12/1/15 | 3492743 | 371.20 | 39360 | 12/10/15 |
| 40171 | 18414 | 12/1/15 | 3493879 | 1,271.76 | | 12/11/15 |
| 40171 | 18414 | 12/1/15 | 3493986 | 1,298.23 | | 12/11/15 |
| 40171 | 18414 | 12/1/15 | 3493987 | 137.51 | | 12/11/15 |
| 40171 | 18414 | 12/1/15 | 3497730 | 442.43 | 04232 | 12/11/15 |
| 40171 | 18414 | 12/1/15 | 3497769 | 1,299.45 | 04232 | 12/11/15 |
| 40171 | 18414 | 12/2/15 | 3499607 | 431.49 | 110415MSWAC02 | 12/11/15 |
| 40171 | 18414 | 12/2/15 | 3499932 | 161.36 | | 12/11/15 |
| 40171 | 18414 | 12/2/15 | 3500644 | 371.25 | | 12/11/15 |
| 40171 | 18414 | 12/2/15 | 3500647 | 371.25 | | 12/11/15 |
| 40171 | 18414 | 12/2/15 | 3501423 | 7,031.71 | 120115A | 12/11/15 |
| 40171 | 18414 | 12/2/15 | 3501424 | 592.92 | 120115A | 12/11/15 |
| 40171 | 18414 | 12/3/15 | 3508412 | 3,298.35 | | 12/11/15 |
| 40171 | 18414 | 12/3/15 | 3508413 | 188.79 | | 12/11/15 |
| 40171 | 18414 | 12/4/15 | 3515051 | 1,639.11 | | 12/11/15 |
| 40171 | 18414 | 12/4/15 | 3515052 | 6.21 | | 12/11/15 |
| 40171 | 18414 | 12/5/15 | 3521089 | 12,501.02 | | 12/11/15 |
| 40171 | 18414 | 12/5/15 | 3521142 | 500.69 | | 12/11/15 |
| 40171 | 18414 | 12/5/15 | 3521143 | 35.50 | | 12/11/15 |
| 40171 | 13741 | 12/5/15 | 3520376 | 76.44 | 111515MS340B01 | 12/11/15 |
| 40171 | 15665 | 12/6/15 | 58707SC | 20.87 | | 12/6/15 |
| 40171 | 18414 | 12/7/15 | 3524261 | 10.80 | | 12/11/15 |
| 40171 | 18414 | 12/7/15 | 3527972 | 1,382.27 | | 12/11/15 |
| 40171 | 18414 | 12/8/15 | 3529526 | 12.30 | 111715MSWAC01 | 12/18/15 |
| 40171 | 18414 | 12/8/15 | 3530837 | 12,326.04 | | 12/18/15 |
| 40171 | 18414 | 12/8/15 | 3530838 | 278.69 | | 12/18/15 |
| 40171 | 18414 | 12/8/15 | 3530893 | 348.33 | | 12/18/15 |
| 40171 | 18414 | 12/8/15 | 3534236 | 433.15 | 04232 | 12/18/15 |
| 40171 | 15665 | 12/9/15 | 3537095 | 773.91 | 39513 | 12/17/15 |
| 40171 | 18414 | 12/9/15 | 3537046 | 285.00 | | 12/18/15 |
| 40171 | 18414 | 12/9/15 | 3538220 | 4,347.58 | | 12/18/15 |
| 40171 | 18414 | 12/9/15 | 3538562 | 2,199.28 | | 12/18/15 |
| 40171 | 15665 | 12/10/15 | 3544857 | 742.40 | 39526 | 12/17/15 |
| 40171 | 18414 | 12/10/15 | 3545629 | 1,920.35 | | 12/18/15 |
| 40171 | 18414 | 12/10/15 | 3545674 | 2,561.05 | | 12/18/15 |
| 40171 | 18414 | 12/11/15 | 3551626 | 1,339.53 | | 12/18/15 |
| 40171 | 18414 | 12/11/15 | 3552699 | 4,940.50 | | 12/18/15 |
| 40171 | 18414 | 12/11/15 | 3552700 | 262.88 | | 12/18/15 |
| 40171 | 18414 | 12/11/15 | 3555904 | 1,770.60 | 04235 | 12/18/15 |
| 40171 | 18414 | 12/12/15 | 3557486 | 235.96 | | 12/18/15 |
| 40171 | 18414 | 12/12/15 | 3558398 | 3,144.20 | | 12/18/15 |
| 40171 | 18414 | 12/12/15 | 3558399 | 102.72 | | 12/18/15 |
| 40171 | 15665 | 12/13/15 | 58733SC | 27.89 | | 12/13/15 |
| 40171 | 18414 | 12/14/15 | 3561982 | 4.94 | | 12/18/15 |
| 40171 | 18414 | 12/14/15 | 3562167 | 4,028.99 | | 12/18/15 |
| 40171 | 18414 | 12/14/15 | 3562187 | 662.97 | | 12/18/15 |
| 40171 | 18414 | 12/15/15 | 3566730 | 754.31 | | 12/25/15 |
| 40171 | 18414 | 12/15/15 | 3567814 | 1,384.70 | | 12/25/15 |
| 40171 | 18414 | 12/16/15 | 3575448 | 9,463.97 | | 12/25/15 |
| 40171 | 18414 | 12/16/15 | 3575546 | 14.04 | | 12/25/15 |
| 40171 | 18414 | 12/17/15 | 3581342 | 104.16 | | 12/25/15 |
| 40171 | 18414 | 12/17/15 | 3581345 | 69.44 | | 12/25/15 |
| 40171 | 18414 | 12/17/15 | 3582347 | 173.60 | | 12/25/15 |
| 40171 | 18414 | 12/17/15 | 3583160 | 781.39 | | 12/25/15 |
| 40171 | 18414 | 12/17/15 | 3583161 | 10.37 | | 12/25/15 |
| 40171 | 140436 | 12/18/15 | 3589125 | 171.90 | | 12/24/15 |
| 40171 | 15665 | 12/18/15 | 3588568 | 129.60 | 39646 | 12/24/15 |
| 40171 | 18414 | 12/18/15 | 3589934 | 7,822.64 | | 12/25/15 |
| 40171 | 18414 | 12/18/15 | 3589935 | 24.28 | | 12/25/15 |
| 40171 | 18414 | 12/18/15 | 3589998 | 1,672.40 | | 12/25/15 |
| 40171 | 15665 | 12/19/15 | 3595157 | 284.67 | 39626 | 12/24/15 |
| 40171 | 18414 | 12/19/15 | 3595716 | 1,439.27 | 121815A | 12/25/15 |
| 40171 | 13741 | 12/19/15 | 3595134 | 3.15 | 110315MS340B01 | 12/25/15 |
| 40171 | 15665 | 12/20/15 | 58903SC | 29.17 | | 12/20/15 |
| 40171 | 18414 | 12/21/15 | 3599359 | 21.60 | | 12/25/15 |
| 40171 | 18414 | 12/21/15 | 3599849 | 73.71 | 122015A | 12/25/15 |
| 40171 | 18414 | 12/21/15 | 3599850 | 951.81 | 122015A | 12/25/15 |
| 40171 | 15665 | 12/22/15 | 3604110 | 1,304.44 | 39687 | 12/31/15 |
| 40171 | 18414 | 12/22/15 | 3603462 | 953.82 | | 1/1/16 |
| 40171 | 18414 | 12/22/15 | 3605872 | 1,456.76 | | 1/1/16 |
| 40171 | 18414 | 12/22/15 | 3605873 | 403.28 | | 1/1/16 |
| 40171 | 18414 | 12/22/15 | 3605884 | 105.90 | | 1/1/16 |
| 40171 | 18414 | 12/22/15 | 3609281 | 1,732.60 | 04240 | 1/1/16 |
| 40171 | 18414 | 12/23/15 | 3613555 | 1,581.45 | | 1/1/16 |
| 40171 | 18414 | 12/24/15 | 3619929 | 1,782.29 | | 1/1/16 |
| 40171 | 18414 | 12/24/15 | 3620592 | 8,279.90 | | 1/1/16 |
| 40171 | 18414 | 12/24/15 | 3620763 | 127.47 | | 1/1/16 |
| 40171 | 18414 | 12/24/15 | 3620784 | 431.70 | | 1/1/16 |
| 40171 | 18414 | 12/24/15 | 3621382 | 449.83 | | 1/1/16 |
| 40171 | 18414 | 12/24/15 | 3623326 | 779.05 | | 1/1/16 |
| 40171 | 18414 | 12/26/15 | 3627236 | 2,413.20 | | 1/1/16 |
| 40171 | 18414 | 12/26/15 | 3627237 | 141.46 | | 1/1/16 |
| 40171 | 15665 | 12/27/15 | 58929SC | 34.40 | | 12/27/15 |
| 40171 | 18414 | 12/28/15 | 3630304 | 122.05 | | 1/1/16 |
| 40171 | 18414 | 12/28/15 | 3630832 | 8,104.13 | | 1/1/16 |
| 40171 | 18414 | 12/28/15 | 3630833 | 91.96 | | 1/1/16 |
| 40171 | 15665 | 12/29/15 | 3636008 | 607.60 | 39775 | 1/7/16 |
| 40171 | 18414 | 12/29/15 | 3636443 | 6,497.22 | | 1/8/16 |
| 40171 | 18414 | 12/29/15 | 3640019 | 1,732.60 | 04242 | 1/8/16 |
| 40171 | 15665 | 12/30/15 | 3642426 | 2,147.24 | 39801 | 1/7/16 |
| 40171 | 18414 | 12/30/15 | 3643583 | 1,484.26 | | 1/8/16 |
| 40171 | 18414 | 12/30/15 | 3643705 | 4,094.49 | | 1/8/16 |
| 40171 | 18414 | 12/30/15 | 3644413 | 110.60 | | 1/8/16 |
| 40171 | 140436 | 12/31/15 | 3649947 | 287.66 | 110515MSGPO01 | 1/7/16 |
| 40171 | 18414 | 12/31/15 | 3649946 | 287.66 | 110415MSWAC02 | 1/8/16 |
| 40171 | 18414 | 12/31/15 | 3652195 | 6,651.37 | | 1/8/16 |
| 40171 | 18414 | 12/31/15 | 3652196 | 215.16 | | 1/8/16 |
| 40171 | 140436 | 1/2/16 | 3657616 | 100.00 | | 1/7/16 |
| 40171 | 18414 | 1/2/16 | 3657895 | 53.25 | | 1/8/16 |
| 40171 | 18414 | 1/2/16 | 3659237 | 64.75 | | 1/8/16 |
| 40171 | 18414 | 1/2/16 | 3659709 | 3,507.15 | | 1/8/16 |
| 40171 | 18414 | 1/2/16 | 3659710 | 102.72 | | 1/8/16 |
| 40171 | 15665 | 1/3/16 | 59141SC | 35.83 | | 1/3/16 |
| 40171 | 140436 | 1/4/16 | 3663550 | 113.34 | 103015MSGPO01 | 1/14/16 |
| 40171 | 18414 | 1/4/16 | 3663573 | 38.50 | | 1/8/16 |
| 40171 | 18414 | 1/4/16 | 3663675 | 192.50 | | 1/8/16 |
| 40171 | 18414 | 1/4/16 | 3667175 | 9,031.60 | 010316A | 1/8/16 |
| 40171 | 18414 | 1/4/16 | 3667176 | 18.21 | 010316A | 1/8/16 |
| 40171 | 18414 | 1/5/16 | 3670861 | 2,266.14 | | 1/15/16 |
| 40171 | 18414 | 1/5/16 | 3670862 | 56.09 | | 1/15/16 |
| 40171 | 18414 | 1/6/16 | 3679826 | 3,728.00 | | 1/15/16 |
| 40171 | 18414 | 1/6/16 | 3682019 | 1,732.60 | 042428 | 1/15/16 |
| 40171 | 15665 | 1/7/16 | 3686366 | 182.28 | 39914 | 1/14/16 |
| 40171 | 18414 | 1/7/16 | 3686661 | 4,773.12 | | 1/15/16 |
| 40171 | 18414 | 1/7/16 | 3686662 | 101.40 | | 1/15/16 |
| 40171 | 18414 | 1/7/16 | 3686697 | 162.50 | | 1/15/16 |
| 40171 | 15665 | 1/8/16 | 3692476 | 425.32 | 39914 | 1/14/16 |
| 40171 | 18414 | 1/8/16 | 3693170 | 294.99 | | 1/15/16 |
| 40171 | 18414 | 1/8/16 | 3694677 | 7,133.97 | | 1/15/16 |
| 40171 | 18414 | 1/8/16 | 3694679 | 5.84 | | 1/15/16 |
| 40171 | 18414 | 1/8/16 | 3697774 | 8,401.00 | 04249 | 1/15/16 |
| 40171 | 140436 | 1/9/16 | 3699575 | 10.45 | 111015MSGPO01 | 1/14/16 |
| 40171 | 15665 | 1/9/16 | 3699904 | 742.40 | 39942 | 1/14/16 |
| 40171 | 18414 | 1/9/16 | 3699662 | 108.78 | | 1/15/16 |
| 40171 | 18414 | 1/9/16 | 3699885 | 24.10 | | 1/15/16 |
| 40171 | 18414 | 1/9/16 | 3699888 | 12.05 | | 1/15/16 |
| 40171 | 18414 | 1/9/16 | 3700630 | 2,595.58 | | 1/15/16 |
| 40171 | 18414 | 1/9/16 | 3700703 | 602.07 | | 1/15/16 |
| 40171 | 15665 | 1/10/16 | 59184SC | 40.33 | | 1/10/16 |
| 40171 | 18414 | 1/11/16 | 3703766 | 327.90 | | 1/15/16 |
| 40171 | 18414 | 1/11/16 | 3704583 | 142.41 | | 1/15/16 |
| 40171 | 18414 | 1/11/16 | 3707020 | 2,128.43 | | 1/15/16 |
| 40171 | 18414 | 1/11/16 | 3707021 | 102.72 | | 1/15/16 |
| 40171 | 18414 | 1/11/16 | 3707070 | 867.56 | | 1/15/16 |
| 40171 | 15665 | 1/12/16 | 3710548 | 447.03 | 39968 | 1/21/16 |
| 40171 | 15665 | 1/12/16 | 3710556 | 1,289.84 | 39981 | 1/21/16 |
| 40171 | 15665 | 1/12/16 | 3710575 | 955.40 | 39982 | 1/21/16 |
| 40171 | 18414 | 1/12/16 | 3709632 | 727.56 | | 1/22/16 |
| 40171 | 18414 | 1/12/16 | 3710296 | 218.28 | | 1/22/16 |
| 40171 | 18414 | 1/12/16 | 3711626 | 2,621.62 | | 1/22/16 |
| 40171 | 18414 | 1/12/16 | 3711627 | 167.02 | | 1/22/16 |
| 40171 | 18414 | 1/12/16 | 3711813 | 24.75 | | 1/22/16 |
| 40171 | 18414 | 1/13/16 | 3719607 | 118.20 | | 1/22/16 |
| 40171 | 18414 | 1/13/16 | 3719780 | 3,210.83 | | 1/22/16 |
| 40171 | 18414 | 1/14/16 | 3726027 | 133.65 | | 1/22/16 |
| 40171 | 18414 | 1/14/16 | 3726132 | 285.94 | | 1/22/16 |
| 40171 | 18414 | 1/14/16 | 3727492 | 2,158.34 | | 1/22/16 |
| 40171 | 18414 | 1/14/16 | 3727493 | 16.19 | | 1/22/16 |
| 40171 | 18414 | 1/14/16 | 3727834 | 12.83 | | 1/22/16 |
| 40171 | 18414 | 1/14/16 | 3730960 | 8,401.00 | 04252 | 1/22/16 |
| 40171 | 18414 | 1/15/16 | 3733319 | 551.56 | | 1/22/16 |
| 40171 | 18414 | 1/15/16 | 3735156 | 5,480.66 | | 1/22/16 |
| 40171 | 18414 | 1/15/16 | 3735182 | 1,366.94 | | 1/22/16 |
| 40171 | 18414 | 1/16/16 | 3740742 | 39.58 | | 1/22/16 |
| 40171 | 18414 | 1/16/16 | 3741034 | 2,268.01 | | 1/22/16 |
| 40171 | 18414 | 1/16/16 | 3741307 | 2,229.62 | | 1/22/16 |
| 40171 | 18414 | 1/16/16 | 3741308 | 16.68 | | 1/22/16 |
| 40171 | 15665 | 1/17/16 | 59340SC | 49.84 | | 1/17/16 |
| 40171 | 18414 | 1/18/16 | 3743671 | 24.75 | | 1/22/16 |
| 40171 | 18414 | 1/18/16 | 3746385 | 3,973.74 | | 1/22/16 |
| 40171 | 18414 | 1/19/16 | 3749415 | 112.00 | | 1/29/16 |
| 40171 | 18414 | 1/19/16 | 3749418 | 112.00 | | 1/29/16 |
| 40171 | 18414 | 1/19/16 | 3749469 | 175.37 | | 1/29/16 |
| 40171 | 18414 | 1/19/16 | 3749891 | 2,118.98 | | 1/29/16 |
| 40171 | 18414 | 1/19/16 | 3749954 | 4,954.45 | | 1/29/16 |
| 40171 | 18414 | 1/19/16 | 3750060 | 1.81 | | 1/29/16 |
| 40171 | 15665 | 1/20/16 | 3757089 | 742.40 | 39926 | 1/28/16 |
| 40171 | 18414 | 1/20/16 | 3757605 | 6,379.91 | | 1/29/16 |
| 40171 | 18414 | 1/20/16 | 3760801 | 2,203.75 | 04258 | 1/29/16 |
| 40171 | 140436 | 1/21/16 | 3765048 | 15.60 | 102715MSGPO01 | 1/28/16 |
| 40171 | 18414 | 1/21/16 | 3764884 | 2,710.85 | | 1/29/16 |
| 40171 | 15665 | 1/23/16 | 3777770 | 51.72 | 40188 | 1/28/16 |
| 40171 | 18414 | 1/23/16 | 3777258 | 32.95 | | 1/29/16 |
| 40171 | 18414 | 1/23/16 | 3777259 | 65.90 | | 1/29/16 |
| 40171 | 18414 | 1/23/16 | 3777677 | 90.57 | | 1/29/16 |
| 40171 | 18414 | 1/23/16 | 3778302 | 7,761.71 | | 1/29/16 |
| 40171 | 18414 | 1/23/16 | 3778303 | 107.35 | | 1/29/16 |
| 40171 | 15665 | 1/24/16 | 59362SC | 54.50 | | 1/24/16 |
| 40171 | 18414 | 1/25/16 | 3781244 | 701.48 | | 1/29/16 |
| 40171 | 18414 | 1/25/16 | 3781682 | 5,406.03 | 012116A | 1/29/16 |
| 40171 | 15665 | 1/26/16 | 3786528 | 103.44 | 40198 | 2/4/16 |
| 40171 | 18414 | 1/26/16 | 3786108 | 113.60 | | 2/5/16 |
| 40171 | 18414 | 1/26/16 | 3786116 | 56.80 | | 2/5/16 |
| 40171 | 18414 | 1/26/16 | 3787450 | 1,451.90 | | 2/5/16 |
| 40171 | 18414 | 1/26/16 | 3787451 | 41.70 | | 2/5/16 |
| 40171 | 15665 | 1/27/16 | 3793341 | 93.12 | 40221 | 2/4/16 |
| 40171 | 18414 | 1/27/16 | 3793372 | 65.19 | | 2/5/16 |
| 40171 | 18414 | 1/27/16 | 3793578 | 8.32 | | 2/5/16 |
| 40171 | 18414 | 1/27/16 | 3794759 | 2,134.97 | | 2/5/16 |
| 40171 | 18414 | 1/27/16 | 3794760 | 50.41 | | 2/5/16 |
| 40171 | 18414 | 1/28/16 | 3801077 | 247.50 | | 2/5/16 |
| 40171 | 18414 | 1/28/16 | 3801078 | 371.25 | 012116a | 2/5/16 |
| 40171 | 18414 | 1/28/16 | 3801937 | 7,510.88 | 012716A | 2/5/16 |
| 40171 | 18414 | 1/28/16 | 3801938 | 28.41 | 012716A | 2/5/16 |
| 40171 | 18414 | 1/29/16 | 3807347 | 387.76 | | 2/5/16 |
| 40171 | 18414 | 1/29/16 | 3808301 | 2,149.81 | | 2/5/16 |
| 40171 | 18414 | 1/29/16 | 3808708 | 2,427.83 | | 2/5/16 |
| 40171 | 18414 | 1/29/16 | 3808709 | 119.30 | | 2/5/16 |
| 40171 | 18414 | 1/30/16 | 3814939 | 231.58 | 110215MSWAC01 | 2/5/16 |
| 40171 | 18414 | 1/30/16 | 3815440 | 3,296.71 | | 2/5/16 |
| 40171 | 15665 | 1/31/16 | 59390SC | 61.04 | | 1/31/16 |
| 40171 | 18414 | 2/1/16 | 3818607 | 76.05 | | 2/5/16 |
| 40171 | 18414 | 2/1/16 | 3818608 | 2,150.11 | | 2/5/16 |
| 40171 | 18414 | 2/1/16 | 3819667 | 75.78 | | 2/5/16 |
| 40171 | 140436 | 2/2/16 | 3822545 | 100.00 | | 2/11/16 |
| 40171 | 18414 | 2/2/16 | 3823222 | 146.38 | | 2/12/16 |
| 40171 | 18414 | 2/2/16 | 3824640 | 1,544.56 | | 2/12/16 |
| 40171 | 18414 | 2/2/16 | 3828112 | 2,825.90 | 04262 | 2/12/16 |
| 40171 | 140436 | 2/3/16 | 3830299 | 46.80 | 102715MSGPO01 | 2/11/16 |
| 40171 | 18414 | 2/3/16 | 3830118 | 175.37 | | 2/12/16 |
| 40171 | 18414 | 2/3/16 | 3830306 | 99.10 | 120115A | 2/12/16 |
| 40171 | 18414 | 2/3/16 | 3832277 | 12,721.89 | | 2/12/16 |
| 40171 | 140436 | 2/4/16 | 3839470 | 1,588.37 | 020316MS01 | 2/11/16 |
| 40171 | 140436 | 2/4/16 | 3839471 | 99.54 | 020316MS01 | 2/11/16 |
| 40171 | 15665 | 2/4/16 | 3838210 | 573.24 | 40388 | 2/11/16 |
| 40171 | 18414 | 2/4/16 | 3837826 | 52.47 | 120115A | 2/12/16 |
| 40171 | 18414 | 2/4/16 | 3839467 | 828.39 | 020316MS01 | 2/12/16 |
| 40171 | 13741 | 2/4/16 | 3839468 | 1,266.41 | 020315MS01 | 2/12/16 |
| 40171 | 13741 | 2/4/16 | 3839469 | 56.17 | 020315MS01 | 2/12/16 |
| 40171 | 18414 | 2/5/16 | 3849593 | 3,143.69 | | 2/12/16 |
| 40171 | 18414 | 2/5/16 | 3849594 | 4.72 | | 2/12/16 |
| 40171 | 13741 | 2/5/16 | 3849609 | 2,191.10 | SEN-2604843 | 2/12/16 |
| 40171 | 18414 | 2/6/16 | 3851705 | 52.44 | | 2/12/16 |
| 40171 | 18414 | 2/6/16 | 3851918 | 2,399.64 | | 2/12/16 |
| 40171 | 18414 | 2/6/16 | 3852717 | 8,584.72 | | 2/12/16 |
| 40171 | 15665 | 2/7/16 | 59582SC | 56.96 | | 2/7/16 |
| 40171 | 18414 | 2/8/16 | 3857286 | 1,830.76 | 020716 | 2/12/16 |
| 40171 | 18414 | 2/8/16 | 3857287 | 119.30 | 020716 | 2/12/16 |
| 40171 | 18414 | 2/9/16 | 3861486 | 3,964.77 | 020816A | 2/19/16 |
| 40171 | 18414 | 2/9/16 | 3861487 | 57.18 | 020816A | 2/19/16 |
| 40171 | 18414 | 2/9/16 | 3862420 | 545.68 | 020816B | 2/19/16 |
| 40171 | 18414 | 2/9/16 | 3865076 | 3,383.42 | 4266 | 2/19/16 |
| 40171 | 140436 | 2/10/16 | 3868746 | 1,218.22 | 020915GPOMS01 | 2/18/16 |
| 40171 | 15665 | 2/10/16 | 3867802 | 742.40 | 40488 | 2/18/16 |
| 40171 | 18414 | 2/10/16 | 3868744 | 2,624.82 | 020915WACMS01 | 2/19/16 |
| 40171 | 18414 | 2/10/16 | 3872235 | 464.60 | 04267 | 2/19/16 |
| 40171 | 13741 | 2/10/16 | 3868745 | 3,746.85 | 020915340BMS01 | 2/19/16 |
| 40171 | 140436 | 2/11/16 | 3876132 | 257.39 | 021016GPOMS01 | 2/18/16 |
| 40171 | 18414 | 2/11/16 | 3876133 | 759.94 | 021016WACMS01 | 2/19/16 |
| 40171 | 13741 | 2/11/16 | 3876130 | 1,806.35 | 021016340BMS01 | 2/19/16 |
| 40171 | 13741 | 2/11/16 | 3876131 | 24.33 | 021016340BMS01 | 2/19/16 |
| 40171 | 140436 | 2/12/16 | 3883534 | 495.80 | 021116GPOMS01 | 2/18/16 |
| 40171 | 18414 | 2/12/16 | 3883510 | 1,042.44 | 021116WAC01 | 2/19/16 |
| 40171 | 18414 | 2/12/16 | 3887454 | 2.41 | | 2/19/16 |
| 40171 | 13741 | 2/12/16 | 3883507 | 2,295.69 | 021116340BMS01 | 2/19/16 |
| 40171 | 140436 | 2/13/16 | 3889383 | 58.42 | 021216GPOMS01 | 2/18/16 |
| 40171 | 140436 | 2/13/16 | 3889384 | 1,843.23 | 021216GPOMS01 | 2/18/16 |
| 40171 | 15665 | 2/13/16 | 3888707 | 303.80 | 40572 | 2/18/16 |
| 40171 | 18414 | 2/13/16 | 3889381 | 1.41 | 021216WACMS01 | 2/19/16 |
| 40171 | 18414 | 2/13/16 | 3889382 | 194.16 | 021216WACMS01 | 2/19/16 |
| 40171 | 13741 | 2/13/16 | 3889379 | 300.97 | 021216340BMS01 | 2/19/16 |
| 40171 | 13741 | 2/13/16 | 3889380 | 23.32 | 021216340BMS01 | 2/19/16 |
| 40171 | 15665 | 2/14/16 | 59603SC | 57.64 | | 2/14/16 |
| 40171 | 140436 | 2/15/16 | 3895221 | 2,594.43 | SEN-2620906 | 2/25/16 |
| 40171 | 140436 | 2/15/16 | 3895222 | 5.21 | SEN-2620906 | 2/25/16 |
| 40171 | 18414 | 2/15/16 | 3892518 | 1,074.60 | 021016WACMS01 | 2/19/16 |
| 40171 | 18414 | 2/15/16 | 3895224 | 1,709.79 | SEN-2620905 | 2/19/16 |
| 40171 | 13741 | 2/15/16 | 3895223 | 1,064.89 | SEN-2620904 | 2/19/16 |
| 40171 | 140436 | 2/16/16 | 3898405 | 2,441.29 | 021516GPOMS01 | 2/25/16 |
| 40171 | 18414 | 2/16/16 | 3898406 | 979.14 | 021516WACMS01 | 2/26/16 |
| 40171 | 18414 | 2/16/16 | 3901385 | 3,522.80 | 04270 | 2/26/16 |
| 40171 | 13741 | 2/16/16 | 3898403 | 2,605.00 | 021516340BMS01 | 2/26/16 |
| 40171 | 140436 | 2/17/16 | 3904754 | 105.15 | 021616GPOMS01 | 2/25/16 |
| 40171 | 15665 | 2/17/16 | 3903107 | 114.97 | 40603 | 2/25/16 |
| 40171 | 15665 | 2/17/16 | 3903580 | 573.24 | 40609 | 2/25/16 |
| 40171 | 18414 | 2/17/16 | 3903117 | 45.59 | | 2/26/16 |
| 40171 | 18414 | 2/17/16 | 3904748 | 2,806.63 | 021616WACMS01 | 2/26/16 |
| 40171 | 13741 | 2/17/16 | 3904752 | 1,807.94 | 021616340BMS01 | 2/26/16 |
| 40171 | 13741 | 2/17/16 | 3904753 | 93.15 | 021616340BMS01 | 2/26/16 |
| 40171 | 140436 | 2/18/16 | 3910573 | 280.14 | | 2/25/16 |
| 40171 | 140436 | 2/18/16 | 3911734 | 154.24 | 021716GPOMS01 | 2/25/16 |
| 40171 | 15665 | 2/18/16 | 3910853 | 103.44 | 40646 | 2/25/16 |
| 40171 | 18414 | 2/18/16 | 3910428 | 97.95 | | 2/26/16 |
| 40171 | 18414 | 2/18/16 | 3910580 | 51.91 | | 2/26/16 |
| 40171 | 18414 | 2/18/16 | 3911733 | 823.86 | 021716WACMS01 | 2/26/16 |
| 40171 | 13741 | 2/18/16 | 3910577 | 2,070.84 | | 2/26/16 |
| 40171 | 13741 | 2/18/16 | 3911732 | 2,911.23 | 021716340BMS01 | 2/26/16 |
| 40171 | 140436 | 2/19/16 | 3918739 | 474.94 | 021816GPOMS01 | 2/25/16 |
| 40171 | 18414 | 2/19/16 | 3916926 | 56.46 | 04268 | 2/26/16 |
| 40171 | 18414 | 2/19/16 | 3918738 | 184.71 | 021816WACMS01 | 2/26/16 |
| 40171 | 13741 | 2/19/16 | 3918746 | 1,174.94 | 021816340BMS01 | 2/26/16 |
| 40171 | 13741 | 2/19/16 | 3918747 | 24.33 | 021816340BMS01 | 2/26/16 |
| 40171 | 140436 | 2/20/16 | 3924476 | 1,000.77 | SEN-2632535 | 2/25/16 |
| 40171 | 18414 | 2/20/16 | 3924474 | 185.60 | SEN-2632534 | 2/26/16 |
| 40171 | 13741 | 2/20/16 | 3924471 | 1,021.49 | SEN-2632533 | 2/26/16 |
| 40171 | 13741 | 2/20/16 | 3924472 | 14.76 | SEN-2632533 | 2/26/16 |
| 40171 | 15665 | 2/21/16 | 59773SC | 59.62 | | 2/21/16 |
| 40171 | 140436 | 2/22/16 | 3928364 | 1,353.40 | 022116GPOMS01 | 3/3/16 |
| 40171 | 140436 | 2/22/16 | 3928365 | 66.36 | 022116GPOMS01 | 3/3/16 |
| 40171 | 18414 | 2/22/16 | 3927769 | 99.10 | 012116a | 2/26/16 |
| 40171 | 18414 | 2/22/16 | 3928366 | 2,170.02 | 022116WACMS01 | 2/26/16 |
| 40171 | 13741 | 2/22/16 | 3928360 | 1,715.17 | 022116340BMS01 | 2/26/16 |
| 40171 | 13741 | 2/22/16 | 3928361 | 28.13 | 022116340BMS01 | 2/26/16 |
| 40171 | 140436 | 2/23/16 | 3933816 | 464.13 | 022216GPOMS01 | 3/3/16 |
| 40171 | 15665 | 2/23/16 | 3932381 | 1,295.00 | 40725 | 3/3/16 |
| 40171 | 15665 | 2/23/16 | 3932626 | 298.02 | 40731 | 3/3/16 |
| 40171 | 18414 | 2/23/16 | 3933811 | 1,061.77 | 022216WACMS01 | 3/4/16 |
| 40171 | 18414 | 2/23/16 | 3937201 | 4,701.40 | 04274 | 3/4/16 |
| 40171 | 13741 | 2/23/16 | 3933813 | 1,726.61 | 022216340BMS01 | 3/4/16 |
| 40171 | 13741 | 2/23/16 | 3933814 | 166.53 | 022216340BMS01 | 3/4/16 |
| 40171 | 140436 | 2/24/16 | 3940922 | 1,499.27 | 022316GPOMS01 | 3/3/16 |
| 40171 | 15665 | 2/24/16 | 3939609 | 843.60 | 40762 | 3/3/16 |
| 40171 | 18414 | 2/24/16 | 3940920 | 4,058.70 | 022316WACMS01 | 3/4/16 |
| 40171 | 13741 | 2/24/16 | 3940919 | 1,437.89 | 022316340BMS01 | 3/4/16 |
| 40171 | 140436 | 2/25/16 | 3948400 | 266.72 | 022416GPOMS01 | 3/3/16 |
| 40171 | 18414 | 2/25/16 | 3948403 | 597.18 | 022416WACMS01 | 3/4/16 |
| 40171 | 13741 | 2/25/16 | 3948395 | 971.62 | 022416340BMS01 | 3/4/16 |
| 40171 | 140436 | 2/26/16 | 3955620 | 366.66 | 022516GPOMS01 | 3/3/16 |
| 40171 | 140436 | 2/26/16 | 3955621 | 166.86 | 022516GPOMS01 | 3/3/16 |
| 40171 | 18414 | 2/26/16 | 3954246 | 10.94 | | 3/4/16 |
| 40171 | 18414 | 2/26/16 | 3955622 | 2,438.12 | 022516WACMS01 | 3/4/16 |
| 40171 | 13741 | 2/26/16 | 3955619 | 3,345.77 | 022516340BMS01 | 3/4/16 |
| 40171 | 140436 | 2/27/16 | 3961230 | 730.96 | SEN-2645796 | 3/3/16 |
| 40171 | 18414 | 2/27/16 | 3960284 | 854.54 | 022516WACMS01 | 3/4/16 |
| 40171 | 18414 | 2/27/16 | 3961228 | 123.63 | SEN-2645795 | 3/4/16 |
| 40171 | 18414 | 2/27/16 | 3961790 | 2,436.32 | 022616A | 3/4/16 |
| 40171 | 18414 | 2/27/16 | 3960829 | 1,521.82 | | 3/4/16 |
| 40171 | 13741 | 2/27/16 | 3961229 | 1,582.13 | SEN-2645794 | 3/4/16 |
| 40171 | 15665 | 2/28/16 | 59798SC | 63.23 | | 2/28/16 |
| 40171 | 140436 | 2/29/16 | 3968035 | 376.93 | SEN-2647033 | 3/10/16 |
| 40171 | 18414 | 2/29/16 | 3964446 | 249.32 | 022516WACMS01 | 3/4/16 |
| 40171 | 18414 | 2/29/16 | 3968033 | 1,923.47 | SEN-2647032 | 3/4/16 |
| 40171 | 18414 | 2/29/16 | 3968034 | 5.47 | SEN-2647032 | 3/4/16 |
| 40171 | 13741 | 2/29/16 | 3968031 | 824.24 | SEN-2647031 | 3/4/16 |
| 40171 | 13741 | 2/29/16 | 3968032 | 54.55 | SEN-2647031 | 3/4/16 |
| 40171 | 140436 | 3/1/16 | 3970901 | 1,663.92 | 022916gpoms01 | 3/10/16 |
| 40171 | 18414 | 3/1/16 | 3970871 | 48.11 | | 3/11/16 |
| 40171 | 18414 | 3/1/16 | 3970898 | 1,700.34 | 022916wacms01 | 3/11/16 |
| 40171 | 13741 | 3/1/16 | 3970899 | 4,267.01 | 022916340bms01 | 3/11/16 |
| 40171 | 13741 | 3/1/16 | 3970900 | 17.49 | 022916340bms01 | 3/11/16 |
| 40171 | 140436 | 3/2/16 | 3975938 | 100.00 | | 3/10/16 |
| 40171 | 140436 | 3/2/16 | 3978446 | 1,224.68 | 030116GPOMS01 | 3/10/16 |
| 40171 | 15665 | 3/2/16 | 3977323 | 124.80 | | 3/10/16 |
| 40171 | 18414 | 3/2/16 | 3978445 | 3,212.01 | 030116WACMS01 | 3/11/16 |
| 40171 | 13741 | 3/2/16 | 3978442 | 445.38 | 030116340BMS01 | 3/11/16 |
| 40171 | 140436 | 3/3/16 | 3986057 | 571.00 | 030216GPOMS01 | 3/10/16 |
| 40171 | 15665 | 3/3/16 | 3984724 | 445.44 | 40940 | 3/10/16 |
| 40171 | 15665 | 3/3/16 | 3984727 | 758.72 | 40937 | 3/10/16 |
| 40171 | 18414 | 3/3/16 | 3984330 | 56.46 | 04268 | 3/11/16 |
| 40171 | 18414 | 3/3/16 | 3986058 | 344.06 | 030216WACMS01 | 3/11/16 |
| 40171 | 13741 | 3/3/16 | 3986056 | 125.48 | 030216340MS01 | 3/11/16 |
| 40171 | 140436 | 3/4/16 | 3991511 | 626.62 | 16XCO0009 | 3/10/16 |
| 40171 | 140436 | 3/4/16 | 3993266 | 3,027.30 | 03032016GPOMS01 | 3/10/16 |
| 40171 | 18414 | 3/4/16 | 3991509 | 507.64 | 16XCO0008 | 3/11/16 |
| 40171 | 18414 | 3/4/16 | 3993272 | 484.60 | 03032016WACMS01 | 3/11/16 |
| 40171 | 18414 | 3/4/16 | 3997695 | 579.00 | 04279 | 3/11/16 |
| 40171 | 13741 | 3/4/16 | 3991499 | 2,192.43 | 16XCO0007 | 3/11/16 |
| 40171 | 13741 | 3/4/16 | 3993271 | 2,043.01 | 03032016340BMS01 | 3/11/16 |
| 40171 | 140436 | 3/5/16 | 3997896 | 54.45 | 03032016GPOMS01 | 3/10/16 |
| 40171 | 140436 | 3/5/16 | 3998088 | 1,373.40 | SEN-2645796 | 3/10/16 |
| 40171 | 140436 | 3/5/16 | 3999160 | 1,627.71 | 030416GPOMS01 | 3/10/16 |
| 40171 | 18414 | 3/5/16 | 3999157 | 1,586.38 | 030416WACMS01 | 3/11/16 |
| 40171 | 13741 | 3/5/16 | 3999158 | 3,740.54 | 030416340BMS01 | 3/11/16 |
| 40171 | 13741 | 3/5/16 | 3999159 | 28.95 | 030416340BMS01 | 3/11/16 |
| 40171 | 15665 | 3/6/16 | 59976SC | 65.97 | | 3/6/16 |
| 40171 | 140436 | 3/7/16 | 4002560 | 537.00 | 030416GPOMS01 | 3/17/16 |
| 40171 | 140436 | 3/7/16 | 4005172 | 1,223.09 | SEN-2660257 | 3/17/16 |
| 40171 | 13741 | 3/7/16 | 4005169 | 2,068.05 | SEN-2660256 | 3/11/16 |
| 40171 | 140436 | 3/8/16 | 4008618 | 1,010.49 | 030716GPOMS01 | 3/17/16 |
| 40171 | 15665 | 3/8/16 | 4007756 | 251.95 | 40940 | 3/17/16 |
| 40171 | 18414 | 3/8/16 | 4008617 | 1,923.22 | 030716WACMS01 | 3/18/16 |
| 40171 | 13741 | 3/8/16 | 4008615 | 2,269.74 | 030716340BMS01 | 3/18/16 |
| 40171 | 13741 | 3/8/16 | 4008616 | 184.90 | 030716340BMS01 | 3/18/16 |
| 40171 | 140436 | 3/9/16 | 4015984 | 356.52 | 030816GPOMS01 | 3/17/16 |
| 40171 | 140436 | 3/9/16 | 4015985 | 54.27 | 030816GPOMS01 | 3/17/16 |
| 40171 | 18414 | 3/9/16 | 4015983 | 1,781.61 | 030816WACMAS01 | 3/18/16 |
| 40171 | 13741 | 3/9/16 | 4015986 | 1,370.42 | 030816340BMS01 | 3/18/16 |
| 40171 | 140436 | 3/10/16 | 4023318 | 758.84 | 030916GPOMS01 | 3/17/16 |
| 40171 | 15665 | 3/10/16 | 4021721 | 1,595.20 | 41068 | 3/17/16 |
| 40171 | 18414 | 3/10/16 | 4023304 | 30.64 | 030916WACMS01 | 3/18/16 |
| 40171 | 13741 | 3/10/16 | 4023300 | 2,039.76 | 030916340BMS1 | 3/18/16 |
| 40171 | 140436 | 3/11/16 | 4030375 | 58.04 | | 3/17/16 |
| 40171 | 140436 | 3/11/16 | 4030553 | 1,399.61 | 031016MSGPO01 | 3/17/16 |
| 40171 | 140436 | 3/11/16 | 4030554 | 98.79 | 031016MSGPO01 | 3/17/16 |
| 40171 | 18414 | 3/11/16 | 4030552 | 356.37 | 031016MSWAC01 | 3/18/16 |
| 40171 | 18414 | 3/11/16 | 4033495 | 2,732.93 | 04282 | 3/18/16 |
| 40171 | 13741 | 3/11/16 | 4030550 | 32.49 | 031016MS340B01 | 3/18/16 |
| 40171 | 13741 | 3/11/16 | 4030551 | 417.93 | 031016MS340B01 | 3/18/16 |
| 40171 | 140436 | 3/12/16 | 4036312 | 3,753.97 | 031116msgopo01 | 3/17/16 |
| 40171 | 18414 | 3/12/16 | 4036310 | 430.42 | 031116mswac01 | 3/18/16 |
| 40171 | 18414 | 3/12/16 | 4036706 | 2,406.25 | 02383 | 3/18/16 |
| 40171 | 13741 | 3/12/16 | 4036311 | 1,475.40 | 031116ms340b01 | 3/18/16 |
| 40171 | 15665 | 3/13/16 | 59999SC | 74.38 | | 3/13/16 |
| 40171 | 140436 | 3/14/16 | 4042515 | 2,429.43 | SEN-2673686 | 3/24/16 |
| 40171 | 18414 | 3/14/16 | 4042516 | 163.73 | SEN-2673685 | 3/18/16 |
| 40171 | 13741 | 3/14/16 | 4042514 | 201.62 | SEN-2673684 | 3/18/16 |
| 40171 | 140436 | 3/15/16 | 4045134 | 271.22 | 16XCO0013 | 3/24/16 |
| 40171 | 140436 | 3/15/16 | 4045527 | 1,683.86 | 31416MSGPO01 | 3/24/16 |
| 40171 | 18414 | 3/15/16 | 4044103 | 30.10 | 022316WACMS01 | 3/25/16 |
| 40171 | 18414 | 3/15/16 | 4045015 | 71.15 | 16XCO0012 | 3/25/16 |
| 40171 | 13741 | 3/15/16 | 4044978 | 996.83 | 16XCO0011 | 3/25/16 |
| 40171 | 13741 | 3/15/16 | 4045524 | 738.86 | 31416MS340B01 | 3/25/16 |
| 40171 | 140436 | 3/16/16 | 4052991 | 440.16 | SEN-2678793 | 3/24/16 |
| 40171 | 18414 | 3/16/16 | 4052985 | 2,110.90 | SEN-2678792 | 3/25/16 |
| 40171 | 13741 | 3/16/16 | 4052986 | 2,474.96 | SEN-2678791 | 3/25/16 |
| 40171 | 13741 | 3/16/16 | 4052987 | 121.40 | SEN-2678791 | 3/25/16 |
| 40171 | 140436 | 3/17/16 | 4059808 | 889.97 | SEN-2681227 | 3/24/16 |
| 40171 | 15665 | 3/17/16 | 4058048 | 1,649.04 | 41195 | 3/24/16 |
| 40171 | 18414 | 3/17/16 | 4057671 | 443.43 | SEN-2678792 | 3/25/16 |
| 40171 | 18414 | 3/17/16 | 4059826 | 661.78 | SEN-2681226 | 3/25/16 |
| 40171 | 13741 | 3/17/16 | 4059787 | 1,209.02 | SEN-2681225 | 3/25/16 |
| 40171 | 140436 | 3/18/16 | 4066135 | 1,501.62 | 031716gpoms01 | 3/24/16 |
| 40171 | 15665 | 3/18/16 | 4065028 | 23.29 | 41223 | 3/24/16 |
| 40171 | 18414 | 3/18/16 | 4066136 | 281.22 | 031716wacms01 | 3/25/16 |
| 40171 | 13741 | 3/18/16 | 4066137 | 651.33 | 031716340bms01 | 3/25/16 |
| 40171 | 140436 | 3/19/16 | 4045243 | 196.83 | 16XCO0010 | 3/24/16 |
| 40171 | 140436 | 3/19/16 | 4071974 | 1,016.30 | SEN-2685631 | 3/24/16 |
| 40171 | 18414 | 3/19/16 | 4071972 | 875.88 | SEN-2685630 | 3/25/16 |
| 40171 | 13741 | 3/19/16 | 4071968 | 1,420.72 | SEN-2685629 | 3/25/16 |
| 40171 | 15665 | 3/20/16 | 60154SC | 78.97 | | 3/20/16 |
| 40171 | 140436 | 3/21/16 | 4078371 | 961.11 | SEN-2686933 | 3/31/16 |
| 40171 | 140436 | 3/21/16 | 4078372 | 648.30 | SEN-2686933 | 3/31/16 |
| 40171 | 18414 | 3/21/16 | 4075113 | 1,183.07 | | 3/25/16 |
| 40171 | 18414 | 3/21/16 | 4078370 | 855.76 | SEN-2686932 | 3/25/16 |
| 40171 | 13741 | 3/21/16 | 4078369 | 1,312.07 | SEN-2686931 | 3/25/16 |
| 40171 | 140436 | 3/22/16 | 4081024 | 1,481.00 | SEN-2689553 | 3/31/16 |
| 40171 | 15665 | 3/22/16 | 4080871 | 374.40 | | 3/31/16 |
| 40171 | 18414 | 3/22/16 | 4081023 | 5,274.11 | SEN-2689552 | 4/1/16 |
| 40171 | 13741 | 3/22/16 | 4081001 | 2,161.78 | SEN-2689551 | 4/1/16 |
| 40171 | 13741 | 3/22/16 | 4081002 | 129.43 | SEN-2689551 | 4/1/16 |
| 40171 | 140436 | 3/23/16 | 4086175 | 79.75 | SEN-2620906 | 3/31/16 |
| 40171 | 140436 | 3/23/16 | 4088091 | 1,532.76 | SEN-2692060 | 3/31/16 |
| 40171 | 18414 | 3/23/16 | 4086156 | 80.49 | | 4/1/16 |
| 40171 | 18414 | 3/23/16 | 4086160 | 80.49 | | 4/1/16 |
| 40171 | 18414 | 3/23/16 | 4086325 | 160.98 | | 4/1/16 |
| 40171 | 18414 | 3/23/16 | 4087915 | 157.86 | SEN-2685630 | 4/1/16 |
| 40171 | 18414 | 3/23/16 | 4088088 | 965.85 | SEN-2692059 | 4/1/16 |
| 40171 | 13741 | 3/23/16 | 4088087 | 3,326.86 | SEN-2692058 | 4/1/16 |
| 40171 | 140436 | 3/24/16 | 4095574 | 343.47 | SEN-2694499 | 3/31/16 |
| 40171 | 15665 | 3/24/16 | 4094005 | 1,295.00 | 41319 | 3/31/16 |
| 40171 | 18414 | 3/24/16 | 4095580 | 3.31 | SEN-2694498 | 4/1/16 |
| 40171 | 18414 | 3/24/16 | 4095581 | 5,363.05 | SEN-2694498 | 4/1/16 |
| 40171 | 13741 | 3/24/16 | 4095561 | 16.10 | SEN-2694497 | 4/1/16 |
| 40171 | 13741 | 3/24/16 | 4095562 | 864.37 | SEN-2694497 | 4/1/16 |
| 40171 | 140436 | 3/25/16 | 4102321 | 2,317.02 | SEN-2697035 | 3/31/16 |
| 40171 | 18414 | 3/25/16 | 4102323 | 1,736.87 | SEN-2697034 | 4/1/16 |
| 40171 | 13741 | 3/25/16 | 4102325 | 1,522.41 | SEN-2697033 | 4/1/16 |
| 40171 | 140436 | 3/26/16 | 4107743 | 1,432.82 | SEN-2698835 | 3/31/16 |
| 40171 | 15665 | 3/26/16 | 4107324 | 1,135.96 | 41378 | 3/31/16 |
| 40171 | 18414 | 3/26/16 | 4107740 | 415.05 | SEN-2698834 | 4/1/16 |
| 40171 | 13741 | 3/26/16 | 4107736 | 1,178.53 | SEN-2698833 | 4/1/16 |
| 40171 | 13741 | 3/26/16 | 4107737 | 3.12 | SEN-2698833 | 4/1/16 |
| 40171 | 15665 | 3/27/16 | 60193SC | 85.35 | | 3/27/16 |
| 40171 | 140436 | 3/28/16 | 4113348 | 751.55 | SEN-2700105 | 4/7/16 |
| 40171 | 140436 | 3/28/16 | 4113349 | 98.79 | SEN-2700105 | 4/7/16 |
| 40171 | 18414 | 3/28/16 | 4113347 | 313.87 | SEN-2700104 | 4/1/16 |
| 40171 | 13741 | 3/28/16 | 4113345 | 152.90 | SEN-2700103 | 4/1/16 |
| 40171 | 13741 | 3/28/16 | 4113346 | 1,267.68 | SEN-2700103 | 4/1/16 |
| 40171 | 140436 | 3/29/16 | 4116429 | 775.62 | SEN-2702594 | 4/7/16 |
| 40171 | 18414 | 3/29/16 | 4116428 | 1,077.26 | SEN-2702593 | 4/8/16 |
| 40171 | 18414 | 3/29/16 | 4119643 | 1,102.84 | 04289 | 4/8/16 |
| 40171 | 18414 | 3/29/16 | 4119649 | 162.14 | 04289 | 4/8/16 |
| 40171 | 18414 | 3/29/16 | 4119650 | 464.60 | 04289 | 4/8/16 |
| 40171 | 13741 | 3/29/16 | 4116436 | 1,394.47 | SEN-2702592 | 4/8/16 |
| 40171 | 140436 | 3/30/16 | 4122974 | 839.88 | SEN-2704906 | 4/7/16 |
| 40171 | 18414 | 3/30/16 | 4122971 | 1,397.97 | SEN-2704905 | 4/8/16 |
| 40171 | 13741 | 3/30/16 | 4122969 | 1,160.59 | SEN-2704904 | 4/8/16 |
| 40171 | 140436 | 3/31/16 | 4130673 | 845.97 | SEN-2707576 | 4/7/16 |
| 40171 | 18414 | 3/31/16 | 4130672 | 1,914.03 | SEN-2707575 | 4/8/16 |
| 40171 | 13741 | 3/31/16 | 4130670 | 1,852.98 | SEN-2707574 | 4/8/16 |
| 40171 | 13741 | 3/31/16 | 4130671 | 116.60 | SEN-2707574 | 4/8/16 |
| 40171 | 140436 | 4/1/16 | 4137233 | 927.32 | SEN-2710229 | 4/7/16 |
| 40171 | 15665 | 4/1/16 | 4135793 | 222.72 | 41456 | 4/7/16 |
| 40171 | 18414 | 4/1/16 | 4137232 | 2,434.09 | SEN-2710228 | 4/8/16 |
| 40171 | 13741 | 4/1/16 | 4137234 | 1,640.53 | SEN-2710227 | 4/8/16 |
| 40171 | 13741 | 4/1/16 | 4137235 | 479.20 | SEN-2710227 | 4/8/16 |
| 40171 | 140436 | 4/2/16 | 4139888 | 100.00 | | 4/7/16 |
| 40171 | 140436 | 4/2/16 | 4140732 | 545.94 | 16XCO0014 | 4/7/16 |
| 40171 | 140436 | 4/2/16 | 4141006 | 1,075.81 | SEN-2712184 | 4/7/16 |
| 40171 | 18414 | 4/2/16 | 4140874 | 642.07 | 16XCO0016 | 4/8/16 |
| 40171 | 13741 | 4/2/16 | 4140737 | 1,352.77 | 16XCO0015 | 4/8/16 |
| 40171 | 13741 | 4/2/16 | 4140995 | 3,706.48 | SEN-2712182 | 4/8/16 |
| 40171 | 15665 | 4/3/16 | 60383SC | 91.12 | | 4/3/16 |
| 40171 | 140436 | 4/4/16 | 4145124 | 1,925.43 | SEN-2713512 | 4/14/16 |
| 40171 | 18414 | 4/4/16 | 4145123 | 187.34 | SEN-2713511 | 4/8/16 |
| 40171 | 13741 | 4/4/16 | 4145122 | 508.98 | SEN-2713510 | 4/8/16 |
| 40171 | 140436 | 4/5/16 | 4146791 | 45.00 | SEN-2713512 | 4/14/16 |
| 40171 | 140436 | 4/5/16 | 4148010 | 3,459.50 | SEN-2716116 | 4/14/16 |
| 40171 | 15665 | 4/5/16 | 4146643 | 1,096.32 | 41487 | 4/14/16 |
| 40171 | 15665 | 4/5/16 | 4146805 | 323.98 | 41496 | 4/14/16 |
| 40171 | 18414 | 4/5/16 | 4148008 | 2,596.37 | SEN-2716115 | 4/15/16 |
| 40171 | 18414 | 4/5/16 | 4149944 | 1,393.95 | 04293 | 4/15/16 |
| 40171 | 18414 | 4/5/16 | 4149949 | 1,852.77 | 04293 | 4/15/16 |
| 40171 | 13741 | 4/5/16 | 4148009 | 2,043.82 | SEN-2716114 | 4/15/16 |
| 40171 | 140436 | 4/6/16 | 4152550 | 2,319.43 | SEN-2718410 | 4/14/16 |
| 40171 | 15665 | 4/6/16 | 4151496 | 305.92 | 41523 | 4/14/16 |
| 40171 | 18414 | 4/6/16 | 4152553 | 3.12 | SEN-2718409 | 4/15/16 |
| 40171 | 18414 | 4/6/16 | 4152554 | 778.92 | SEN-2718409 | 4/15/16 |
| 40171 | 13741 | 4/6/16 | 4152551 | 2,735.96 | SEN-2718408 | 4/15/16 |
| 40171 | 13741 | 4/6/16 | 4152552 | 17.58 | SEN-2718408 | 4/15/16 |
| 40171 | 140436 | 4/7/16 | 4157417 | 949.94 | 16XCO0017 | 4/14/16 |
| 40171 | 140436 | 4/7/16 | 4158321 | 392.36 | SEN-2721083 | 4/14/16 |
| 40171 | 18414 | 4/7/16 | 4157133 | 549.24 | | 4/15/16 |
| 40171 | 18414 | 4/7/16 | 4158320 | 507.81 | SEN-2721082 | 4/15/16 |
| 40171 | 18414 | 4/7/16 | 4157563 | 2,269.00 | | 4/15/16 |
| 40171 | 13741 | 4/7/16 | 4157428 | 1,536.45 | 16XCO0018 | 4/15/16 |
| 40171 | 13741 | 4/7/16 | 4158319 | 1,268.03 | SEN-2721081 | 4/15/16 |
| 40171 | 140436 | 4/8/16 | 4163521 | 1,979.15 | SEN-2723833 | 4/14/16 |
| 40171 | 140436 | 4/8/16 | 4164677 | 79.60 | SEN-2723907 | 4/14/16 |
| 40171 | 18414 | 4/8/16 | 4163517 | 1,297.48 | SEN-2723832 | 4/15/16 |
| 40171 | 13741 | 4/8/16 | 4163518 | 1,545.53 | SEN-2723831 | 4/15/16 |
| 40171 | 13741 | 4/8/16 | 4163519 | 109.40 | SEN-2723831 | 4/15/16 |
| 40171 | 140436 | 4/9/16 | 4167346 | 1,330.96 | SEN-2725771 | 4/14/16 |
| 40171 | 15665 | 4/9/16 | 4166695 | 147.92 | 41617 | 4/14/16 |
| 40171 | 18414 | 4/9/16 | 4166441 | 2,185.76 | 04289 | 4/15/16 |
| 40171 | 18414 | 4/9/16 | 4166482 | 2,593.55 | 04302 | 4/15/16 |
| 40171 | 18414 | 4/9/16 | 4166645 | 237.77 | | 4/15/16 |
| 40171 | 18414 | 4/9/16 | 4167341 | 7,194.61 | SEN-2725770 | 4/15/16 |
| 40171 | 18414 | 4/9/16 | 4167889 | 3,550.00 | 04303 | 4/15/16 |
| 40171 | 13741 | 4/9/16 | 4167340 | 2,003.82 | SEN-2725769 | 4/15/16 |
| 40171 | 15665 | 4/10/16 | 60405SC | 98.19 | | 4/10/16 |
| 40171 | 140436 | 4/11/16 | 4170822 | 344.62 | SEN-2727049 | 4/21/16 |
| 40171 | 140436 | 4/11/16 | 4170823 | 28.31 | SEN-2727049 | 4/21/16 |
| 40171 | 140436 | 4/11/16 | 4170995 | 149.88 | SEN-2727063 | 4/21/16 |
| 40171 | 18414 | 4/11/16 | 4170821 | 34.96 | SEN-2727048 | 4/15/16 |
| 40171 | 13741 | 4/11/16 | 4170819 | 1,619.88 | SEN-2727047 | 4/15/16 |
| 40171 | 13741 | 4/11/16 | 4170820 | 5.05 | SEN-2727047 | 4/15/16 |
| 40171 | 140436 | 4/12/16 | 4172867 | 35.02 | SEN-2685631 | 4/21/16 |
| 40171 | 140436 | 4/12/16 | 4174103 | 1,907.23 | SEN-2729789 | 4/21/16 |
| 40171 | 15665 | 4/12/16 | 4172561 | 742.40 | 41630 | 4/21/16 |
| 40171 | 18414 | 4/12/16 | 4174106 | 2,158.91 | SEN-2729788 | 4/22/16 |
| 40171 | 18414 | 4/12/16 | 4174540 | 57.78 | | 4/22/16 |
| 40171 | 13741 | 4/12/16 | 4174104 | 480.51 | SEN-2729787 | 4/22/16 |
| 40171 | 13741 | 4/12/16 | 4174105 | 116.84 | SEN-2729787 | 4/22/16 |
| 40171 | 140436 | 4/13/16 | 4179063 | 2,077.04 | SEN-2732364 | 4/21/16 |
| 40171 | 18414 | 4/13/16 | 4179049 | 331.35 | SEN-2732363 | 4/22/16 |
| 40171 | 13741 | 4/13/16 | 4179047 | 1,153.12 | SEN-2732362 | 4/22/16 |
| 40171 | 13741 | 4/13/16 | 4179048 | 114.91 | SEN-2732362 | 4/22/16 |
| 40171 | 140436 | 4/14/16 | 4184179 | 384.81 | SEN-2734799 | 4/21/16 |
| 40171 | 18414 | 4/14/16 | 4184178 | 1,762.93 | SEN-2734798 | 4/22/16 |
| 40171 | 18414 | 4/14/16 | 4183552 | 43.81 | | 4/22/16 |
| 40171 | 13741 | 4/14/16 | 4184177 | 300.11 | SEN-2734797 | 4/22/16 |
| 40171 | 140436 | 4/15/16 | 4189056 | 1,228.99 | SEN-2737382 | 4/21/16 |
| 40171 | 140436 | 4/15/16 | 4189057 | 22.92 | SEN-2737382 | 4/21/16 |
| 40171 | 18414 | 4/15/16 | 4189054 | 126.96 | SEN-2737381 | 4/22/16 |
| 40171 | 18414 | 4/15/16 | 4189055 | 662.86 | SEN-2737381 | 4/22/16 |
| 40171 | 13741 | 4/15/16 | 4189059 | 1,520.50 | SEN-2737380 | 4/22/16 |
| 40171 | 13741 | 4/15/16 | 4189060 | 74.72 | SEN-2737380 | 4/22/16 |
| 40171 | 13741 | 4/15/16 | 4191579 | 1,804.57 | SEN-2737590 | 4/22/16 |
| 40171 | 140436 | 4/16/16 | 4192973 | 944.34 | SEN-2739426 | 4/21/16 |
| 40171 | 15665 | 4/16/16 | 4192357 | 640.20 | 41750 | 4/21/16 |
| 40171 | 18414 | 4/16/16 | 4192974 | 694.22 | SEN-2739425 | 4/22/16 |
| 40171 | 13741 | 4/16/16 | 4192972 | 457.50 | SEN-2739424 | 4/22/16 |
| 40171 | 15665 | 4/17/16 | 60581SC | 95.46 | | 4/17/16 |
| 40171 | 140436 | 4/18/16 | 4196030 | 1,767.36 | 16XCO0021 | 4/28/16 |
| 40171 | 140436 | 4/18/16 | 4196107 | 315.73 | SEN-2740710 | 4/28/16 |
| 40171 | 18414 | 4/18/16 | 4196026 | 84.61 | 16XCO0020 | 4/22/16 |
| 40171 | 18414 | 4/18/16 | 4196106 | 485.97 | SEN-2740709 | 4/22/16 |
| 40171 | 13741 | 4/18/16 | 4196021 | 1,368.76 | 16XCO0019 | 4/22/16 |
| 40171 | 13741 | 4/18/16 | 4196102 | 9.98 | SEN-2740708 | 4/22/16 |
| 40171 | 140436 | 4/19/16 | 4199468 | 583.74 | SEN-2743228 | 4/28/16 |
| 40171 | 18414 | 4/19/16 | 4198189 | 15.68 | SEN-2739425 | 4/29/16 |
| 40171 | 18414 | 4/19/16 | 4198210 | 417.61 | | 4/29/16 |
| 40171 | 18414 | 4/19/16 | 4199465 | 2,233.58 | SEN-2743227 | 4/29/16 |
| 40171 | 18414 | 4/19/16 | 4201464 | 2,128.85 | 04308 | 4/29/16 |
| 40171 | 13741 | 4/19/16 | 4199466 | 642.11 | SEN-2743226 | 4/29/16 |
| 40171 | 13741 | 4/19/16 | 4199572 | 39.70 | SEN-2743260 | 4/29/16 |
| 40171 | 13741 | 4/19/16 | 4199601 | 109.88 | SEN-2743278 | 4/29/16 |
| 40171 | 140436 | 4/20/16 | 4203628 | 85.14 | SEN-2743228 | 4/28/16 |
| 40171 | 140436 | 4/20/16 | 4204554 | 3,364.81 | SEN-2745702 | 4/28/16 |
| 40171 | 18414 | 4/20/16 | 4204553 | 2,591.28 | SEN-2745701 | 4/29/16 |
| 40171 | 13741 | 4/20/16 | 4204546 | 517.59 | SEN-2745700 | 4/29/16 |
| 40171 | 140436 | 4/21/16 | 4208782 | 268.53 | 030416GPOMS01 | 4/28/16 |
| 40171 | 140436 | 4/21/16 | 4210069 | 451.07 | SEN-2748280 | 4/28/16 |
| 40171 | 140436 | 4/21/16 | 4210070 | 137.52 | SEN-2748280 | 4/28/16 |
| 40171 | 15665 | 4/21/16 | 4208847 | 161.99 | 41819 | 4/28/16 |
| 40171 | 18414 | 4/21/16 | 4210065 | 6,276.95 | SEN-2748279 | 4/29/16 |
| 40171 | 13741 | 4/21/16 | 4210066 | 273.96 | SEN-2748278 | 4/29/16 |
| 40171 | 13741 | 4/21/16 | 4210068 | 5.70 | SEN-2748278 | 4/29/16 |
| 40171 | 140436 | 4/22/16 | 4214227 | 2,158.59 | SEN-2750474 | 4/28/16 |
| 40171 | 15665 | 4/22/16 | 4213941 | 468.15 | 41858 | 4/28/16 |
| 40171 | 18414 | 4/22/16 | 4214222 | 3,064.57 | SEN-2750473 | 4/29/16 |
| 40171 | 18414 | 4/22/16 | 4214223 | 73.69 | SEN-2750473 | 4/29/16 |
| 40171 | 13741 | 4/22/16 | 4214221 | 4,293.36 | SEN-2750472 | 4/29/16 |
| 40171 | 15665 | 4/24/16 | 60630SC | 101.93 | | 4/24/16 |
| 40171 | 140436 | 4/25/16 | 4223058 | 2,383.73 | SEN-2755229 | 5/5/16 |
| 40171 | 140436 | 4/25/16 | 4223059 | 98.79 | SEN-2755229 | 5/5/16 |
| 40171 | 15665 | 4/25/16 | 4218570 | 742.40 | 41828 | 5/5/16 |
| 40171 | 18414 | 4/25/16 | 4223056 | 745.68 | SEN-2755228 | 4/29/16 |
| 40171 | 18414 | 4/25/16 | 4223057 | 243.98 | SEN-2755228 | 4/29/16 |
| 40171 | 13741 | 4/25/16 | 4223054 | 646.15 | SEN-2755227 | 4/29/16 |
| 40171 | 13741 | 4/25/16 | 4223055 | 9.60 | SEN-2755227 | 4/29/16 |
| 40171 | 140436 | 4/26/16 | 4225535 | 2,019.69 | SEN-2757901 | 5/5/16 |
| 40171 | 140436 | 4/26/16 | 4225829 | 114.85 | SEN-2757992 | 5/5/16 |
| 40171 | 18414 | 4/26/16 | 4225534 | 105.95 | SEN-2757900 | 5/6/16 |
| 40171 | 18414 | 4/26/16 | 4225584 | 193.88 | SEN-2757930 | 5/6/16 |
| 40171 | 18414 | 4/26/16 | 4225830 | 1,252.83 | SEN-2757991 | 5/6/16 |
| 40171 | 13741 | 4/26/16 | 4225533 | 644.55 | SEN-2757899 | 5/6/16 |
| 40171 | 140436 | 4/27/16 | 4230374 | 664.48 | SEN-2760313 | 5/5/16 |
| 40171 | 140436 | 4/27/16 | 4230375 | 147.05 | SEN-2760313 | 5/5/16 |
| 40171 | 15665 | 4/27/16 | 4229123 | 194.40 | 41929 | 5/5/16 |
| 40171 | 18414 | 4/27/16 | 4230371 | 16.23 | SEN-2760314 | 5/6/16 |
| 40171 | 18414 | 4/27/16 | 4230372 | 2,717.40 | SEN-2760312 | 5/6/16 |
| 40171 | 18414 | 4/27/16 | 4232640 | 1,443.75 | 04310 | 5/6/16 |
| 40171 | 13741 | 4/27/16 | 4230373 | 579.84 | SEN-2760311 | 5/6/16 |
| 40171 | 140436 | 4/28/16 | 4235675 | 650.56 | SEN-2762660 | 5/5/16 |
| 40171 | 140436 | 4/28/16 | 4235676 | 8.07 | SEN-2762660 | 5/5/16 |
| 40171 | 18414 | 4/28/16 | 4235674 | 1,067.83 | SEN-2762659 | 5/6/16 |
| 40171 | 13741 | 4/28/16 | 4235673 | 1,260.85 | SEN-2762658 | 5/6/16 |
| 40171 | 140436 | 4/29/16 | 4240901 | 121.00 | SEN-2765440 | 5/5/16 |
| 40171 | 15665 | 4/29/16 | 4239829 | 508.65 | 41858 | 5/5/16 |
| 40171 | 18414 | 4/29/16 | 4240906 | 856.58 | SEN-2765439 | 5/6/16 |
| 40171 | 18414 | 4/29/16 | 4240907 | 4.19 | SEN-2765439 | 5/6/16 |
| 40171 | 13741 | 4/29/16 | 4240902 | 412.79 | SEN-2765438 | 5/6/16 |
| 40171 | 13741 | 4/29/16 | 4240903 | 23.97 | SEN-2765438 | 5/6/16 |
| 40171 | 13741 | 4/29/16 | 4240992 | 939.60 | SEN-2765487 | 5/6/16 |
| 40171 | 140436 | 4/30/16 | 4244936 | 1,613.64 | SEN-2767617 | 5/5/16 |
| 40171 | 140436 | 4/30/16 | 4245142 | 252.50 | SEN-2767703 | 5/5/16 |
| 40171 | 18414 | 4/30/16 | 4244038 | 375.60 | SEN-2765439 | 5/6/16 |
| 40171 | 18414 | 4/30/16 | 4244274 | 53.84 | | 5/6/16 |
| 40171 | 18414 | 4/30/16 | 4244279 | 300.90 | | 5/6/16 |
| 40171 | 18414 | 4/30/16 | 4244935 | 6.26 | SEN-2767616 | 5/6/16 |
| 40171 | 18414 | 4/30/16 | 4245617 | 2,185.76 | 04310 | 5/6/16 |
| 40171 | 13741 | 4/30/16 | 4244933 | 4,348.50 | SEN-2767615 | 5/6/16 |
| 40171 | 13741 | 4/30/16 | 4244934 | 29.30 | SEN-2767615 | 5/6/16 |
| 40171 | 15665 | 5/1/16 | 60771SC | 106.70 | | 5/1/16 |
| 40171 | 18414 | 5/2/16 | 4247653 | 16.61 | SEN-2755228 | 5/6/16 |
| 40171 | 18414 | 5/2/16 | 4247660 | 80.76 | | 5/6/16 |
| 40171 | 18414 | 5/2/16 | 4248531 | 721.58 | SEN-2768895 | 5/6/16 |
| 40171 | 13741 | 5/2/16 | 4248530 | 419.17 | SEN-2768894 | 5/6/16 |
| 40171 | 15665 | 5/8/16 | 60878SC | 108.88 | | 5/8/16 |
(Click here to download this spreadsheet as an Excel file)