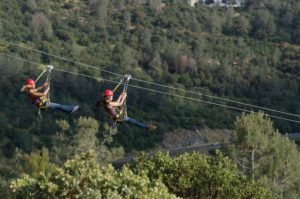 If you've been thinking about zip lining – here is some information to either settle, or unsettle your nerves.
A zip line, or aerial runway, consists of a pulley on a suspended cable. Zip lines were originally used as a method to get around, generally in mountainous areas. But in the last decade or two, they have become an entertainment feature and tourist attraction found either over a natural wildlife setting, or some other view, even above a big city, such as New York. They are found over rainforest canopies in Costa Rica and South America, and in Australia, as well as around the US.
The world's longest zip line (as of the end of 2015) is reported to be Parque de Aventura Barrancas del Cobre in Copper Canyon, Mexico at 8,350 feet in length. The steepest is reported to be in Planica, Slovenia. It is 1,857 feet long with a 663 foot vertical drop. Yikes!
For many potential zip line riders, it is testing their strength to overcome the fear. For others who are more comfortable, it is the beauty of the view. Before you spend a lot of time and money venturing around the world for the ultimate zip line experience, there are some pretty nice ones quite close to home.
In Mariposa, Yosemite Ziplines and Adventure Ranch offers two hour, six-stage guided tours through the mountains with views of downtown historic Mariposa. Participants must be eight years old, and weigh at least 70 pounds and no more than 250 pounds. Visit http://yosemiteziptours.com/ for more information.
In the Gold Country foothills, off Highway 49 and close to the Moaning Cavern's Visitor's Center, Cave & Mine Adventures offers twin zip lines, side by side, along a quarter mile long. Zip line speeds may reach up to 40 mph. Regular zip line riders must be 70 pounds and under 285 pounds, with a waist size of less than 55 inches. There is also a tandem zip offered, generally aimed at one adult with one child – the pair must have a combined weight less than 280 pounds. Visit http://caverntours.com/moaning-cavern-adventure-park-and-california-zip-lines/zip-lines-moaning-cavern/ for more information.
Over near the coast and Santa Cruz, Mount Hermon Canopy Tours takes visitors for a tour above the coastal redwoods. Tours of up to eight are led by two certified guides along six lines up to 150-feet high. Enjoy an evening tour only available this time of year! The minimum age is 10 years with a minimum height of 52 inches and a weight between 75-250 pounds. Visit http://mounthermonadventures.com/adventures/#tt for more information.
If you have a fear of heights, this may be a big emotional investment to make, but the beauty afforded on these tours is worth overcoming the fear. Advance and early reservations are advised for all of these zip line tours.