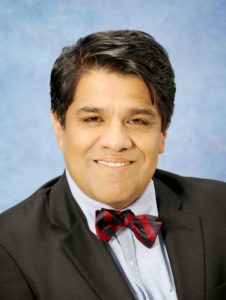 California's 26th Assembly District contains the majority of Tulare County, a very small portion of Kern County and all of Inyo County. The district is a little more than 45% Republican and 31% Democratic of those registered to vote. The seat is currently held by Devon Mathis, a Visalia republican, who declined several requests for an interview. His opponent on the November ballot, Ruben Macareno, is a Democrat, also from Visalia.
Ruben Macareno
Ruben Macareno grew up in the farmlands of California. The 11th of 13 children, his family followed the harvests, making Tulare their home base in the mid 1960's, and building a permanent home in Farmersville shortly thereafter. Macareno attended Farmersville schools and graduated from Exeter Union High School.
He feels as though his life and professional experiences, as well as his education, make him a good fit for becoming the next 26th District Assemblyman.
During high school, Macareno took a journalism class. With that, he was able to do some part time writing for local newspapers. Upon high school graduation, he landed a job as the newsletter editor for Proteus, which provides education, job training, job placement and other support services to farm working families and other program participants.
"That was really a good experience – it opened up my eyes, at a young age, to folks who were trying to get ahead and that was very difficult in this area," he said. "They would tell me their stories of heartaches, and how difficult it was to work in the fields, how difficult it was to just pay the bills, because there still wasn't enough income coming in, and, how difficult it was because of the type of work it was.
"That gave me an awareness– even though my own family was a migrant family, my parents, pretty much, kept us away from all those discussions of how bad it was and how hard it was.
"At the same token, I would also hear the success stories – how organizations like Proteus would actually help people get out of the field and into a vocational career, that they could actually build on and do more for their families. So, I saw how people could actually make a difference in other people's lives.
"That is when I decided that I really wanted to be part of this kind of work. This was more personal and it was satisfying to see that I was able to help somebody, in one way or another."
With this in mind, Macareno moved to Los Angeles to pursue college. As a student, he looked for part time work. He had always had an interest in politics and wanted to learn more about how representatives help their constituents. Although he had no political experience, and was just starting out in school, he decided to check in with a Los Angeles congressman to see if he could find any work there. Thinking it was a longshot, he found himself meeting with the late Congressman Ed Roybal (D-Los Angeles).
"I told him about my experience with Proteus," he said, and he shared his ambitions.
Roybal gave him a shot as a summer intern. Macareno admitted he was taken aback, but at the same time delighted. He talked with constituents and primarily worked with them on immigration and tax issues.
"That gave me some good training in working constituent services. I didn't know all these services existed. If you have a tax problem, or whatever, I just thought you call the IRS and or a hotline. But, what people don't realize is that they can actually get assistance from their legislatures or congressman when they have any issues pertaining to federal or state issues," he said.
With that under his belt, Macareno was ready to take on a full load at college, but Roybal had other ideas for him.
"'Oh,' he said, 'we'd actually like you to go to Washington – we have an opening there – I think you'd be great for it. You would be working for the National Association of Latino Elected and Appointed Officials,' which the congressman was the president and founder of.
"Of course, I didn't hesitate. I said, 'Yes, I'll go!'
"When I went to Washington, that was a different type of education – it was for citizenship advocacy and Latino advocacy, and nationwide interests, as opposed to just local. We also kept track of who was getting elected around the country and where there was potential for an increase in Latino participation.
"And, so I was getting a full-rounded education in terms of serving people. From working with Proteus and working in a congressional office, to working to a more vast type of focus with NALEO – I really got that sense that it is people helping people through services and resources out there. It was very exciting."
Eventually, Macareno returned to Los Angeles to continue working on his education. His sister urged him to consider applying for a position with the Los Angeles Times, pointing out they have an opening in their customer service department. He applied, but the human resources staffer felt there was a job that his skills were a better fit for, in public affairs. He took the job and ended up working for the Times for close to 20 years in various capacities while attending school part time, at Los Angeles City College, and then Cal State, Los Angeles.
In 2007, his younger brother, Martin, was murdered at the Central Coast. Macareno had been considering a buyout program with the Times anyway, so he took it, and moved back to Tulare County. He was one class short of obtaining his bachelor degree, but felt he needed to be close to family and home.
"I just felt a great need to be here," he said. "I was concerned about my family and their state of mind – but one thing that I didn't know it would do for me that it did was– it gave me great empathy– empathy for others in similar situations, and for those in other difficult situations.
"Something I realized when I came back here, was there hasn't been a lot of change. Everything was pretty much the same. I also noticed that there were a lot of people who just felt that they weren't being listened to– or that their vote didn't matter– particularly in the rural areas and particularly the Latino community, in general. So, I had decided that I am going to jump right in, and I am going to do something and get involved.
"I am a Democrat. I went to our County [Democratic] Committee and they said, well you can come to our meetings, but you'll have no vote. That seemed kind of uninviting.
"So, I decided to form the Latino Democrats of Tulare County – that way I would get to engage with the community that mostly feels marginalized by the political process, and I got to get involved politically with basically like-minded people.
"Two or three years later I was asked to chair the County Committee, and I did. I had the opportunity to meet a lot of people within the Democratic Party, elected officials in Sacramento – other assemblymen, state senators – that were really doing things for their community. I would talk with them about what it was like to serve in office– what are the pros, what are the cons and that sort of thing– so, I kind of got another education in regard to that, which was good."
Local Concerns
Some of Macareno's current concerns within the district, are about jobs, senior citizens, air quality, and water quality and quantity. He'd also like to see a public university within the Tulare-Kings counties area.
"Water is a humungous issue that needs to be addressed consistently and we need to be able to be a cheerleader for our Valley and our District, so that we can:
Figure out how we can retain that water.
Figure out how it is going to be safe– not contaminated.
Figure out how it is going to be distributed among farmers and residents– that's always a tug-of-war.
"These are valid issues, real issues that people have and when I go back to the empathy part of what I've experienced – I think about when people have talked about it and I truly put myself in their shoes – oh my God! What would it be like to be without water – to not be able to shower, or eat, or boil water? It's just unimaginable that their voice is not being heard because they are in the big, giant mix. It's a big, big job! This job of being a state legislature, it is truly one where you should NOT have a partisan badge, but it should be a job of public service."
Macareno ran for the same seat two years ago. Devon Mathis won the seat. Macareno said he was not disappointed. He felt at the time that, although Mathis is a Republican, his promise to reach across the aisle was good. It was with that promise, Macareno said, that many Democrats, progressives and moderates helped Mathis win the election.
"And at the beginning it seemed like he was holding up to his end of the bargain, or his public persona that he would be one to reach over the aisle. He came to one of our Democratic openings and I thought that was very big of him, especially in the political scene– that rarely happens. He didn't only do it once, he did it twice. He had a staff that mirrored, to some degree, the district and I thought that was also very good. And, at the beginning, he would visit other organizations that perhaps in the past weren't visited by others like community groups in rural towns. So, I thought that was good," Macareno said.
But, then, he added, something happened.
"I met with some of his staffers, who were not happy with him. So, that gave me a flag up with regards to him," he said.
"And, also there was a [Assembly] Bill for East Porterville, and that bill was to give state loans to people who live in East Porterville, so they could dig their wells deeper. It was passing the Assembly, unanimously, but it was held up by Senator Ricardo Lara (D-Los Angeles) and it never got to the Senate floor, or to the Governor's desk. And one of the reasons that happened was because when it reached Ricardo Lara's desk, Devon did a last minute amendment to it – he wanted to make sure that the monies would be under local control, and not the state water board – so that halted that and Ricardo Lara put it to the side, and it basically died," he said.
"The people in Porterville needed this to happen – you need to be able to have your contacts, or to have the support a number of people who will back you and say – 'this needs to happen, Ricardo, this needs to go, because these people are suffering, these people need the funding so that they don't live without water.' But, when you play the political ballgame, that doesn't happen.
"My argument with that is that our assemblyman should have been fighting for those kinds of services from the very beginning– working with the Governor's office and others to bring in this type of service, months and months ago. And, I say that because of the critical urgency of having water."
"I think a fundamental difference between us two, truly is with Assembly Bill 1066, the farm worker overtime bill – that is, it would have been a no-brainer vote for me. Having gone through working for Proteus, having been raised in a migrant family, knowing what it's like to have worked in these conditions, and also having just been a regular hourly worker at one time – if I work over eight hours, I want to get paid overtime – I'm sorry, I do. If I work over 40 hours, I want to get paid my overtime. And, I think that everyone who is an hourly person deserves to get paid that overtime. I don't even see it as a farm or farm worker issue. It's a worker's issue, and it's very clear to me.
"My opponent, not only did he vote against it, he was very vocal against it, saying the farm workers don't want it. That's not true. Saying that it will hurt them because there will be less work for them, because there will be new crews – well, where do you get all these new farm workers? Especially, if you are talking about documented workers – there is a major shortage. If you are talking about undocumented workers, where are you going with this? It makes no sense.
"He has also said the unions are exempt from this law. NO, everybody who is an hourly worker will get their overtime. Furthermore, it is going to grandfather into the full overtime in 2020, or something of that nature. I think this was a good thing – both sides had to come together, whether you voted for it or not, to have some type of compromise. HELLO – the art of politics. That's what we do, and that's what we should be doing – not the partisan part of it, not the lining your pockets with big money part of it sort of things. This is what we are suppose to do – come together with some type of solution.
"One of the things that I am very, very, very concerned about, more than the local election, is the whole presidential election. I have never felt so concerned of the outcome. I'm worried about Donald Trump because of his temperament – he lashes out at Latinos, at women, at everybody and that's just his style. And, I recognize that that's just the way he is, but what worries me is that having someone like that as president, could truly put us into some type of international chaos and, also what it has done locally, what is has done locally to unleash this separation – I see it more and more every day and that really worries me – at a time when we are under this international threat – gosh, if there was ever a time we had to be together, it's now!
"Yet my opponent thinks he can lead us to greatness, despite all he has said and done, and continues to do so. My point is that my opponent prefers to play partisan politics, instead of what is best for the entire district, which is contrary to his campaign theme 'People over Politics.'
"I tell people to make sure to vote. Make sure to vote your conscious, your heart and make sure that you have America in mind. All of us together – we are still one people. I don't tell them how to vote – but to vote – it's important."
Macareno is 53. He and his wife, Leyda, have two grown sons – one lives in LA and is a music engineer; the other is living in New York, while studying musical theater.
"I think that when elected, I am committed to not just be the voice of the constituency, but I'm willing to cross the aisle when necessary," Macareno said. "I'm willing to be the cheerleader – the advocate for the district. I am also one who will look for folks to help me lead and to help me represent, because it is not just one person, but it is a coalition of leaders who know where the issues are and I am committed to doing that.
"I'm running because I truly care. I'm running because I think I can be effective. I'm running because I know I am qualified. And, I'm running because I have the ability to get support for things that need to be addressed in Sacramento."