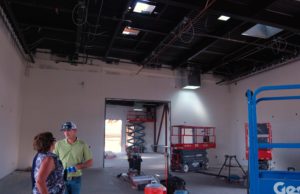 Local tax payers are seeing their investment grow with the development of the new Vocational Education-Career Technology Center at Farmersville High School. Ground was broken on the project in March, and it is right on track and should be ready for use come January.
"This is realization of a dream of this community," said Principal Lisa Whitworth, a former Farmersville student herself.
Funding for the project comes from the Measure A bond, approved by voters in 2014. The bond, which required a 55% supermajority approval to pass, was approved by a 66% majority, according to the Tulare County Elections website.
Cost of the project is projected to fall just below $3.2 million.
Farmersville is involved in a school-to-career pathways program, which will be greatly aided by the new facility.
"This building is going to help complete that realty," Whitworth said.
Prior to the bond, a local survey was made as to what career paths were most important in the community, she said. Construction was polled as the number one career choice.
The career technology building will house classes for residential and commercial construction, as well as small engines, welding and mechanics. The ag industry will have a heavy presence with the building which is located close the school's ag farm.
"The concept of career technology is for students to start in the ninth grade," Whitworth said. "They can then [after graduation] go on to college, or right into a career."
Enrollment at Farmersville High is currently 730 students, Whitworth said. And agriculture is number one in the local community, making the career path an important one.
Forcum Mackey Construction of Ivanhoe was awarded the building construction job.
The 40'-200' foot single-story, steel-beamed building project is going smoothly, said Forcum Mackey site manager Roland Johnston.
Johnston explained the ceilings in the building will be left exposed with electrical, air conditioning and heating lines, and pipework revealed for educational purposes in construction. Roll-up doors will allow for vehicles to be driven in and out of two of the rooms, and the air conditioning will automatically turn off when a door opens–an energy-saving measure. There is also a locker area and bathrooms inside.
Johnston stated that in conversation with a Lincoln Welding representative, the rep said, "this is the best thing that could have happened." The education of new, young welders is perfect timing. The average age for a welder is currently 54, he told Johnston.
An open house is tentatively being planned for January. The new classrooms could be put to work for the spring semester.
Farmersville High will not be done there. It is looking to build an onsite aquatic center as well. Part of the Measure A funds are designated for this, as well as a $1 million donation made by the Meek family in memory of former Police and Fire Chief Gary Meek. Meek was a major advocate for a community pool.
The high school pool would most likely be open to the community during summer months. The estimated cost of the pool facility is $6 million. The school district recently closed a Request for Qualifications for Architectural Services for the project.