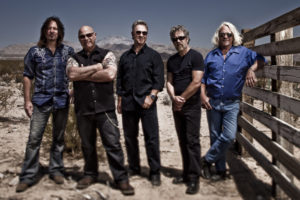 For five years, from 1968 to 1972, Creedence Clearwater Revival was about the hardwest working band in rock 'n' roll.
Bad Moon Rising, Born on the Bayou, Down on the Corner, Proud Mary, Lodi, Commotion, Green River, Run Through the Jungle, Up Around the Bend, all these original Top 40 hits and more, enough to eventually fill a six-sided best-of album, were recorded by CCR during that white-hot run. The 1969 No. 2 hit Fortunate Son, an anthem of the Vietnam War era, is included in the Library of Congress' National Recording Registry.
Then it was over. The band broke up in 1972 and never reunited. But, the music never stopped, and two CCR founding members will bring back its glory at 8 p.m. Friday, July 22, at Eagle Mountain Casino in Porterville.
Creedence Clearwater Revisited 
After Creedence was inducted into the Rock and Roll Hall of Fame in 1995, the band's clockwork-perfect rhythm section, drummer Doug Cosmo Clifford and bassist Stu Cook, decided to get back to the business of playin' in a travelin' band. They've been at it ever since, bringing the music millions of fans love to the live stage.
"The fans keep us going," said Clifford, 71. "Traveling sucks, and I don't like chasing airplanes and riding in the buses, but once we're there, that 90 minutes on stage are worth it all. Showing folks a good time, especially in times like these, that's what it's about."
CCR's lineup now includes lead singer and rhythm guitarist John Tristao, formerly of the band People! whose I Love You hit the Top 40 in 1968, lead guitarist Kurt Griffey, and multiinstrumentalist Steve Gunner.
One song the new CCR won't be playing in Porterville is Creedence Clearwater Revival's first single Porterville from its debut album in 1968. Porterville was backed with a B side of I Put a Spell on You.
"It wasn't a hit record," said Clifford. "We would probably play it in Porterville, but it doesn't mention the name in the song, so they wouldn't know what it means."
Amateur Entemologist
Writing credit for Porterville went to T. Spicebush Swallowtail, a pseudonym for brothers Tom and John Fogerty. Clifford, Cook and John Fogerty, a trio of childhood friends, banded together with the elder Fogerty in the mid-1960s to form what would become CCR. The penname used on Porterville refers to a species of butterfly and comes from one of Clifford's childhood hobbies.
"I'm the guy who gave them that name because I was an amateur entemologist," he said. "As a kid, I collected (butterflys) from all over the world."
Clifford, who defies the rockstar stereotype by being an early riser with a bit of an intellectual bent, has had a lifelong interest in natural history that's played into his band's history more than once.  It also led to a couple of funny stories and a bit of environmental degredation, the drummer explained.
"Stu and I were going to San Jose State at the time, and we were living in basically the Animal House, there was trash everywhere, hamburgers on the floor. There were bugs, roaches everywhere. Ants," he said. He put his bug knowledge into play. "I told them if you guys clean up, I'll get rid of the ants. You have to get the queen. I eventually baited food (with the now banned pesticide DDT) that got taken back to the queen. Two weeks later, sure enough they were gone."
Cosmo's Factory
Clifford's nickname had been Clifford C. Clifford before college, but he was soon tagged Cosmo by friends, and not for the reasons one may suspect for a budding rockstar in the 1960s when the Age of Aquarius seemed just around the corner. Someone once asked Clifford what the C in his nickname stood for, and he was beaten to the punch.
"Before I could respond he (a professor) said 'Cosmo, because he's a man of nature,'" he said. Clifford would later release a solo album of that name, and Cosmo's Factory was the title of the 1970 CCR album containing the hit single Lookin' Out My Back Door with a flipside of Long As I Can See the Light. Creedence Clearwater Revisited, the CCR of today, was also briefly named Cosmo's Factory.
Clifford also unravelled another mystery from CCR's past. At the end of its live shows, CCR would finish with an extended version of Keep on Chooglin'. The song was also featured on the 1969 Bayou Country album along with Proud Mary, Born on the Bayou and CCR's version of Good Golly Miss Molly.
"'Chooglin'' is just a metaphor for having a good time," he said. "It's a word that's made up. 'Chooglin'' does have a sense of moving forward with a spring in your step. That's how I envision it. However you want to make it, it's yours."
CCR's music, says Clifford, revitalises the body and soul, and it's definitely worth revisiting.
"Rock and roll is good medicine," he said.
Author's note: I stopped in at a Visalia convenience store about 9 o'clock a few nights before the interview with Clifford. A guitarist was playing out front, belting out his version of Down on the Corner for spare change. I told him I'd be speaking with Clifford, and the busker said, "Tell him I said, 'Hi.'"
"Hi back," was Clifford's message. His band's music is alive on street corners around America. CCR lives on. "Have fun with that guitar."