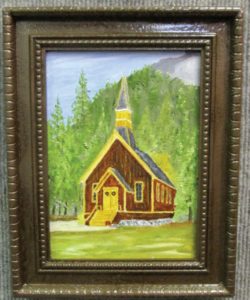 For some, an early Sunday morning service communing with the majestic Giant Sequoia Redwoods and surrounding nature in Yosemite is a dream come true. For others, a more formal worship service is desired, and the historical Yosemite Valley Chapel provides just that.
The chapel was built in 1879 and is the oldest structure in Yosemite Valley, still being used today. It was placed on the Natural Register of Historic Places in 1973 because of its "simple architecture" that was "a particularly fine example of the early chapels constructed in the Sierra Nevada Mountains."
It is also a favorite for photographers and artists including Tulare's Robert Sutton, who takes photographs everywhere he goes and then redipicts them in oils. Such was the case, for the Yosemite Chapel and two of the past miniature exhibits at the Tulare Historical Museum.
"It's nice a looking little chapel, and it's out in the middle of nowhere," Sutton said. "It was a perfect fit for a miniature."
He painted it once and put it in the exhibit, where all entries are also utilized as fundraisers for the museum, through a drawing. When he found an acquaintance had wanted to win, but didn't, he painted one for her as well. And then he painted it again, a third time, for the exhibit earlier this year.
The chapel originally was one room and designed to seat up to 250 people. It was moved in 1901 to its current location on the south side of Yosemite Valley, about a mile away from its former home.
It has been added on to in the back. Some restoration occurred in the 1960's and the foundation was raised to protect it from flooding.
However, in the flood of 1997, it did receive damage anyway and further restoration took place.
"It's an incredible privilege to be pastor there," said Brent Moore, who has been resident pastor for the chapel for 15 years.
Managed by the Yosemite Community Church, services at Yosemite Chapel are nondenominational. Sunday service hours are 9:15am, 11am (Memorial Day-Labor Day) and 6:30 pm. Wednesday services are offered at 7pm.
Special services and events are sometimes held including historic films and lectures, visit the chapel's website or Facebook page for more information.
The chapel is open 24-hours a day and is also available for weddings, however, there is no area for receptions.
The chapel is open year-round, weather permitting. Yosemite Chapel is located on Southside Drive not far from Yosemite Village, the lodge and hotel.
For more information visit yosemitevalleychapel.org, visit the Yosemite Valley Chapel Facebook page, or call (209) 372-4831.