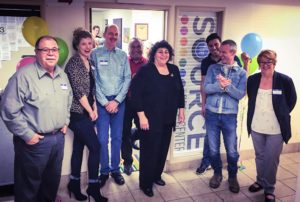 Friday, May 6 saw the opening of theSOURCE LGBT+ Center in Visalia. The center provides the LGBT+ community and their allies with services, referrals, and resources, designed to improve the quality of life for LGBT+ individuals in Tulare and Kings Counties.
Hundreds toured the new center, with many being part of First Friday, the monthly program featuring art in various downtown Visalia locations.
Artworks from LGBT artists were on display inside the center, located at 208 W. Main, Suite B, downstairs in the Montgomery Square.
A steady stream of visitors enjoyed the art, met the staff, and mingled with the community.
Visalia City Councilwoman Amy Shuklian stopped in for a visit and pictures with the staff, and to see a painting by her partner Mary Randol on display in the center.
Regular operations begin next week, with staff on duty in the center, and activities are planned for the upcoming months.
To learn more about theSOURCE, you can visit their Facebook page at https://www.facebook.com/thesourcelgbt or their web page at http://thesourcelgbt.org. Donations can be made at theSOURCE's Crowdrise webpage: https://www.crowdrise.com/thesource-lgbt-center1