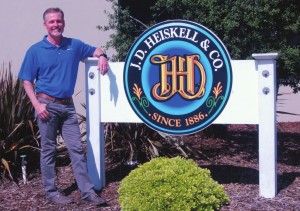 For those who live in Tulare, the names Heiskell and Hillman are fairly commonplace.
Scot Hillman, a son of Dale Hillman and Pat (Heiskell) Hillman, is chairman of the board at J.D. Heiskell & Co. He admits that he has a lot of his mother's traits and some from his father as well, but he has created his own path in the company and the community.
Founded in 1886, J.D. Heiskell & Co. was located on the west side of the tracks in Tulare – the tracks were the reason there was a Tulare, it was a railroad town, Hillman said.
The family became grain merchants and operated a storage house for wheat before it was hauled up to the north end of the Valley by the new railroad to the flour mills. But, it developed into much more.
"My grandfather took over from my great grandfather, the founder. He was the only son, and then my grandfather had two daughters and only my mom married. My dad came into the business in 1953 and they had four kids," Hillman said.
"I was the one who took the business on," he added, "I have a brother, Brett, who is a [Tulare County] superior court judge, and I have a sister up in Seattle and another brother who lives in Texas."
Hillman usually has coffee with his mom in the morning, he said.
"We catch up often – she is a big part of the heart of this business," he said. "She loves our employees and she's on our board. She wants to come to every employee event and she is a wonderful ambassador for this business."
The new J.D. Heiskell offices were recently, and rather appropriately, built on Hillman Avenue. Tulare is the traditional headquarters of the business.
But the biggest part of the business is Midwest-based, Hillman said. There are offices located in Elkhorn Nebraska, just outside of Omaha. Most of the grain originates in the Midwest and is manufactured for dairies in California.
"We are a Midwest business, founded in Tulare," he said. "We still call it our headquarters."
"We have a fifth generation in the business – my son is on track to be the CFO in two years," when the current CFO retires, he said.
Hillman's brother has a daughter, who graduated from Cornell last year, and she is planning on also joining the business, once she finishes up some other work. The company has a rule that family members have to work five years outside of the family business before they can begin to work in the company. She is currently completing her outside work.
"We didn't have that when I joined," Hillman said. "I rode with truck drivers and I worked in the mill. I was a buyer, so I understand the market. It was really good. I spent some time with the dairyman and so I understand how they work.
"That was my dad [the influence] – I am very grateful to him for having me learn from the people who were actually out there conducting the business.
"I always liked it – I always liked, when we were little, my dad would take us down to the office and we'd run around and play in the grain – it always seemed like a family business. Everybody knew our family," he said. "I just always liked the earthiness of it – it's a green-type business, where we deal with other types of family businesses – our customers are other types of family businesses. We have, necessarily, become more professional as we have become larger. We have to have more infrastructure and more resources and more IT people, but at the heart we are still a family business.
"That's my biggest role is to make sure that it feels like that to people."
Hillman studied at Stanford University as history major and communications major. Then he learned the family business from being in the business, and now he has been in it for more than 40 years.
"My dad brought in some consultants who helped me learn more about what being a leader was about – 'OK, you've got to quit wearing the jeans and the polo shirts and the tennis shoes,'" he said. "'Look at your dad – when he walks around here, he makes the earth shake, and you've got to make the earth shake," [he was told].
"My dad officially retired in 1991, although he came in every day until he passed away – he opened the mail. And in 2000, we purchased a competitor here in the Valley and the competitor was three times larger than we were, and things got really crazy. I was unable to manage a business that went from 140 employees to 300-and-something employees. And so we hired, for the first time, outside professional management for our business. Butch Fisher was the guy we hired and he was the guy who really helped me grow up as a business person and as a business leader. He had worked 29 years of a CEO of a very successful Midwest grain company, Scoular.
"Going to 'school' with Butch every day and watching how he did things, how he lead – he hired a CFO who had worked with him at Scoular, he is still our CFO, Tim Regan, and between Butch and Tim, they really professionalized our business – while allowing, in a lot of ways through me, allowing the family side of the business to still be the biggest informer of our culture.
"That was such a great lesson for me to be able to observe and we have just come a really long way since we made the decision to hire people in to lead our business who weren't family," he said. "Up to that point it was my great grandfather, my grandfather, my father and me, and now we had these guys and the three of us became the managers of the company."
Hillman's son, Jefferson Davis Hillman, like his father graduated from Stanford. He was named after his great, great grandfather, as he was born on the actual day of the 100th anniversary of the company. He is the only family member who has actually worked on a dairy, having spent a nine-month stint working at a local dairy after college, before finding a position in the banking industry.
Hillman's daughter, Mallory, is married and lives in Kentucky with her husband and Hillman's first grandchild, who was born last September.
Hillman was divorced in 2012, and remarried in 2014. His wife, Adrianne has three sons, ages 6, 9 and 12.
"So I now have three more sons in my life. They are a lot of fun, I just took one to school in Visalia this morning – we tag team them." Hillman said.
"We are building a house here in town that I am very excited about – actually renovating an older home on an acre in town, which is kind of rare in Tulare," he said.
"My wife is a singer, she and I play in the band in our church," he said, "that is something we enjoy doing together. We love playing music together."
"It is really important to me, as it is to my mom and was to my grandfather, to be involved in the community and so we do a lot of things," Hillman said.
Hillman has been the Spelling Master at the Tulare County Department of Education spelling bee since it started 17 years ago. The fourth- through eighth-grader event has about 240 children entered per year.
"This year I read almost 550 words over six hours," he said. "It's a long deal. I dressed up as a referee this year, because it was a sport's theme."
He MCs a lot of events in Tulare, including Comix 4 Kidz – a fundraiser for the Boys and Girls Club, and the local Rotary Club's annual auction.
Hillman also served on the Tulare Chamber of Commerce board for a long time including serving as past president; has been a member of the local Rotary Club since 1989 and served as president of that, and belongs to multiple national and state feed associations having served as president of the California Grain and Feed Association.
And while Hillman himself was never involved in Future Farmers of America during high school, both of his children were and he continues to judge FFA competitions. The company also provides a FFA scholarship each year.
"One of the things that J.D. Heiskell has going, is that we are involved," he said.
"We try to support as many local things as we can. In every location, where we have a regional office –here in California, in Nebraska, down in Amarillo, Texas and up in Idaho – we have a charitable committee at each location.
"It does give people a front row seat to our philanthropy. I am just an observer, if they say 'no, I don't want to support this,' they get to make the decision. That is another way to get people involved," he said.
"My mom is a founding member of the Tulare County Symphony, so we are symphony supporters, the museum we support, and my mom is still on the county school board at 88 years old, and she was almost 30 years on the Tulare City school board and so a lot of educational initiatives get a lot of special attention from us too."
Hillman considers himself an outdoor person.
"I am a life-long runner and enjoy mountain climbing," he said. "I like to get people outside and active.
"I'm still runnin', my knees are getting a little creeky, but I still get out there because I want to stay in shape to climb mountains and go backpacking, and go skiing and golfing, and things that I like to do," he said. "That's when you restore a little of your humanity, when you get to get out and do the things that really don't require a lot of thought and emotion.
"I started running when I came back from college to get in shape, and the next thing you know you kind of need a goal, so you are running a six-mile race, and so I trained for that – then the guys are talking about a marathon, and so I trained for a marathon and the next thing you know, I have run 14 marathons and so the next thing you know, it ended up being a way of life.
"At this point, I just take my dog out for four miles on the ditch bank and call it good. It's not like the old days when I trained, but I feel like my body won't hold up to that kind of training anymore. I try to do some type of exercise every day.
"I have a group that I climb with every summer – it's my week with guys – Neanderthal hygiene and what we call rotisserie sleep, where you sleep on the ground and you sleep on your back, and you are uncomfortable, so you sleep on your side, and then you roll over and sleep on your stomach and then you roll over and on the other side, because the ground is so hard, by the morning you have rolled over about four times, completely."
His mom, Pat Hillman, instilled music into all of her children at a young age.
"My mom started me on cello in the fourth grade and so I played in the [Tulare County] Symphony a little bit in high school and college," he said. "When I went to college I picked up the guitar, so I taught myself to play guitar."
Hillman travels "A LOT" – probably two weeks a month, but not the full two weeks, he said.
"This is the first full week I have spent in the office all year," he said during the last week in March.
"It is so important to do as much family time as you can," he said. "So, I do – that's what I do when I'm home – go to their events, go to their assemblies, go to their soccer games – I've done it once and I really enjoyed it. I love raising our kids and being involved with our kids, so I'm just getting to do it again."
Hillman said he sleeps well and sleeps hard.
"I'm really type B – I don't stress a lot," he said. "I think my mom has that same battery – she's active, she's social, she's been a real inspiration to me in terms of staying out there, staying busy, staying involved, staying in touch with everybody.
"The bars been set – you can do it, if you want," he said of following in her footsteps. "She's extremely vital at 88 years old and I would love to be that way."
If he weren't in the family business, he sees himself doing relatively the same type of work, or working in music.
"I'd be like a creative person, in a business person's role," he said.
"The company is very important to me and making sure it succeeds into another generation is why I'm here – that is 'Job 1' for me – I am not going to let my hobbies get in the way," he said. "But someday . . . there are very capable hands waiting to accept the baton at some point. I love to travel and I hope that someday Adrianne and I can do a lot of traveling, and we can do our music thing together.
"Like my dad, I always want to be involved in the business – I always want to be an ambassador for it and I always want to kind of have my finger on the pulse, a little bit. It is one of those businesses you never really retire from, because it's your family. I get along well with my brothers and sister – it's my role to keep them feeling like this is their business too. So there is a whole bunch of reasons why I could never really walk away and say 'here's the keys.'
"My dad didn't – it was fun for me to make sure that he had a role in the business as long as he wanted to have one and I am hoping that is something that works for me with my successors."
In closing Hillman said, "The word "bored" bothers me. When people say they are bored, I cannot understand that. I mean if they locked you in a cell – then you'd be bored."