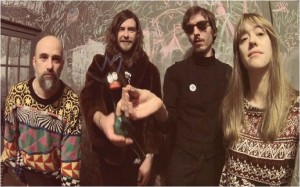 Having entered the public in Dresden, Germany, in 2011, The Roaring 420s have arrived on the international psychedelic and garage rock scene.
The Roaring 420s are an incarnation of a young Lou Reed, backed up by the Charles Manson-era Beach Boys–with occasional sitar added. Playing a wild melange of surf rock, psych pop and proto-punk with harmony vocalizations and trippin' guitar tones,their songs are best played out in green sun, blue air and on repeat.
Since releasing their debut LP–What is Psych?— on Stoned Karma Records in 2014, The Roaring 420s have delighted fans and critics alike.
On October 23 of last year they released their second full length LP, You Can't Get Out Alive, which was produced by Spanish studio wizard Jorge Muñoz-Cobo Gonzalez, known for recording with Holly Golightly, Fleshtones and Masonics.
A riotous live band, The Roaring 420s has toured Europe several times, most recently with The Blank Tapes (US) with whom they also released a split cassette on Melotron Recordings.
Now the band has embarked on a full US tour in support of You Can't Get Out Alive, including a Saturday, February 13 appearance at Visalia's Cellar Door.
When Drummer Luisa Muehl mentioned this was the band's first US tour, she was asked the obvious question: "How do you find America?"
Her response wasn't, "Turn left at Greenland."
"Turn left at Greenland, is of course a cool quote," Muehl said. "Beatles, yay!"
Tickets are $5 for the 21+ 8pm show. The Cellar Door is located at 101 West Main Street in Visalia.