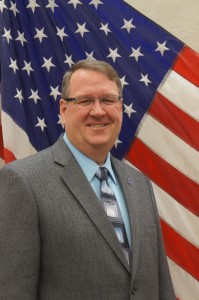 At a low-key event last week, Tulare County District 3 Supervisor Phil Cox officially launched his campaign for a fourth term as Visalia's primary representative, promising to continue his work for more streamlined, responsive government.
"I'm not done," Cox, who has served three, four-year terms on the Board of Supervisors, said. "We still have efficiencies that can be achieved."
At the forefront of Cox's thinking are the county's upcoming large construction projects. Cox, before entering politics, owned a pair of construction firms in Visalia.
"We're talking about (my) construction experience," he said. "I'm the supervisor who will jump up on the roof."
Board Remaking Itself
The Board as whole, Cox said, has been restructuring how it does business, and he wants to continue working with his fellow supervisors toward that end.
"We have been changing the way the county operates," he said. The focus has been improving "quality of life" for county employees with better working spaces and resources, an approach he took in running his own businesses. "Providing my people with the right tools was key to making money."
He also found the county's money crunch was mainly due to poor execution. They had the means, he said, but not the method.
"We have an $800 million budget," Cox said. He found many examples of managerial inefficiency when first elected, he said, such as the county's not having a single list of all the properties it owns, and has worked to correct the perceived deficiencies. "We're not poor."
Working with Youth
Cox also cited his work on youth programs as a source of pride, pointing to programs such as the Loop, a free transit system, and Step Up, an umbrella organization intended to coordinate and unite the efforts of various groups that work with the county's at-risk children.
"We've been instrumental in driving down juvenile crime," said Cox, who claims the programs have helped reduce the county's juvenile crime by 60%.
Keeping What We Earn
Cox' other focus will be assuring funding from Measure R, a local sales tax used to pay for transportation projects, doesn't get siphoned off by the state as it struggles to find sources of revenue.
"The state wants to hold onto a bigger piece. You're going to see more money going to Los Angeles and the Bay Area," he said. Keeping money flowing from state and federal sources into Tulare County is an area where Cox feels he excels, and has connections and experience. "You've got to know how to get creative. It's going to take people here, in Sacramento and Washington."
Cox Sticking Around
For supporter Thomas Forbes, it's Cox' focus on the county's youth, as well as his personal friendship, that makes him a supporter.
"I've known Phil a long time in this community, before he became a politician," Forbes said. "I really like how he supports the youth."
Stemming the area's brain-drain is perhaps a key component of building Tulare County's ability to create jobs and a more lively economy. And, for Forbes, it's personal.
"I've got young kids and want them to stay here," he said. "It's good to see someone local (Cox) who wants to stick around."
Sticking around is what Cox intends. Politics, he said, is now his career.
"After three or four years, I decided this is what I wanted to do," Cox said. "I have something to give."
'A Better Candidate'
Cox isn't the only local seeking the District 3 seat. Long-time Visalia City Councilwoman Amy Shuklian is also campaigning for the spot. She isn't shy about why voters should elect her to replace Cox.
"I'm a better candidate," she said. "I believe that I will be more engaged with the community, more accessible to citizens. There seems to not have been a lot of collaboration between the county and cities."
Shuklian points to her record as a council member as proof of her qualification for the job, particularly the open office hours she maintained and her continual outreach efforts.
"During the last eight years on the council, people know I'm a trustworthy decision maker," she said. "I can even do it more. There are issues I can address better. We've had some areas that need attention, such as Mooney Grove Park."
Employee Relations
Improving employee relations are also high on Shuklian's list of issues. The way the county has dealt with its workers– it is currently suing a union representing county employees for conduct during contract negotiations–is counterproductive, she said.
"What does that do for the moral of the employees when your employers sue you after you have reached an agreement?" she asked.
She also has a problem with how supervisors, who are paid a full-time wage by the county, receive their raises.
"When you're elected, you're elected for four years, and if you do a good job, you get reelected. There should be a mechanism (for wage increases) based on the CPI (Cost Price Index) of the previous year," said Shuklian. "What gets me is anytime an elected official gets a raise, the supervisors get a quarter of that amount. If they give the sheriff a 4% raise, they get a 1% raise. That's just flat wrong."
Shuklian said she would also like to focus on improving the county's efforts at recharging the area's ground water and in improving its image. She also believes change may be good just for change's sake.
"It's time for change. We need a new perspective and some new energy," she said. "Folks can get complacent."
The field for the District 3 race could widen. The filing period of intended candidates ends Thursday, March 11.
Supervisor Cox said that he just hired political finance director, Evette Bakke, last week and his fundraising efforts will begin in earnest in a few weeks. He has three or four fundraiser scheduled for the end of February and several more for March.