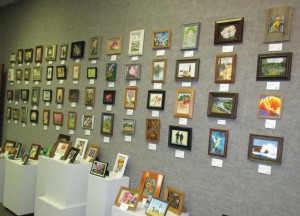 Visitors may take advantage of 84 chances to win at the Tulare Historical Museum's 9th Annual Miniatures art exhibit now through March 12. Some 33 local artists are participating in this year's show, all painting or photographing a variety of subject matter in a 7″x9″ format.
"We feel very lucky that these wonderful artists contribute," said Terry Brazil, museum director.
Artwork is in varied form, including watercolors, acrylics, oils and photographs.
"Some are very bright, some subdued," she said, "some are from unusual angles. They are painted in the field or from old photos."
Over the years the Miniatures art shows have raised more than $4,000 for the museum. All artwork is donated.
The 7″x9″ format is not a common size, said Chris Harrell, executive director and curator of the museum.
It's a size which many artists may find challenging.
"These pieces, for the most part, they (the artists) do specifically for the end of the year show/sale," he said. "Usually they (the artists) do much larger pieces."
The style and scenes are similar to those that the artist would usually paint or photograph, and generally in what that particular artist finds of interest.
The Miniatures show is a perfect segue into the New Year Varied Impressions show, which opens with an artist's reception on Thursday, January 14.
Unlike the Miniatures art exhibit, which can be conceptual of most anything, the Varied Impressions show must represent the City of Tulare, or Tulare County.
In the past, the show has exhibited some unusual pieces, Harrell said, such as an adaptation in clay of earthworms coming up out of the ground by Piet Eppinga and a painting of golf memories by George Tanimoto.
The Varied Impressions exhibit will run through February 27. Much of the artwork featured in the show is available or purchase.
Both shows may be viewed during regular museum hours, Thursday-Saturday, 10am-4pm, and the third Sunday of every month, September-May, from 12:30-4pm. Admission to the museum is $5 for adults, $3 for seniors and $2 for students, except on Sundays, when admission is free. Access to all exhibits is included in admission.
Miniatures art raffle tickets are $5/each or three for $10. Tickets may be purchased any time up until March 12. The drawing will be held on March 16. Winners will be notified by March 30.
The Tulare Historical Museum is located at 444 West Tulare Avenue. For more information visit, www.tularehistoricalmuseum.org or call (559) 686-2074.