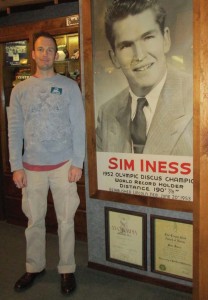 Tulare Historical Museum Curator Chris Harrell has taken on a new role handling the day-to-day operations of the museum as of January 1. Harrell, who has held curatorship for the museum since 2012, has been named the museum's executive director.
Harrell now carries both titles with the museum's former executive director, Terry Brazil, being named museum director.
The museum has been like a home-away-from-home for Harrell since he volunteered there while in high school. The Tulare-native found a love for history through the stories his family told, taking him through the museum doors.
"I have always loved history, and especially Tulare history," he said.
After graduating high school and attending COS, Harrell joined the Air Force. While serving, he attended classes in the Air Force Community College, and also studied with Pacific University. He earned his Master's Degree in Diplomacy and Conflict Resolution at Vermont's Norwich University before returning to his hometown.
Upon his return, he again became involved with the museum, volunteering and co-curating some exhibits including the Manuel Toldeo Military Collection.
"People say to get a job that you like doing and I have been fortunate enough to do that," he said.
As curator, Harrell has and continues to oversee all of the permanent and temporary exhibits as well as the museum's records and archives. Now, added to his work load, he oversees management of the museum's operations.
Visitors can expect a bit of freshening of some museum's exhibits, as well as some potential new ones.
One in particular is the Tagus Ranch exhibit, which has been on the backburner for some time, Harrell said. He plans for it to be done this year.
This exhibit will feature artifacts and photographs of the Tagus Ranch story from its "heyday" with the Grapes of Wrath migration and Dustbowl era to the restaurants and nightclubs where country music performers took the stage, and later, a motel.
The museum will retain its overall mission statement of who we are and what we do, Harrell said, but will see changes with the times and continue to attract visitors.
The museum is in the process of preserving audio-visual tapes, and looks to be able to share more. For example, Harrell said, there may be screens with some exhibits such as that of Bob Mathias and Sim Iness, showing film footage of their Olympic performances.
Harrell would also like to see more interactive items, where visitors, mainly children, can really have a hands-on experience. A civil-war era cannon ball sits at the entrance of the Military Collection room.
"I want them to touch that," he said. "And then go home and tell their parents about it."
These are things children and big folks hear about, but to actually be able to touch and feel a cannon ball used in battle 150 years ago is quite an experience, he said.
"I want to get the stories out there and get them told," Harrell said. "When you come to a museum, you want to soak all of it up.
"I want them (people) to walk away, impressed, and proud of the fact that so many great things have come out of the City of Tulare and Tulare County. With that, they're proud of themselves and where they come from."
Harrell is proud of that and the museum, as is Brazil, who will continue her own legacy with the museum.
"Terry has been an integral part of the museum since 1994," he said.
Brazil served as executive director from 2008-2015 and now continues as museum director. Both Brazil and Harrell were hired by the museum's board of directors.
Group tours are welcome at the Tulare Historical Museum with advance notice. Tulare elementary school students take field trips to the museum as part of the curriculum, but any school group from within the county is welcome, as well as Boy Scouts, Girls Scouts, 4-H groups, senior or retirement center groups and service clubs.
The Tulare Historical Museum is openThursday-Saturday, 10am-4pm, and the third Sunday of every month, September-May, from 12:30-4pm. Admission to the museum is $5 for adults, $3 for seniors and $2 for students, except on Sundays, when admission is free. Access to all exhibits is included in admission.