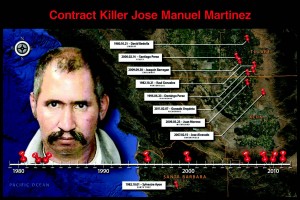 Authorities have closed the books on half a dozen unsolved murders in Tulare County dating back as far as 1980, and the man responsible will spend the rest of his life behind bars.
On October 6, Jose Manuel Martinez, 53, also known as the Black Hand or El Mano Negro, plead guilty in Tulare County Superior Court to nine counts of murder and one of attempted murder. The crimes took place over 35 years, and Martinez claims he carried the killings out for payment at the request of an unnamed Mexican crime syndicate.
Authorities, citing the ongoing investigation into his crimes, are tight-lipped about the self-described hitman, who is scheduled for sentencing on November 2.
"He was actually brought to the attention of the Tulare County Sheriff's Office … when he started talking about crimes committed in Tulare County while in custody in Alabama," said Stuart Anderson, spokesman for the District Attorney's Office. "They went out there and interviewed him."
Arrested Entering US
Martinez's downfall began in 2013 when he murdered a business associate for making remarks about his daughter while in Alabama. He was able to elude authorities there, but was later captured while crossing into Arizona from Mexico. Martinez is currently in custody in Tulare County awaiting sentencing, but has already been convicted of the Alabama murder, for which he will serve a 50-year sentence. He faces two additional homicide charges in Florida. Charges here were filed in April of 2014.
According to the Los Angeles Times, Martinez was contacted by a detective from the TCSO in 2012 regarding a series of home-invasion robberies unrelated to the murders. When he was arrested for his crimes in Alabama, Martinez began to unburden himself, discussing other murders he had committed during what he says is a career stretching back to 1978. The killer asked to speak to that same TCSO detective, Christal Derington, who described him as "pleasant and cooperative." Relatives of his victims described Martinez as someone who seemed to be "an ordinary guy."
Long Criminal Past
Martinez has a long history of arrests in California, mostly for vehicle theft, burglary, and methamphetamine use and sales. His first arrest in the state was in 1989 for drug sales in Orange County. At the time of his arrest in 2013, Martinez was living at least part-time in Richgrove, an unincorporated community of about 2,800 near Earlimart in southern Tulare County. The DA's office said Martinez had maintained several homes in Fresno, Kern and Tulare counties over the years. Agencies in those areas are now revisiting cold cases to see if they can find indications Martinez was involved in them. He claims to have committed at least 30 murders in a dozen states.
Beyond claiming a relationship as a debt collector with Mexican crime syndicates, Anderson said Martinez has revealed little about himself. The focus of the DA's investigation has been the murders and not the motives behind them, he said.
Contract Killing on Parole
At least three of the murders Martinez claims to have committed occurred while he was on parole. He began a two-year sentence for drug possession and grand theft in Tulare County in 2007, was paroled in 2008, rearrested for parole violation in 2009 and eventually released on parole again in 2010, which lasted until 2012. Three killings in the Richgrove area, to which Martinez confessed, occurred during that period.
According to authorities in Alabama, Martinez motivation was purely financial.
"It's how he fed his family is how he explained it," Det. T.J. Watts of the Marion County, Ala., Sheriff's Department told CNN at the time of Martinez's arrest there. "And if he didn't do the job, someone else would do it."
During the investigation in Alabama, Martinez claimed to have started working for the unnamed drug syndicate when he was 16 years old. He was paid 25% of the debts he collected, he said. Authorities have little recourse to confirm those claims. However, they are certain he committed the murders to which he confessed, presenting investigators with details only someone involved with the crimes could know.
"This serial killer and self-described 'hitman' will spend the rest of his life behind bars," said Tulare County DA Tim Ward. "There is no doubt that he has proven himself to be a grave danger to our community, so we all will take comfort that he has been removed from society."
His Victims
The list of crimes to which Martinez has admitted and his victims includes:
Murder of David Bedolla, 23, of Lindsay on October 21, 1980. The victim was shot while driving his vehicle to work with his wife, brother and brother-in-law. The shooting took place between Lindsay and Strathmore.
Murder of Sylvester Ayon, 30, and the attempted murder of 17- year-old G. G. on October 1, 1982. Both were shot while working on a ranch near Santa Ynez off Refugio road in Santa Barbara County. The 17-year-old survived the shooting, while Ayon died from multiple gunshot wounds.
Murder of Raul Gonzalez, 22, of Earlimart. The victim was last seen at his home on October 19, 1982. Two days later his body was located by ranchers off Fountain Springs Road, east of Porterville. He had been shot and stabbed multiple times.
Murder of Domingo Perez, 29, of Earlimart. The victim was reported missing by family members on April 8, 1995. His body was located in an orange grove just north of Richgrove on May 23, 1995. He had been shot once in the head.
Murder of Santiago Perez, 56, of Pixley, who was shot to death in his bed in the early morning hours of February 14, 2000. The victim's four minor children were home at the time of the shooting.
Murder of Jose Alvarado, 25, of Kern County on February 15, 2007. The victim was located on a dirt access road outside McFarland. He had been shot multiple times.
Murder of Juan Bautista Moreno, 52, of Kern County on March 23, 2009. The victim was located in an orange grove south of Elmo Highway near McFarland. He had been shot multiple times.
Murder of Joaquin Barragan, 45, of Earlimart on September 30, 2009. The victim was located on the bank of Deer Creek canal just east of Earlimart by ranchers working the area. He had been missing since September 27, 2009. Barragan suffered multiple gunshot wounds.
Murder of Gonzalo Urquieta, 54, of Earlimart on February 7, 2011. The victim was located in an orange grove just outside of Richgrove. He had been missing since February 5, 2011. Urquieta was shot multiple times.