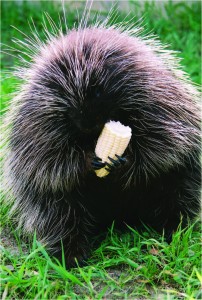 In 1967, Paul Simon wrote, "It's all happening at the zoo." And nearly 50 years later, there is a whole lot happening at many California zoos and animal sanctuaries close enough for a day trip or a zoo-destination weekend get-a-way.
One very unique one can be found just about an hour south of Tulare and Kings Counties. The California Living Museum (CALM) was the dream of one very special Bakersfield teacher, said Zoo Manager Lana Fain.
"This is really different than most of the zoos you will find," she said.
The 32-year-old zoo houses only species of animals native to California, and the flora and fauna are all only native California species as well.
"You won't find giraffes, elephants or primates here," she said, "but you will find mountain lions, bears and San Joaquin kit foxes."
Upon entering the 14-acre zoo, the public is welcomed by the zoo's porcupines, Pebbles and BamBam. There are a lot of "favorites" including black bears, Louie and Cinnamon, and the mountain lions.
"You ask five different people (what is their favorite) and you'll get five different answers," she said.
Exhibits include a butterfly and hummingbird garden, bighorn sheep, desert habitat, Cats of California, raptors and a reptile house. The gardens include a Trees of California exhibit. The Children's Park also has a petting zoo.
The zoo is a non-profit and falls under the jurisdiction of the Kern County Superintendent of Schools.
CALM just may be the only zoo that is managed for a department of schools, Fain said.
CALM is located at 10500 Alfred Harrell Highway in Bakersfield and is open 9am-4pm daily, although closed on Thanksgiving, Christmas and New Year's Day.
For more information visit the CALM website at calmzoo.org or call, (661) 872-2256.
Cat Haven
Recently threatened by the Rough Fire, the cats of Project Survival Cat Haven in Dunlap have returned safely to their home.
The haven is home to lions, tigers, jaguars, cheetah, Pallas cat, jaguarondi, servals, bobcats, leopards, snow leopards, and Siberian and Canadian lynx.
The focus of Cat Haven is "to educate people about the plight of endangered cat species, and to raise funds for the conservation projects in the wild." There is also a large devotion to general wild cat education here, with a connection to cat protection and conservancy around the world.
Cat Haven is not a traditional zoo. It, too, is the dream of one man. Founder Dale Anderson's desire was to pull together a haven that would combine many facets, aiming mostly at helping with conservation efforts for cats around the world, but also including breeding endangered species and education for the public.
"The Cat Haven is designed to act as 'base camp' in the belief that preserving wild cats in their native habitat is the principle justification for maintaining
them in captivity," according to the haven's website.
Survival Cat Haven is located at 38257 E. Kings Canyon Rd. in Dunlap. Winter hours here are 10am-4pm daily, although closed Thanksgiving, Christmas and New Year's Day.
For more information visit cathaven.com or call (559) 338-3216.
Fresno Chaffee Zoo
Fresno is the home to the Fresno Chaffee Zoo. Here you will find giraffe and elephants, and a brand new exhibit.
The African Adventure is scheduled to open October 15. This 18-acre exhibit features multi-species exhibits with animals who would roam together in their native plains and savannahs and will be home to some new species for the zoo including African elephants, lions, Southern white rhinoceros, wildebeest and more. The area will also feature a new giraffe feeding station and a cheetah run.
Another unique exhibit at this zoo is Sea Lion Cove, modeled after Point Lobos, California, with sea lions, harbor seals and brown pelicans. Sea Lion Cove is touted to be one of the most unique and beautiful sea lion exhibits in the country.
Other exhibits include the Australian bird aviary, Tropical Treasures (rainforest exhibit) and Wolf Woods.
The Fresno Chaffee Zoo is also open daily from 9am-4pm weekdays and 9am-6pm on weekends. The zoo is open modified hours on Thanksgiving and is closed Christmas day.
The Fresno Chaffee Zoo is located in Fresno's Roeding Park, just east of Hwy 99, between Belmont and Olive Avenues. For more information, visit the zoo website at fresnochaffeezoo.org or call (559) 498-5910.
Lodi's Micke Grove Park Zoo
There are several other zoological parks to visit and go play within neighboring areas. The Micke Grove Park Zoo is located in Lodi. The 5-acre zoo and surrounding park were a gift to the people of San Joaquin County from local philanthropists William and Julia Harrison Micke.
This zoo emphasis uniqueness and quality versus quantity and size with special emphasis to endangered species through the Association of Zoos and Aquariums Species Survival Plans. In recent years, the Micke Grove Park Zoo has successfully bred golden-lion tamarins (native to Brazil), Chilean pudu and Waldrapp ibis (native to Morocco), all seriously threatened or endangered species. It works closely with many conservation partners, worldwide.
On exhibit here are lemurs, tamarins and spider monkeys, snow leopards, parrots, birds of prey and a variety of reptiles including turtles, geckos and iguana.
Also located within the park are a Japanese Garden, San Joaquin County Historical Museum and Fun Town at Micke Grove Amusement Park.
Micke Grove Park Zoo is open from 10am-5pm daily except for Christmas Day, when it is closed. It is located at 11793 N. Micke Grove Rd. in Lodi. For more information, visit mgzoo.com, or call (209) 331-2010.
Other Zoos to Visit
Other zoos to visit within a weekend's visit of Tulare and Kings Counties include:
Charles Paddock Zoo, 9100 Morro Road, Atascadero – open daily except major holidays.
Happy Hollow Zoo & Park, 1300 Senter Road, San Jose – open daily, although closed weekdays November 16-December 25.
Oakland Zoo, 9777 Golf Links Road, Oakland – open daily except Thanksgiving and Christmas.
Monterey Bay Aquarium, 886 Cannery Row, Monterey – open daily.
Palo Alto Junior Zoo, 1451 Middlefield Road, Palo Alto – open daily except Mondays.
Sacramento Zoo, 3930 West Land Park Drive, Sacramento – open daily except Thanksgiving and Christmas.
San Francisco Zoo, 1 Zoo Road (Sloat Blvd. & the Great Highway), San Francisco – open daily.
Steinhart Aquarium, 55 Music Concourse Drive (Golden Gate Park), San Francisco – open daily except Thanksgiving and Christmas.