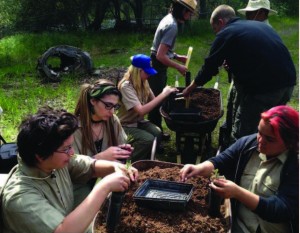 By an interesting quirk of fate, two statistics regarding Tulare County are nearly identical: About 20% of the county's land is taken up by national parks, and almost 20% of the students fail to graduate high school.
While these statistics seemingly have little to do with each other, at least one local educator thinks there is a connection. At the aptly-named Sequoia High School, Principal Adolfo Reyes says a new program that puts his students to work as volunteers in Sequoia National Park (SNP) is changing their attitudes toward school and their future.
"If you get a student out of here, it has a healing quality," said Reyes. "There's no better therapist than our national parks."
'A Forgotten Place'
Sequoia High is Visalia's alternative education school, where students with chronic discipline problems are sent when they've run out of other options. Reyes, who took over at the school four years ago, says his campus has a reputation that perhaps is undeserved.
"People just saw it as a continuation school for bad kids no one wanted," he said. "Kind of a forgotten place."
What Reyes saw were teenagers who had no interest in education and were overlooking their own potential. While searching for a way to engage his students, he realized there was another element being ignored in Tulare County.
"A lot of time (in our schools), we focus on the ag," he said. "No one focuses on the park."
Reyes decided to see if park officials would be interested in a partnership. In the 125 years the SNP has been in operation, nothing like it had ever been attempted. The staff were eager at the chance, and a pilot program was put together.
Dirty Hands
In August of 2013, the first group of 18 students from SHS traveled to the park for a clean-up day. For many it was the first time they had seen the forests for which Tulare County is so famous. For others it was the first time they had been off the Valley floor. Seeing unspoiled nature, discovering careers they had never known of, meeting employees from out of state and visitors from around the globe, and doing meaningful work "empowered" his students, Reyes said.
"When they're up there, they're getting their hands dirty, handling animals," he said. "It's gotten them to focus on school."
Being in the park also helps the students talk about their problems in and out of class, and to see themselves in a different light, Reyes said. This, he believes, is key to helping them find a path to a more rewarding life.
"Many times when we're up there, they open up," said Reyes. The outcome of that initial trip was everything staff at the park and school had hoped for. "All of the kids in that group graduated on time or ahead of time," Reyes said. "They're really able to turn those kids around."
From Seed to Sequoia
Like a Giant Sequoia tree sprouting from its tiny seed, the program is growing exponentially. Enthusiasm generated by the students who participated in that initial foray created a buzz on campus, and the program was expanded to include all of SHS's students. So far, more than 400 students have taken part, getting instruction first-hand from park experts and helping complete park projects. At the school, science classes are now using a curriculum based on forestry and resource conservation that was developed with the help of the National Park Service.
"We started working collaboratively with the teachers and spent a full year planning. The last two years have been different versions of the pilot program," said Kelly Evans, education programs training specialist NPS, who seems to have a genuine enthusiasm, too. "We're definitely continuing the partnership into the future. We hope to be able to offer the programs to other schools. They're (SHS) sort of the guinea pig."
Trail to a Career Pathway
Field trips, led by park employees, are arranged to put what students are learning at SHS into practice in the wild. The students don't just get to perform applied science, they meet the scientists and rangers at work, and learn about the educational paths that led them to their jobs.
"The students will do different types of volunteer projects depending on what they're working on at the time," Evans said. With a new partner, Reedley College, SHS students can now earn dual credit for their efforts, priming them to attend college once they graduate. "They'd be in Sequoia High and start taking classes with dual credit. They get credit through Sequoia and Reedley College. That's another big piece of the program. Career-wise, that could really set kids on the path."
So far, three students from SHS have enrolled in the forestry and natural resources program at Reedley, and SHS is planning to form its first Future Farmers of America program, one that will focus mainly on forest management.
Whether the students move on to college or not, the program is still a boon for her students, said Andi Perez, an Earth sciences and forestry teacher at SHS.
"It builds confidence," she said. "When they do service projects, they feel good about themselves. It's a big self-confidence booster."
College Bound
Jacob Martinez, 17, a senior at SHS, took part in a recent weeks-long trails maintenance project funded by a $25,000 grant the school received from the Active Trails Project. Students helped make backcountry trails more accessible, worked on reclamation projects, went on bear patrols and acted as roving helpers, answering questions from park visitors.
"The two weeks up there, every day was a new memory," Martinez said. "If I had my volunteer shirt on, people would come up to me and ask where's this or that."
Martinez, the son of a single mother with two other children, said the problems that led to him being at SHS had mainly to do with attendance, but he also said a lack of direction left him feeling as if school might not be worth the effort.
"I wasn't sure what I wanted to do," he said. "I've always dreamt of going to the mountains. I'd never really been in the alpine. I actually got offered a job up there from one of the trail crew supervisors. I wasn't old enough."
But he'll be back. Martinez discovered work in forestry could lead to long stretches of research performed alone in the deep wilds of the park, and it's something he's keen to do.
"I definitely want to go to college," he said. "I want to do something in forestry. I love science. Six months in the wild? There couldn't be nothing better than that."