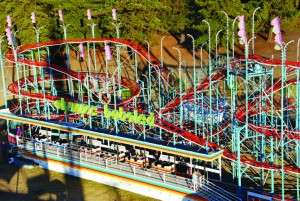 The Tulare County Fair, September 16-20, will unveil the Olympic Bobsled roller coaster for the first time – along with the chance to go to the front of the line with a FASTPass wristband.
The new roller coaster and the returning "Big Splash" ride, introduced at the 2014 fair, are worth $3.5 million and require seven semi-trailers to move. They will make a huge impact on the Fair's Midway, noted Corey Oakley of Helm and Sons Amusements.
The Olympic Bobsled offers amusement park-quality twists, turns, climbs and drops and features more than 3,000 LED lights.
The pirate-themed Big Splash water ride was hugely popular in its first year at the Tulare County Fair, Oakley noted. The ride will cover more than 650 feet, or more than two football fields, of water-filled track. It has two drops of over 30 feet and a "Big Splash" finale.
Both of these rides are included in the wristband, which sells for $20 each in advance through local nonprofit organizations and the fair, and $30 during fair week. Wristbands are good for every ride in the Midway for one day.
Also new this year is the FASTPass, which allows riders to go to the front of the line (at operator discretion) either Friday, Saturday or Sunday of the fair for $50 per wristband. Each ride will have a specially marked FASTPass entrance. The pass is good for one day only and can be purchased at specially marked ticket boxes.
"Competition among fairs insures that the operators are constantly on the lookout for the next best thing," Oakley added. "This year, the Tulare County Fair is attracting the large, expensive thrill rides – such as the Big Splash and Olympic Bobsled. Several of these million-dollar rides will grace the midway."
The Wave Swinger that was once a staple at Michael Jackson's Neverland Valley Ranch will return, along with a completely refurbished Zipper ride.
The fair will also offer a wide variety of rides for younger children not yet ready for the fast and furious rides of the Midway.
For information on how to purchase wristbands, contact the fair at 686-4707.