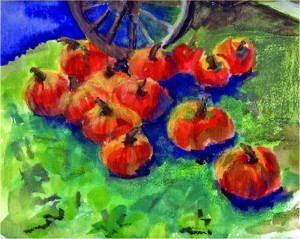 The Creative Center's Jon Ginsburg Gallery is honored to be the host venue for Visalia's September First Friday Downtown Art Walk on Friday, September 4, at 410 Race Avenue from 6-8pm. "Under the Harvest Moon" is an invitational show featuring the works of area artists as well as The Creative Center's talented artists.
The artists participating have agreed to donate 20 percent of their sales to the Creative Center, so please come out and support our wonderful facility and buy some art! A fall theme prevails through the artwork, making us look forward to cooler weather and hopefully rain! The gallery will have a fall dessert bar and, perhaps, live music. As the "First Stop" of the Art Walk, there will be maps of the other participating venues. Visitors may catch the Visalia Trolley to take them around town to the different venues.
"Under the Harvest Moon" will run through October 30. Please check in Monday-Friday from 10am-3pm at the main office at 606 N. Bridge to see the show and tour our gallery.
As always, The Creative Center would like to thank the local community for its continued support. The non-profit community arts center for adults with developmental disabilities offers the mission of fostering self-expression, self-worth and personal growth through the arts, community integration, providing cultural resources to the community, and recognizing the individual's value and contribution.