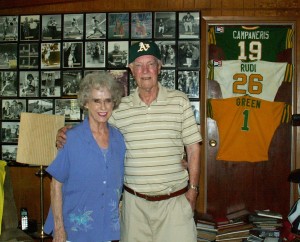 The walls of Monte Moore's home tell stories. The photos, awards and other memorabilia speak tales of his days in Oklahoma, Kansas and Missouri broadcasting college sports, to his career as a television broadcaster for the Oakland A's and NBC sports, and on to his radio station-owning days broadcasting local high school games to Tulare County listeners.
Moore has spent much of his life on the air, helping fans route for the home team. And, his life has been more than he could have hoped for, he said.
Moore grew up in the small town of Hollis, Oklahoma, which did not have a radio station. He played high school sports, but was sidelined by rheumatic fever being confined to bedrest for three months. He listened to the radio to pass the time, and thought, "I might like to do that."
His father bought a PA system and Moore started announcing to the fans at hometown games.
During those high school days, Moore enjoyed playing basketball, but also became a fast pitch softball catcher, and a good one, for which he became quite well-known in the Mid-West.
At the University of Oklahoma, Moore studied broadcasting. He hoped to play college basketball, which was not in the cards, however, he won the won the bigger prize in meeting the coach's daughter and later taking her hand in marriage.
While on his way for a stint in the Army, Moore was offered a job in radio, right out of college. One of the top softball pitchers in the country, Leo Morris, who recently became a station manager. Morris asked Moore to catch weekend games for him, while also DJ'ing for the radio station during the week.
"I had a summer job being a DJ and catching for him," Moore said.
Following a couple years in the army, Morris had switched stations and took Moore with him, this time to a station where Moore broadcasted Sooner State League Class B Pro baseball.
Job Offers Kept Coming
From there and every station-step beyond, Moore was called on because someone had heard him on the air.
"I never auditioned, never sent in a tape," he said. "Every job I got, except for being a catcher, was because someone heard me."
Moore kept climbing the ladder. He received a call from a station manager in Hutchinson, Kansas who wanted him to broadcast news as well as the National Junior Basketball Tournament. He took the job.
From there a sports network which carried University of Kansas called wanting him to broadcast sports.
"I didn't even ask how much they'd pay me," Moore said.
This was during the Wilt Chamberlain era at the university, Moore said, with a twinkle in his eye.
Not long after, Moore was approached by a Kansas City, Missouri station for radio and television to do news and sports, professional basketball coverage of the Kansas City Steers. This was a big step. It launched him into the professional sports scene.
Charlie Finley, who had acquired the Kansas City A's a year prior, heard Moore on the air, while driving with the A's general manager, Parke Carroll, Moore said.
"He asked Carroll, 'who's that?' I like his enthusiasm," Moore said, Carroll had told him later.
Shortly after Moore went to cover a news conference, where he met Finley and Moore in an elevator. Carroll introduced them.
"Finley said, 'Nice to meet you, how would you like to be my broadcaster?'" Moore said.
When they spoke again by phone, it was a Saturday and Finley gave Moore until Monday noon for a reply. The season started Tuesday and Moore had already missed all of spring training.
"The A's were playing the Baltimore Orioles and I didn't even hardly know a player," Moore said of his first A's broadcast.
When the A's moved west to Oakland in 1968, so did Moore and his family. Moore covered the team on radio and television through 1977.
The most exciting game he called, he said, was the last game of the 1972 division playoffs in Detroit, he said.
Detroit had won two, Oakland had won two, and there was only one game left to decide who would go to the World Series.
The Detroit manager, "Billy Martin, had that team so riled up," Moore said. "It was a high tension-type day.
"We beat Detroit in Detroit to go to the World Series."
Added to Moore's excitement was that this meant it was the first time Moore would cover games nationwide on NBC.
"I can't tell you how excited I was," he exclaimed.
Nationwide Audience
Moore's nationwide broadcast debut was with Curt Gowdy and Tony Kubek. And, as the first game was about to start, "Curt Gowdy put his hand on my leg and said, 'OK kid, just relax now, nothing to worry about, only 32 million people are watching.'
"There I was, working alongside Gowdy, doing the World Series . . . nothing could be better," Moore said.
During his A's broadcasting career, Moore earned six World Series rings with the team. He called Catfish Hunter's 1968 perfect game, one of 23 perfect games ever thrown in the sport of baseball.
But, he wondered about where to go from there. Broadcasters did not make what players did, he said. He had always wanted to own a radio station.
Moving to Porterville
Hearing of two stations under one ownership brought him to Porterville. He had never heard of the town. But, he liked it. He liked the size of the town with a population of 17.000. He brought his wife down and then their children to have a look. He made and offer and found himself the station owner of K-TIP (AM) and K100 (FM) in 1977.
Moore immediately put his sports' experience to work and started broadcasting local high school games of all sports. He hired young college grads interested in sports and news as interns and they covered everything live that they could on K-TIP, airing taped games on the FM station. The station covered band concerts, parades and elections. And, in 1994 when Porterville was named an All-American City, K-TIP was in Oakland to cover the event live.
"It was very successful and a very good business decision," Moore said.
But Moore's large-stage days were not over. NBC offered him a weekend job covering the game of the week with Wes Parker and Maury Wills. He took a five-year contract and traveled from Porterville all around the country, every weekend of the season.
At Christmas time in 1986, the A's called on Moore again. A television station covering the team wanted him to call just 31 games the next season. He took a five-year contract. Another station, also covering games wanted him to call just 31 games for them as well, this put him at 62 games for the next five seasons. An agreement was made that he could bring along his youngest son, Donnie, as part of the crew.
It was during this time, Moore's associated was Ray Fosse, a current broadcaster of the team today. Fosse had worked alongside Moore a few times during the '70s when he was the A's catcher, but on the disabled list due to injuries.
Many A's pitchers and players worked as color analysts alongside Moore at that time, Fosse said. A color analyst works alongside the broadcaster, often being a former player, who interjects often through their own experience what is happening or what should have, or could have happened during a game.
It was during those few times on air, which turned Fosse to the profession once his playing days were through. Fosse attributes much of his love for broadcasting and his success to Moore.
"It was great . . . for him to mentor me, it was very special," Fosse said.
"Everything with Monte is up front," he said. "I could not have had anyone better for introducing me into announcing baseball."
Fosse's first day on the air with Moore was interesting, Fosse said.
"We were playing the Boston Red Sox," he said. "I was just sitting there with Monte and then from behind third base, here comes this guy, streaking – Monte said to me, 'well, you're the analyst, Ray.'"
Most everywhere Moore has gone, he has made lifelong friendships. He is often called by University of Kansas staff and remains in touch with fellow broadcasters and players he has met during his years in sports.
"We have stayed in touch over the years, and I played in many of his Porterville golf tournaments with him," Fosse said.
Giving Back
The golf tournament Fosse referred to was the Big League Golf-O-Rama, which Moore started and managed for 25 years in Porterville. During those years more than $850,000 were raised for local school athletics and the Porterville Youth Center.
Moore's personality, enthusiasm and hard work has been coveted wherever he has gone, but nowhere more than Porterville. Through his nearly 40 years in the community, he was been named Porterville Man of the Year, won the Alan Coates award, received the Friend of Education recognition twice, and earned recognition from the Tule River Indian Reservation, the Tulare County Executive Council and Proteus, the Tulare County Board of Supervisors and the Porterville City Council.
Moore has a Little League field named after him, he served on the Porterville College Foundation Board, the Parks and Leisure Services Commission and as an elder at the Church of Christ.
He sold his radio stations after 10 years and he wasn't quite ready to retire yet, for the next 15 years he worked in public relations and marketing for Porterville College.
But, through all his careers, being a husband and father, have been the most important to him. He and Deonne have three children, Bruce, Deonna and Donnie. The youngest, Donnie, is superintendent of Porterville Parks and Leisure.
"It has all worked out very well," said Deonne Moore. "I am very proud of him. He is very close to his children and grandchildren."
"I think back as to how lucky I am," Monte Moore said. "I was gone much of the summer and she took care of the kids."
"In baseball," he said, "there are always 161 new days. No other sport has that. Every day, another pitcher and a new team, and I got to broadcast every day."