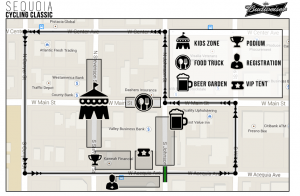 The Sequoia Cycling Classic returns to downtown Visalia, Sunday, April 26 with 400-500 riders expected to participate.
"Everything is on track," said Eric Henson, event organizer.
And, as in the past, the Sequoia Cycling Classic "is more than a race," Henson said. "It is an event!"
In general, when cyclists compete, they are on a designated track in an industrial area lacking in spectators.
"At many races there may be 40 people watching" Henson said. "We're going to have 5,000!"
Henson explained that having a crowd cheer the riders on, aides in their drive and desire, and makes the race more exciting.
"We want spectators," he said.
The "event" will include sanctioned racing in all levels of competition for men and women. Newbies are welcome to compete in the opening 8 am race, the Elite 5, as long as they are fit to ride a 30-minute race. Rules and tips for safe racing will be explained before that particular race by Greg Tripoli, an experience race and mentor.
As the day progresses, the races get faster, culminating in the Pro I/II. This is where many of the better known cyclists may be competing including local Shaun Bagley, co-organizer of the event. Bagley is a Category II racer; Henson is Category III. While both men will have a very busy day, they both plan on competing in their race categories, and hope to have the hometown crowd behind them.
The 0.7 miles course starts at Acequia and Johnson, and travels counterclockwise in a boot-shape around downtown.
A couple free children's races break-up the day, during the noon hour. A 50-meter race is open to ages 2-5, and a one-lap race for children, 7-14. There is no formal entry for these, and children are encouraged to bring their own bikes and helmets, although there will be some available onsite. All children entered will receive medals for competing.
The day is aimed at families. Beside the race, there will be a Kid's Zone on Stevenson and Main. Strider Bikes will have an Adventure Zone, providing a safe environment for children of all abilities, from 18 months to 5 years, to ride and/or learn to ride bikes.
The California Fitness Academy will hold 15-minute children's exercise classes throughout the day. A bounce house and face painting will also be available all day along with a variety of exhibitors promoting safety and health for children.
A food court will offer at least five different food vendors throughout the day. Adults may visit the Beer Garden and VIP tickets are available for the tent on the start/finish line, where lunch will be catered by Tazarria's, and local dignitaries will attend.
While racing and competition, in-and-of-itself, is fun, the main draw is the large purse the locals have been able to amass. Once the race was being rekindled, sponsors started calling, Henson said. Organizers raised close to $23,000 in cash sponsorships within three months. There is $15,000 in cash prizes within the men's and women's races, as well as various prizes including racing shirts, t-shirts and nutritional products. The Classic is of particular interest for women who often are not created equal in prizes. They will be at the Classic, and as such the event is drawing more women riders than other California races.
The community has really rallied to have the event return, as it has suffered a five-year absence from the area, Henson said. Local residents are opening their homes to provide lodging for racing teams that weekend. Individuals have volunteered in a variety of ways. However, more volunteers are needed for the day of the race.
Each corner of the track will have a volunteer equipped with a whistle and radio, to assure the track is clear and to be first responders in case of an accident. No spectators will be allowed on the track throughout the day for any reason, Henson said.
Other volunteers are needed to help with parking, and as runners from one event area to another.
Race entry is $35 prior to the race, with a $10 late fee day of the race. A one-day permit is required for the Elite V race, for those who are not current members, which covers insurance and recoding fees, and can be purchased when entering.
For more information on entry, volunteering or in general, visit www.sequoiaclassic.com or call, 909-5280.