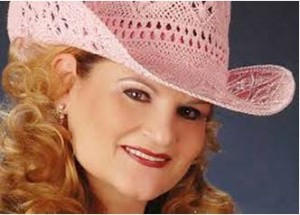 A Tribute to the Music of Patsy Cline starring Joni Morris is the final show of the Lindsay Concert Series for 2014-15. The concert is one night only, Saturday, March 21 at 7:30pm.
Country music artist Joni Morris pays tribute to the music of legendary entertainer Patsy Cline. Fresh off her sell-out show in Hawaii, Morris returns to the South Valley for the show in Lindsay. This is Morris' first appearance on the Lindsay stage, but she is no stranger to the Central Valley.
In October of 2014 she filled the Tower Theater for her Patsy Cline Tribute show. Her show combines music with stories, jokes and reflections on Cline's too-short life. Her tragic death at only 30 years old, left a void that some say has never been filled, but her music lives on.
Cline's hits began in 1957 with Donn Hecht's and Alan Block's "Walkin' After Midnight", Hank Cochran's and Harlan Howard's "I Fall to Pieces", Hank Cochran's "She's Got You", Willie Nelson's "Crazy" and ended in 1963 with Don Gibson's "Sweet Dreams". All these songs are part of the show, along with many other of her lesser-known hits. She was the first female artist to cross over from the country music charts to the pop charts with her hit, "Walking After Midnight."
Morris was born and raised in Stockton, California. A recent article in The Fresno Bee told of her early life growing up in a country music family.
"Her mother loved Patsy Cline and Loretta Lynn. Her dad loved Hank Williams and George Jones. Both loved to sing, and family gatherings often turned into impromptu performances, especially once a beer or two had been opened, Morris says."
Morris went on to enter singing competitions, and then put together her own show centered around the music of Cline. During the past 20 years she and her manager-husband have traveled to nearly every state performing the show. The Lindsay Community Theater is located at 190 N Elmwood in Lindsay. All seats are $20. Tickets may be purchased at: www.lindsaycommunitytheater.com.