"They're creepy and they're kooky, mysterious and spooky, they're altogether ooky!"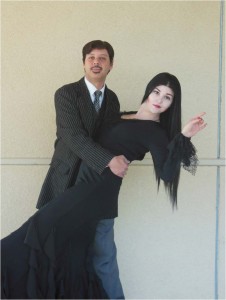 The Broadway musical sensation The Addams Family opens Friday, March 13 at the College of the Sequoias.
From the creators of Jersey Boys, Marshall Brickman and Rick Elice, and Drama Desk Award-winning composer/lyricist Andrew Lippa, the frightfully delightful world of Gomez, Morticia, Uncle Fester, Grandma, Wednesday, Pugsley and Lurch come to spectacular life in this all-new story. Based on the characters created by cartoonist Charles Addams, the magnificently morbid family is put to the test when outsiders come to dinner, hurling them into a night that will change their lives forever.
The Addams Family features an original story, and it's every father's nightmare. Wednesday Addams, the ultimate princess of darkness, has grown up and fallen in love with a sweet, smart young man from a respectable family. A man her parents have never met. And if that weren't upsetting enough, she confides in her father and begs him not to tell her mother. Now, Gomez Addams must do something he's never done before–keep a secret from his beloved wife, Morticia. Everything will change for the whole family on the fateful night they host a dinner for Wednesday's "normal" boyfriend and his parents.
In a prolific career spanning six decades, Charles Addams created several thousand cartoons, sketches and drawings, many of which were published in The New Yorker. But it was his creation of The Addams Family characters that brought him his greatest acclaim. His unique drawings combined the twisted, macabre and just plain weird with charm, wit and enchantment. They have entertained millions worldwide and served as the inspiration for multiple television series, motion pictures and, now, a new stage musical.
Filled with show-stopping musical numbers and all of the classic Addams Family 'tricks,' The Addams Family is a musical with plenty of heart–a show with humor that's uplifting and true to the beloved Charles Addams characters. It's a multi-layered love story and a story of love, loving, and being loved.
Tickets ($24 for adults and $20 for students and senior citizens) for the 7:30pm shows (March 13, March 14, March 19, March 20, March 21) and the 2pm shows (March 15 & March 22) are on sale now.