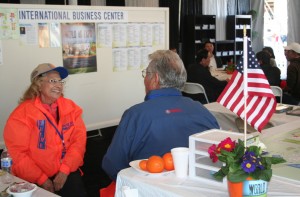 Dressed in a small, tight white cap and a flowing white thawb, the traditional garb of devout Muslims of Northern Africa, it was clear Khider Abdelkader had traveled a very long way to participate in the 2015 World Ag Expo at the International Agri-Center in Tulare last week.
Abdelkader, general director of Av Khider, a ranching operation that supplies 40 percent of his country's turkeys, some six million birds annually, was part of a large contingent of Algerian farmers and growers who attended the Expo for the first time this year. In the Expo's International Business Center, Abdelkader was far from alone, as dozens agricultural business people from around the globe planned their visits, found translators and met with US government trade officials.
Through a French-speaking translator, Abdelkader said he came to the Expo to find ways of modernizing his turkey production, as well as to find direct sources for the eggs he raises to grown birds. Some 85 percent of the genetics he uses come from US sources, he said.
"He's dependent on European distributors to reach the American market," said translator Mokhtar Mered. "The Algerians don't understand why they have to use French distributors when they (the French) are a former colonial power. Militarily, it makes sense; economically, it doesn't."
Algeria, Mered said, is also a market primed for US dairy exports. The country consumes some five billion liters of milk a year, but produces only one billion liters itself.
Helping American growers and ag manufacturers reach those overseas markets is the job of the US Department of Commerce's International Trade Administration, which was represented at the Expo by Pat Sweeney, senior international trade specialist for the Office of Transportation and Machinery.
"Our mission is to help export US products," he said. "We help bring buyers to producers and bring producers to buyers."
Sweeney was also on hand to give a global market presentation to US-based sellers, giving them information intended to let them know "what markets to pay attention to, especially Mexico," he said. "The equipment matches pretty well."
As it stands, 75 percent of US ag exports go to countries with developed ag industries, with the majority going to just three countries: Mexico, Canada and Australia. That remaining 25 percent could be vastly expanded, Sweeney said.
Some international visitors were less goal-oriented. Arturo Ortiz Treviňo, owner of Intersisa, a Torreón, Mexico-based maker of vitamin and mineral mixers for the dairy industry, was at the Expo just for the experience.
"I come here only to see," he said.
Torreón dairies' produce some 7.5 million liters of milk a day, Treviňo said, but he insisted he was not looking to expand his business, only satisfying his curiosity about agriculture outside his homeland.
"I go to look," he said in his halting but serviceable English.
For visitors like Treviňo, the Expo's International Business Center is an ideal resource.
"The goal is to connect the international visitor with products they can take back to their countries," said Irene Santos, volunteer chair of the Expo's International Committee. At the Center, foreign visitors could meet for prearranged visits with sellers, utilize private meeting areas and find interpreters. The Center also provided help to walk-in visitors such as Treviňo.
"It's busy," said Harry Burgess, the volunteer in charge of arranging for translators. "They come and go."
Using mainly exchange students, Burgess said the center could provide language services for speakers of common European languages, as well as more exotic tongues, such as Armenian, Kiswahili and Tajik.
Mariam Hirina, a Romanian national, needed no assistance talking business with the English-speaking equipment sellers he came to Tulare to meet. 2015 marks his second visit to the Expo, where he hoped to find sources for used farm equipment for his company, Gelda S.R.L., to resell in Eastern Europe.
"I met several very interesting people," he said in heavily-accented but otherwise perfect English. "I got new connections through US Commercial Services."
The dealers he's connected with can expect big sales as a result.
"We'll start on a small scale," Hirina said, "a few million (dollars) a year."
The potential for profit moves both ways, said Graham Corlett, key account manager for CTD Manufacturing of Canada. It was Corlett's third year at the Expo, where he was hoping to increase sales for his company while the US dollar remains strong against the Canadian.
"Americans like the savings," he said. "It's easy (to do business here) with the Canadian dollar down 20 cents."