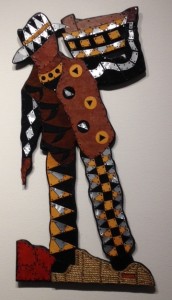 Richard Arenas, one of the Valley's most well-known and prolific sculptors, will show his series of "Maneras de Cosechar Uva" (Steps to Picking Grapes) along with his "Day and Month Symbols" and other works in the Brandon-Mitchell Gallery during January and February.
There will be an artist's reception Friday, January 2, from 5:30-8pm. Arenas will give a two-minute talk on his work at 6pm.
Arenas grew up in a farm-working family in Tulare. His "Maneras" series features a stunning group of a dozen low relief (2-D) sculptures reflecting the backbreaking work of the farm laborer. Each sculpture is made up of dozens of small handcut pieces of leather, metal and wood.
"I wanted to use different materials," explained Arenas. "I use mostly bronze and steel, but I didn't want this work to look 'obviously like Richard Arenas.'"
Arenas went back to the farm in Kingsburg where his family picked grapes each year from the 40s to early 60s. The farmer was still there. Richard found pictures that showed himself along with his son, who was only 3 or 4 at the time.
He will also show "Day and Month Symbols," a group of low relief sculptures depicting ancient hieroglyphics of the Olmec and Tarasco cultures, which pre-dated the Mayan and Aztec cultures in Mexico at 1500 B.C. The sculptures are of bronze, scuffed with a wire brush on polished granite.
Having worked the fields through California, Arenas feels strongly about social and economic rights for all. He believes in preserving the indigenous history and culture of all people through the arts. He says his personal goal is to immortalize the Campesino, the people of pre-Columbian Mexico, and the indigenous people of the world.
The Brandon-Mitchell Gallery is located in the Spiritual Awareness Center, 117 S. Locust, Visalia (one block south of Main Street). The show is open during First Friday Art Walks and by appointment. For more information, call 625-2441 or visit www.spiritualawarenesscenter.com.